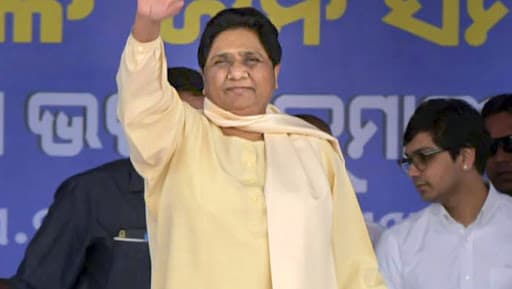 New Delhi, September 6: Bahujan Samaj Party (BSP) supremo Mayawati on Friday announced that her party will fight alone in the upcoming polls in Haryana. The BSP Chief took to Twitter and stated that the BSP will go solo in the upcoming Assembly Elections in Haryana as the party couldn't reach a seat-sharing agreement. In her tweet, Mayawati stated that the Haryana unit of BSP couldn't reach settlement with Dushyant Chautala's Jannayak Janta Party on seat-sharing and hence has decided to fight the polls alone. Haryana is set to go for polls in October. 'Mayawati's BSP Sells Tickets, Poor Cannot Contest,' Alleges Party MLA Rajendra Gudha in Rajasthan Assembly; Watch Video.
In August, Mayawati was re-elected as the party's national president after which she vowed never to 'stop or bend, let alone break.' The party release stated that Mayawati was elected BSP president unanimously at a special meeting of senior office-bearers of the party's central executive committee, its state units and representatives selected from across the country.
Here's the tweet:
ऐसी स्थिति में पार्टी हाईकमान ने यह फैसला किया है कि हरियाणा प्रदेश में शीघ्र ही होने वाले विधानसभा आमचुनाव में अब बीएसपी अकेले ही अपनी पूरी तैयारी के साथ यहाँ सभी सीटों पर चुनाव लड़ेगी।

— Mayawati (@Mayawati) September 6, 2019
On Thursday, Haryana Chief Electoral Officer Anurag Aggarwal released a new logo for the assembly elections that are due next month. He said that peacock, the national bird has also been depicted in this new symbol, which symbolically means victory, pride and beauty.