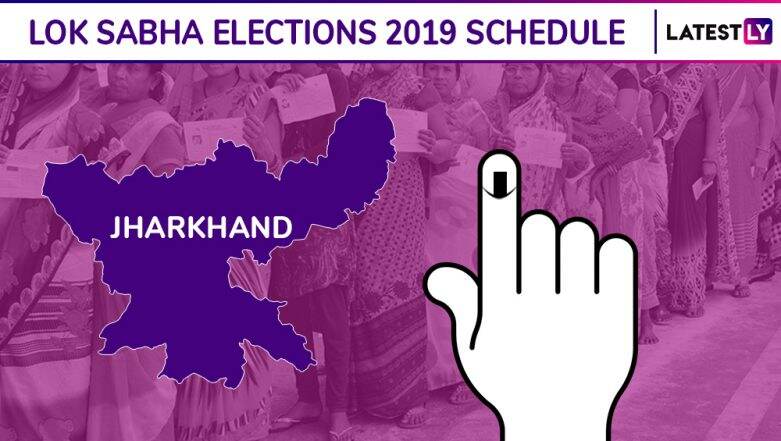 New Delhi, March 10: Schedule of the upcoming Lok Sabha polls 2019 was released by the Election Commission of India (ECI) on Sunday. As per the dates announced, voting in the 14 parliamentary constituencies of Jharkhand will be held in four phases -- 4th, 5th, 6th and 7th phases of the general elections. The results will be declared on May 23.
As per the press statement read out by Chief Election Commissioner Sunil Arora, three seats will be contested on April 29; four constituencies on May 6; four Lok Sabha segments on May 12; and three seats on May 19. Check Full Schedule of Lok Sabha Elections 2019.
Check the Constituency-Wise Dates of Voting in Jharkhand Below:
In phase 4, scheduled on April 29, the seats of Chatra, Lohardaga and Palamu will be contested.
In phase 5, scheduled on May 6, the constituencies of Kodarma, Ranchi, Khunti and Hazaribagh would be voting.
In phase 6, scheduled on May 12, the seats of Giridih, Dhanbad, Jamshedpur and Singhbhum would go to polls.
In phase 7, scheduled on May 19, the constituencies of Rajmahal, Dumka and Godda would be contested.
Lok Sabha Elections 2019 Schedule And Dates: Voting In 7 Phases, Results On May 23 (Watch Video):
In the 2014 Lok Sabha elections, Jharkhand, similar to other parts of the Hindi heartland, was swept by the Narendra Modi wave. The BJP won 12 seats in the state, whereas, the remaining 2 were retained by the Jharkhand Mukti Morcha, an ally of the Congress.
In the run-up to the forthcoming general elections, the Congress has kept its alliance intact with the JMM. The seat-sharing pact is yet to be finalised by the two parties. The BJP, meanwhile, has tied up with the All Jharkhand Students Union (AJSU), giving the latter 1 constituency to contest, whereas, the party itself would be fielding candidates in 13 seats.