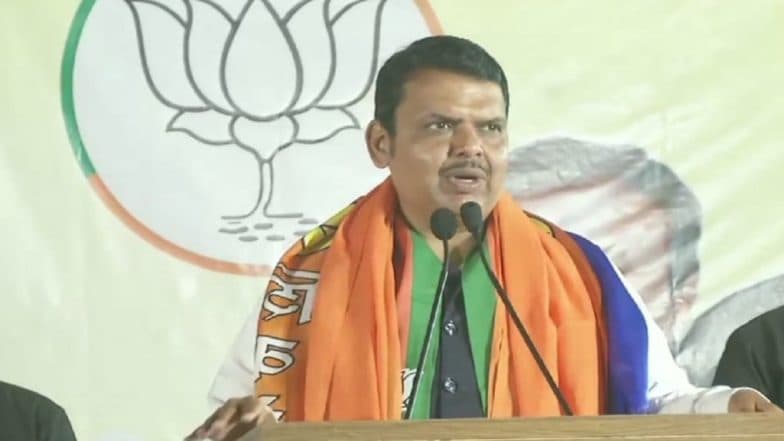 Mumbai, November 9: In the latest development, Maharashtra Governor Bhagat Singh Koshyari invited the Bharatiya Janata Party (BJP) to form the government in the state. According to an official statement of Governor's office, Koshyari today asked the leader of elected members of the single largest party, Devendra Fadnavis to indicate the willingness and ability of his party to form the government. Devendra Fadnavis Submits Resignation to Maharashtra Governor Amid Stalemate Over Government Formation.
The BJP emerged as the single largest party in the recently concluded assembly elections. The saffron party bagged 105 seats. In the 2019 assembly elections, the BJP contested the elections in alliance with the Shiv Sena which won 56 seats. However, Shiv Sena's demand for equal power-sharing with the BJP created a political stalemate in the state was rejected by the BJP. The Uddhav-Thackeray led party demanded CM post along with key portfolios. Shiv Sena's Remarks Against PM Modi 'Unacceptable', Says Devendra Fadnavis After Resigning as Maharashtra CM.
On Friday, Fadnavis resigned as the Maharashtra CM. The term of the state assembly has ended today. After resigning, Fadnavis lashed out at Shiv Sena, saying that its remarks against Prime Minister Narendra Modi have been hurtful. Fadnavis said the BJP also felt a "sense of betrayal".
However, Shiv Sena supremo Uddhav Thackeray dismissed the charge of "lying" levelled against him by the caretaker CM of Maharashtra. He said that his party had never lied in its over six decades of existence. On the contrary, he accused the BJP top brass of lying and misleading the voters.
Meanwhile, the two main opposition parties Congress and the Nationalist Congress Party (NCP) clinched 44 and 54 seats respectively. After the results, the Shiv Sena also hinted at forming the government in alliance with the opposition parties. However, NCP chief Sharad Pawar reiterated his party's stand of sitting in the opposition. The assembly elections in Maharashtra took place on October 21.