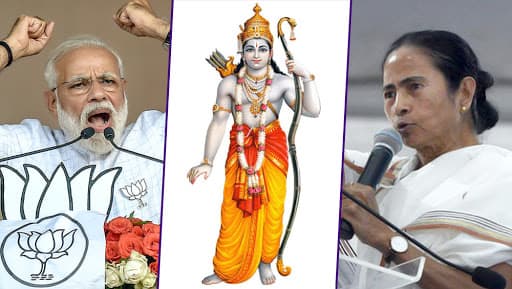 Kolkata, May 16: Prime Minister Narendra Modi on Thursday invoked the 'Jai Shri Ram' phrase in his political rally in Kolkata, comparing it with Durga Puja and Saraswati Puja. During his speech, PM Modi took a swipe at West Bengal Chief Minister Mamata Banerjee having problem with the Hindu chant phrase and allegedly calling this as a crime.
Alleging to make the issue of chanting 'Jai Shri Ram' crime in the national forum, PM Modi said during his Mathurapur rally, "There is a problem here regarding Durga Puja and Saraswati puja, saying Jai Sri Ram has become a crime. People of Bengal were troubled by these things since a few years, who brought these issues on a national platform? Which party has become the voice of Bengal today, it's BJP." Mamata Banerjee Shouts 'Chowkidar Chor Hai' at TMC's Lok Sabha Rally in West Bengal, Watch Video. 
Accusing Mamata Banerjee of threatening him and sending him to jail, he said, "Didi has resorted to threats, today in the morning I received the threat of being sent to jail. Yesterday I saw in media that didi had threatened to take over BJP's office, she is also threatening to take over homes of BJP workers."
Speaking on Tuesday's violence, the BJP stalwart said, "TMC goons spread violence, they vandalised statue of Vidyasagar. CCTV cameras were installed there. The way the state govt erased evidence of Narada and Sarada scam, it is trying to remove evidence in the incident. I demand a strict action should be taken."
Earlier in the day, Mamata Banerjee lambasted PM Narendra Modi and shouts 'Chowkidar Chor Hai' at her rally in Diamond Harbour. With this new attack, she reminded him of her party leaning towards the Congress ahead of the last leg of Lok Sabha Elections 2019.