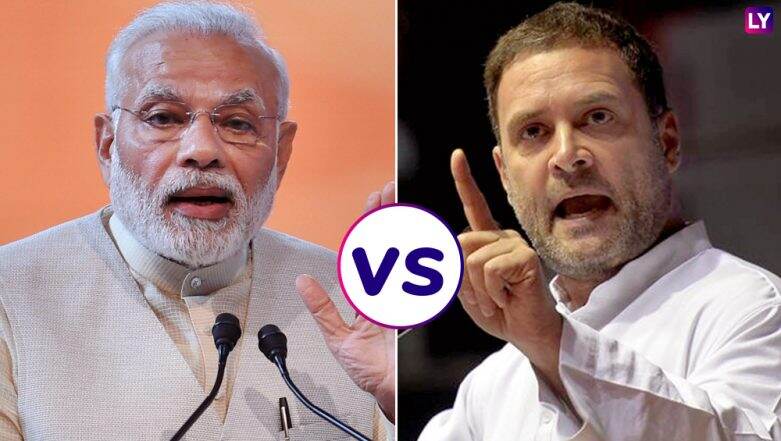 New Delhi, May 17: With the campaigning for the most crucial last phase of Lok Sabha Elections 2019 came to an end on Friday, the cumulative report states that Prime Minister Narendra Modi addressed 142 public rallies and meetings, while Congress president Rahul Gandhi did 151. On the other side, Congress general secretary Priyanka Gandhi held maximum roadshows than any other politician in the country.
Adding on, reports state that beating the competition, the most number of political rallies were addressed by BJP president Amit Shah, that is 161 public rallies. Among the major output of the cumulative report, the most interesting part was political leaders' interaction with people was more than during the 2014 Lok Sabha Elections. Narendra Modi vs Rahul Gandhi: Battle of Press Conferences Concludes Final Phase Campaigning For Lok Sabha Elections 2019; Watch Videos. 
On one side, if PM Modi addressed 34 rallies in Uttar Pradesh, Gandhi's count is just 22, says a PTI report. Also, Modi's count for electoral rallies in West Bengal is 17, more than Rahul Gandhi. Even Amit Shah too visited the state more than Congress president.
Apart from electoral rallies, this time the way to reach electorates was roadshows. In this category, Rahul Gandhi bet PM Modi by taking part in almost 10-15 roadshows. While, Amit Shah was part of 18 roadshows on the contrary. Lok Sabha Elections 2019: Phase 7 Campaigning Ends, 59 Seats in 7 States & 1 UT Set to Go to Polls on Sunday, May 19. 
Adding on, even Priyanka Gandhi was much ahead of all these leaders in roadshow tally. She leads the example for others to follow, starting with her eastern Ganga tour on a boat. Then she addressed the public rally after a roadshow only.
Now considering the point that PM Modi, Amit Shah, Rahul Gandhi and Priyanka Gandhi addressed numerous political rallies, meetings and roadshows, it would be interesting to see on May 23, whether these would be fruitful for them or not.