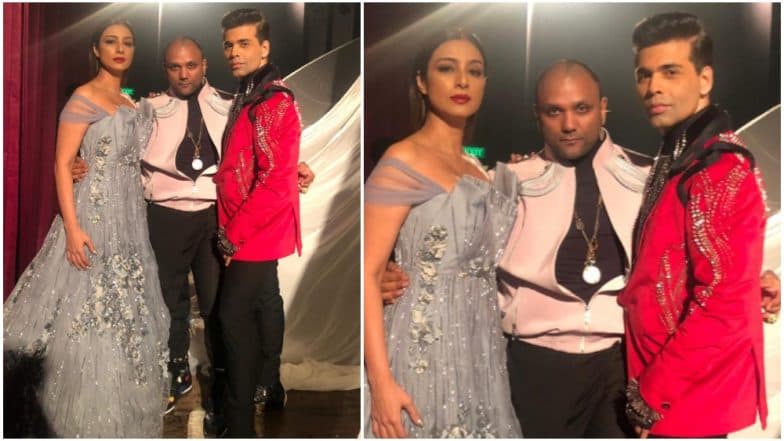 It's that time of the year when fashion lovers have an opportunity to witness everything's that new and marvellous in the fashion industry. The Lakme Fashion Week Spring/Resort has just begun and will go on for this week. The five-day long event will see a host of designers participate and display their creativity on the ramp coupled with their stunning showstoppers of course. Popular designer, Gaurav Gupta inaugurated the event last night with his mystical creations and Tabu and Karan Johar honoured his collection with their presence. The event took place at the iconic Royal Opera House which holds a lot of significance and that's precisely the reason why Karan got so emotional towards the end. Lakme Fashion Week (LFW) Summer/Resort 2019: Karisma Kapoor to Be Showstopper for Jaipur-based Designer Punit Balana's Line 'Maya'.
Yes, Karan Johar got really emotional when he walked the ramp at this iconic venue. In his post-event media interaction when he was asked to elaborate on the reason he got emotional, he said, "This is a very emotional moment for me. I have so many memories of watching movies in this particular space. Royal Opera House is where I have come as a child several times, watched movies, and I can't believe that this has now transformed into this hugely iconic space. Just walking the ramp in this particular place makes me feel like life is completing an entire circle." Lakme Fashion Week Summer Resort 2019: Badminton Ace Saina Nehwal to Walk Ramp for Vaani Raghupathy at LFW.
Speaking about his experience of walking the ramp with Tabu, he said, "When I heard Tabu was opening the show, it was kind of a given that I will be here because Tabu and I go a long way back and I do believe in what Gaurav said that she is truly one of the country's best actors — versatile like Gaurav's garments, adaptive like Gaurav's garments and timeless like Gaurav's garments." The filmmaker was all praises for the designer's collection and how he's always able to stand apart from the rest.