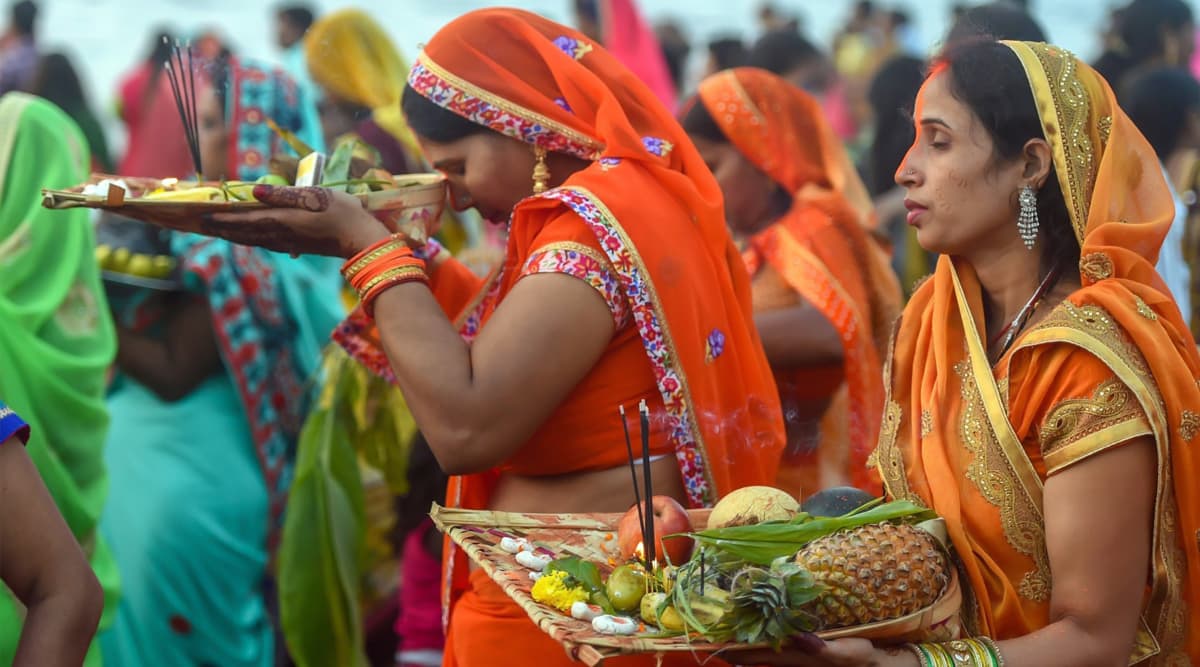 As Diwali ends, preparation of Chhath Puja that is celebrated on the sixth day after the celebration of the festival of lights. 2019 will see Chhat puja celebrations on November 2 and 3 aka Saturday and Sunday. The celebration includes a number of strict rituals and rules to follow while undertaking a stringent fast for 36 hours without water. Devotees offer prayers to the Sun God and his sister Chhathi Maiya also known as Chhath Maa. The fast and worship are done to seek blessings for the family and their well-being. The day is celebrated, as per the Hindu calendar, on Kartika Shukla Shashti (the sixth day of the month of Karthika). You might want to know more about the Chhath Puja 2019 date & full schedule, when is nahay khay, lohanda and kharna, sandhya and usha arghya? While the fast lasts for two days, the whole celebration includes four days of devotion. Right from preparing the holy prasad, Thekwa to decorating the dali/dawri (basket) for worshipping, the rituals of Chhath Puja requires immense attention.
The puja samgri (worshipping ingredients) placed into the basket for taking to the holy ghats(river banks) have to be picked, cleaned and placed as per the holy rules (vidhi). You have to not only check for the cleanliness of the dawri and its ingredients but also make sure they reach the ghats safely on the head of either the person fasting(vrati) or the family members. That is one way of paying respect to the offerings made to Chhathi Maiya. You must know exactly what goes into the dawri/dali so that you don't leave out anything. Here's a complete list of puja samgri you need to place in the dali before taking it to the ghats.
What To Place Your Ingredients In?
Daali/Dawri (Basket): You can decorate it as per your wish and convenience.

Soop (Winnowing basket Bamboo or Brass ): Now many people use the brass soops, that they inherit from their ancestors, instead of the bamboo ones. But you can use the latter as well.
Fruits and Vegetables
Guava ( Amrood)

Radish ( Mooli )

Small Ginger plants ( Adrak)

Small Turmeric plants (Haldi)

Bottle Gourd (Lauki)

Pumpkin(Kaddu)

Cucumber ( Kheera )

Banana (Kela )

Orange (santra)

Pear ( Nashpati)

Pineapple (Ananas)

Big sized Lemon (Kagaji nimbu)

Lemon (Nimbu usual)

Elephant yam (Suran)

Apple (Seb)

Grapes (Angoor)

Pomegranate ( Anaar)

Sugar cane stem or whole plant ( Ganne)

Other seasonal fruits and vegetables
Dry Fruits
Cashew (Kaaju )

Pistachio( Pista)

Chestnut (Akhrot )

Lotus seeds ( Makhana )

Almonds ( Badam)

Dry or green grapes Kishmish)

Dry Dates ( Chhuahara )

Charoli (Chironji)
Other Worship Items
Sun God and Chhathi Maiya idol or picture

Akshat ( Unbroken Rice)

Curd ( Dahi )

Cow Milk for worship argh (Doodh)

Red Vermilion (Lal Sindoor )

Yellow Vermilion ( Peela Sindoor )

Ground rice white for puja some mixed with turmeric and some with kumkum

Copper pot

Small bowl (Sarva)

Beetle nut (Supari)

Beetel leaves ( Paan ka patta)

Red/Yellow cloths for covering all the things in baskets

Red Rice (Samba Chaval )

Jaggery ( Gud )

Different coloured Flowers(Except white)

Wheat ( Gehun ke Aata)

Coconut dry and water-filled both.

Mishri (Sugar candy)

Holy River Ganga water ( Ganga Jal )

Coloured thread for binding on the wrist ( Raksha sutra)

Thread to wear in the neck ( Baddhi )

Red rice unbroken (Gamadi rice)

New clothes for the one who is fasting (3 new clothes for three days Kharana, sandhya argh, Sarvodaya argh )

New clothes for donation

Holy thread (Janeu)

Coloured powder (Gulal)

Worship Plates ( Puja ki thali )

Colours for rangoli

Holy Grass (Durva)

Earthen elephant

Earthen lamps

Cotton wicks

Clarified butter

Coins for worship

Money for donations

Sandalwood

Saffron

Cardamom

Milk

Mat for sitting

Mustard oil

Rose Water ( Gulab Jal )

Screw Pine water ( Kevara jal )

Jau

Sesame seeds (Til Black and white)

Gram pulses
Hawan Samagri
Incense sticks (Agarbatti )

Dhoop stick

Camphor (Kapoor)

Matchstick (Machis)
Make sure you buy, clean and place all the samagri, a day before the celebration so that you don't miss out on anything. If multiple people from the same family are fasting for the puja, they can buy things in bulk.