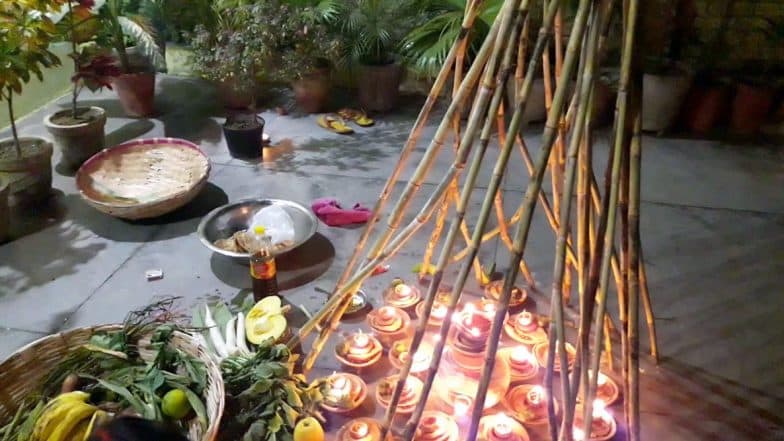 Chhath Puja also known as Chhathi Maiyya pooja or Chhath Vrat 2019 will be celebrated on Saturday and Sunday, November 2 and 3. People who want to perform the ritual of 'kosi bharna' for any kinds of vows, wishes desires aka mannat have already begun their preparations. Celebrated especially by the people from UP and Bihar in North India, Chhath puja sees devotees fast without water for 36 hours. The puja is celebrated with great enthusiasm and includes a lot of complex rituals. However, all the difficult rituals for the Chhath Puja is known to bring you good luck and also fulfil all the wishes you make before the puja starts. Also known as mannat aur iccha, wishes are made to Chhathi maiyya by the process of Kosi filling better known as Kosi Bharna or Kosi Bharai.
The ritual is said to have been very fruitful in the past and legends have it that if you follow the kosi bharna ritual during chhath puja your wish is granted by the Sun God and Chatthi mata. It is also said that kosi bharai should be done by couples for best results. There have been many cases in the past where kosi bharai during Chhath puja has brought good luck and fulfilled desires in the past. If you are planning to perform kosi filling ritual this Chhath puja, you might want to learn more about the rituals are also known as the puja vidhi carefully because the steps might be tricky. Chhath Puja 2019 Date & Full Schedule: When is Nahay Khay, Lohanda and Kharna, Sandhya and Usha Arghya? Know the Significance of Worshipping Chhathi Maiya & the Sun God.
Kosi Bharna or Kosi Filling Vidhi
Kosi Bharna is a traditional ritual performed by couples or individuals observing the Chhath vrat(fast). It is believed that if a person has made a vow or wish and it is fulfilled, then they have to fill kosi as a celebratory repay. Some people also do it when there is a happy occasion like a wedding or childbirth that year. The Kosi Bharna vidhi takes amidst the normal Chhath puja rituals wherein in the evening of Suryasthi, after offering Arghya to the Chhathi maiya, Kosi worship is done on the courtyard (aangan) or terrace of the house. For this, a chhatra(canopy) of at least four or seven sugarcane is made. After which, thekua (the chhath puja prasad), fruit extracts, keravas are placed under the canopy which is then tied with a red cloth (usually a new saree). A hollow elephant made of clay(the kosi) is placed inside which is filled with Sathi chawal (a type of rice) kasar (laddoo, sweet) and dhan ka chivda(flattened wheat).
Earthen Elephant Pot With Vermillion (Kosi)
A beautiful earthen pot that is hollow is filled with seasonal fruits and thekua(prasad), ginger, spices, etc. Vermilion also known as sindoor is applyed on the earthen elephant and the lamps around the kosi is lit. Under the canopy The already decorated winnowing equipment also known as soop in Hindi that is filled with Arghya's material is placed there too. The dalia(big basket) filled with offerings for Chhati maiya is placed under the canopy. Earthen lamps are placed around the kosi to keep it well lit. Havan is done and incense sticks are lit. The same process is repeated at the river ghat in the morning. During this time, the women express their happiness and gratitude by singing folk songs and bhajans. If you want to listen to Chatth puja folk song, check here: Chhath Puja Geet by Sharda Sinha for Free MP3 Download Online: From 'Kaanch Hi Baans Ke Bahangiya' to 'Hey Chhathi Maiya', Best Bhojpuri & Maithili Songs for Chhath Vrat 2019.
Kosi Bharne Ki Vidhi (Watch Video):
North India celebrates the Sun God festival with great zeal. The traditional customs and rituals behind this worship of the Sun God are quite intricate. You will see holy river banks lit up and decorated in the best way on the day of Chhath puja. Sun God(Surya Devta) and Chatthi Maiya (Sister of the Sun God), the sources of life and energy that run the world, are worshipped on this day. People express gratitude towards the existence and blessings of the Sun God and Chatthi Maa.