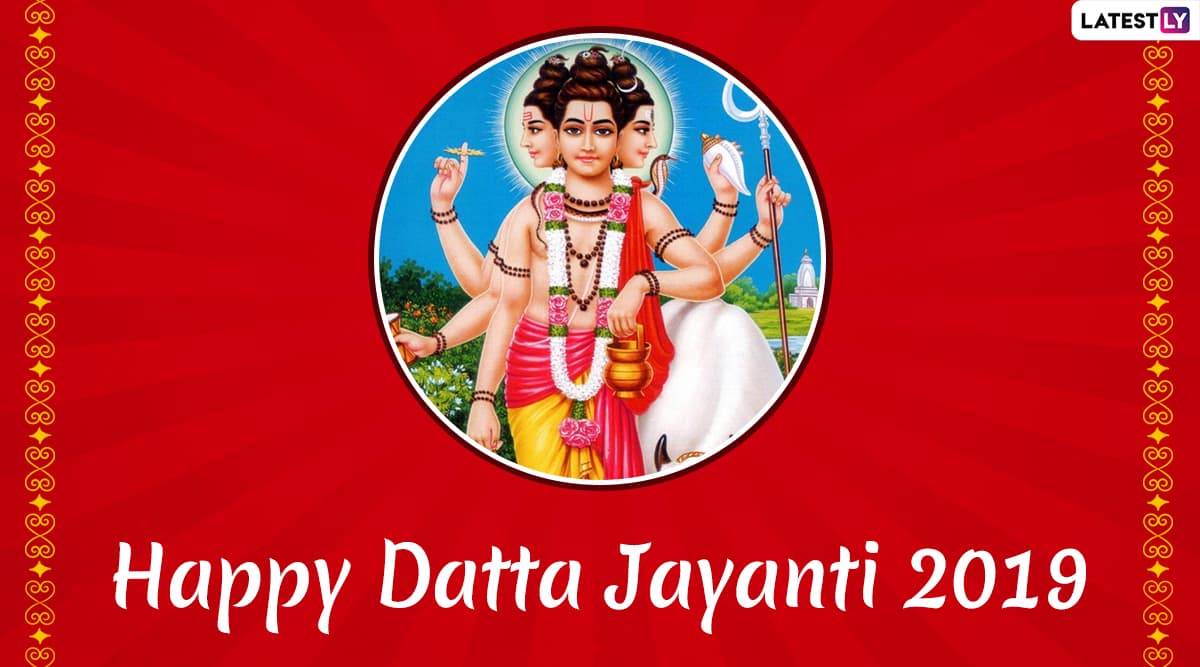 Happy Datta Jayanti 2019! The festival of Datta Jayanti, also known as Dattatreya Jayanti, will be celebrated on December 11 this year. Dattatreya Jayanti is observed across India, especially Maharashtra, by the people of the Hindu community. The celebration of Datta Jayanti marks the birth of Hindu God Dattatreya a.k.a. The trinity form of Brahma, Vishnu, and Shiva. If you are searching for top Dattatreya Jayanti 2019 wishes and greetings in Hindi, then you will find them below. It includes Datta Jayanti images, Happy Dattatreya Jayanti wallpapers, Datta Jayanti wishes in Marathi, Datta Jayanti images in Marathi, SMS, WhatsApp Stickers, GIF greetings, photos, and more for free download online.
There are several rituals which people follow religiously. Devotees take bath in holy water bodies and observe fast as well on this day of Datta Jayanti. It is said that chanting the mantra of 'Sree Guru Dattatreyaya Namah' will provide purity in your mind and soul.
Individuals can send across popular Dattatreya Jayanti 2019 messages in Hindi through WhatsApp, Facebook statuses, Hike messages Instagram posts, Snapchat stories, among other popular social media apps. Recently, WhatsApp had launched a new feature, i.e. WhatsApp Stickers, which has become a popular means to send wishes on this festive day.
People can also share best Hindi Datta Jayanti 2019 greetings and wishes through text messages, GIFs, picture messages, videos, and SMSes too. They are still in trend these days, and it is a sweet gesture to connect with your loved ones on this occasion of Dattatreya Jayanti. As people gear up to celebrate the festival, we at LatestLY wish you a very 'Happy Datta Jayanti 2019!'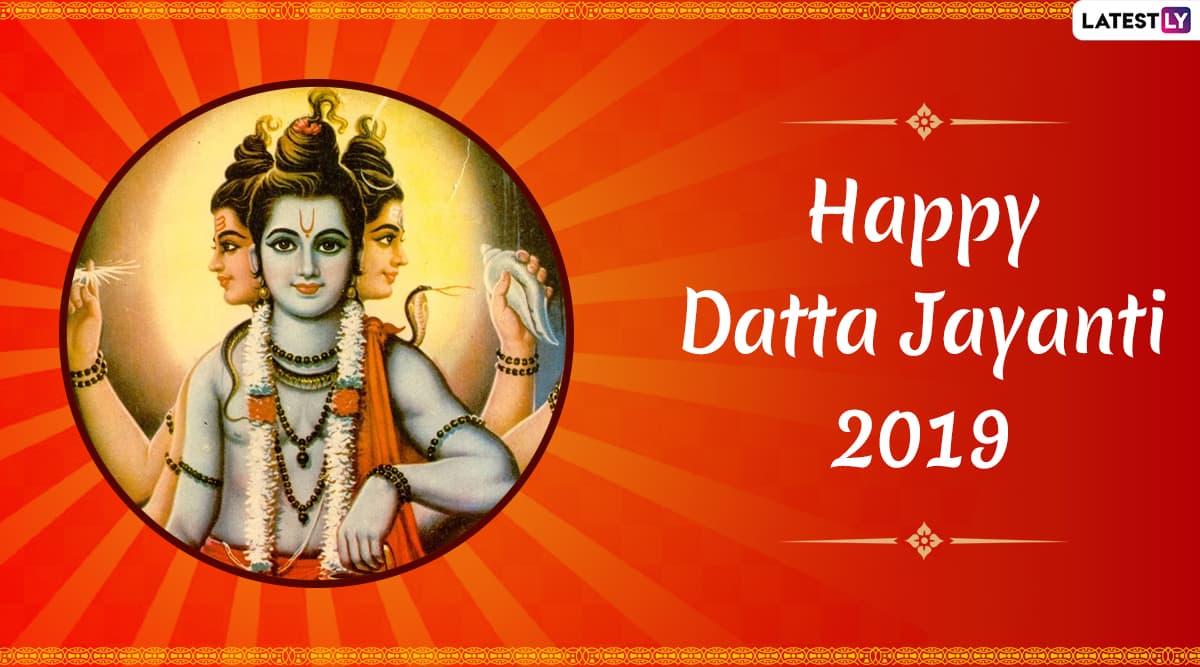 WhatsApp Message Reads: Digambara Digambara, Shripad Vallabh Digambara. Happy Datta Jayanti.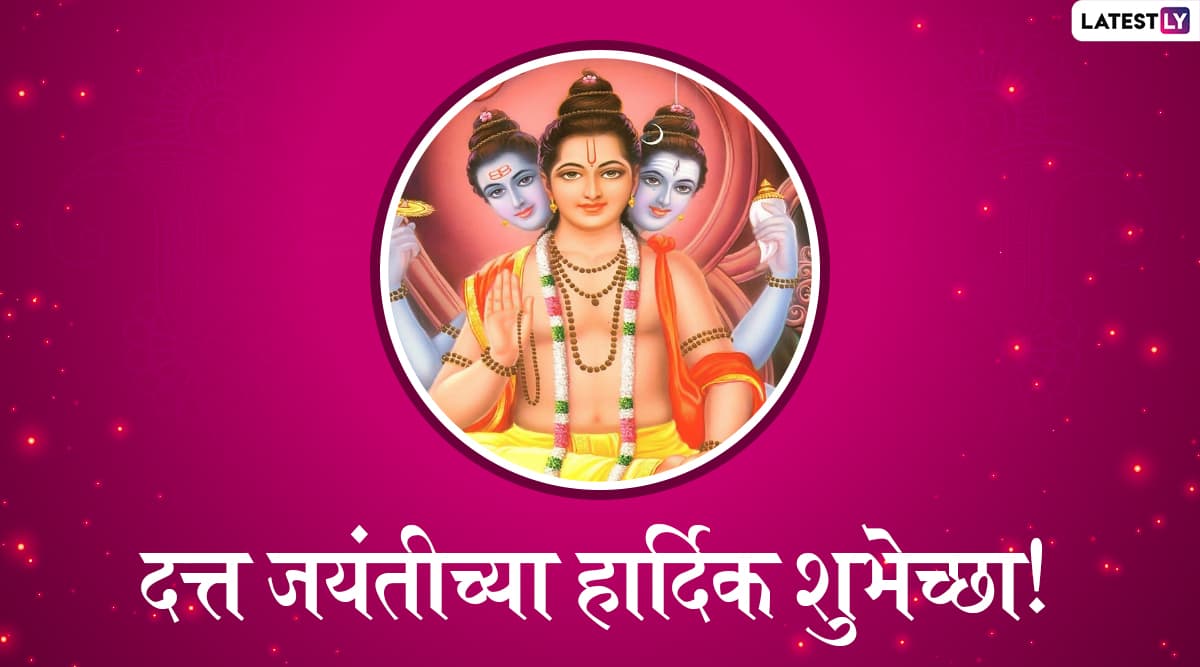 WhatsApp Message Reads: Datta Jayantichya Hardik Shubhecha!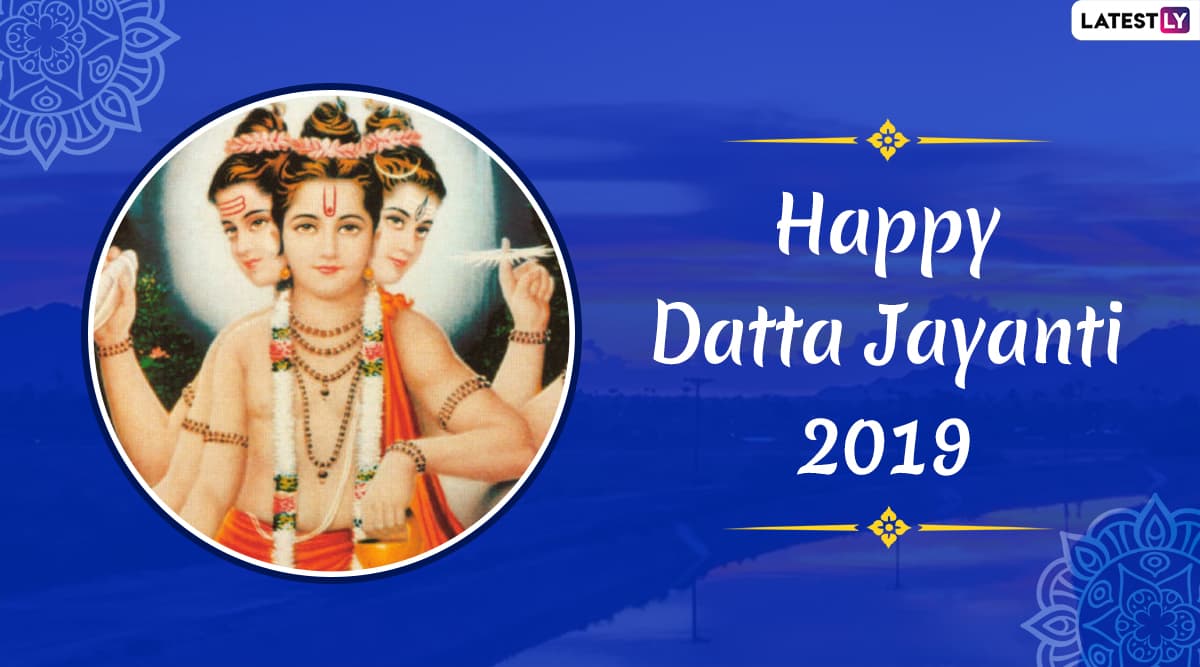 WhatsApp Message Reads: May You and Your Loved Ones Be Blessed Beyond Your Expectations. Happy Datta Jayanti.
WhatsApp Message Reads: Happy Datta Jayanti 2019!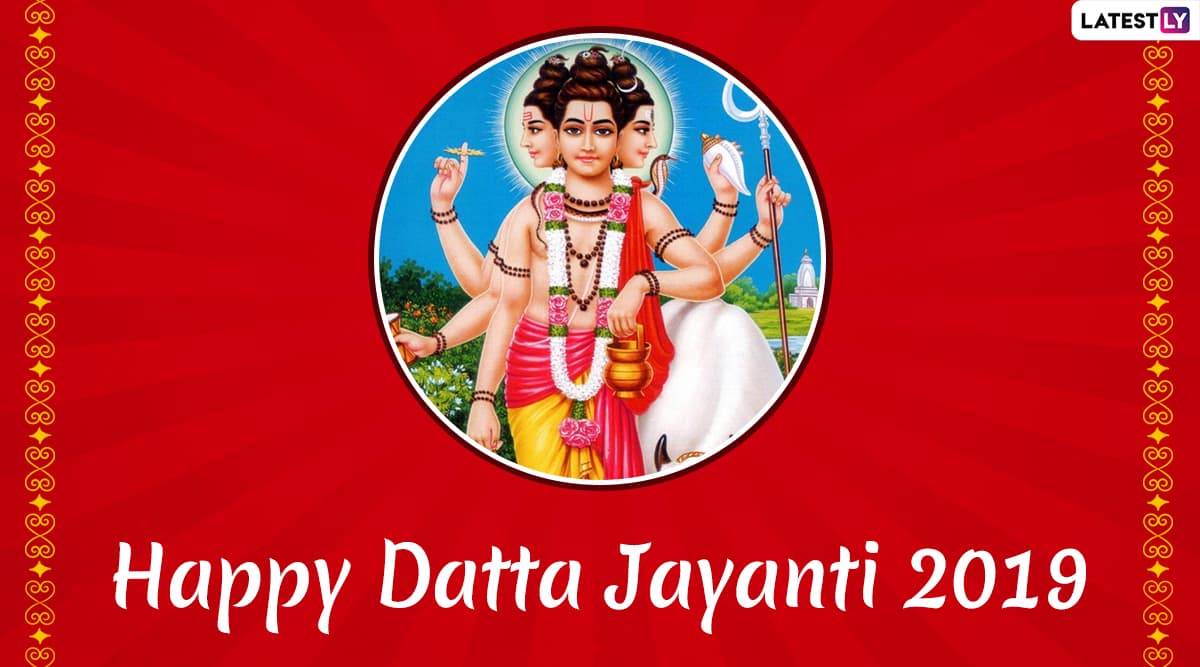 WhatsApp Message Reads: Datta Jayantichya Hardik Shubhechha!
How To Download Datta Jayanti WhatsApp Stickers?
You can download Datta Jayanti WhatsApp Stickers from the Play Store app. Several apps are also offering a large collection of DattatreyaHD images with original quality Dattatreya HD wallpapers, Dattatreya images, Dattatreya backgrounds with high-quality wallpapers. You can download it HERE.
Happy Datta Jayanti Wishes: Messages And Lord Dattatreya Images To Send On This Auspicious Festival
The celebration of Dattatreya Jayanti commemorates the anniversary of Hindu deity 'Datta', which encompasses 'Trimurti', i.e. the trio of Brahma, Vishnu, and Mahesh. The festival is considered to be one of the most auspicious ones for the Hindu community. Devotees believe that whoever observes this festival; they get rid of any past ancestral issues and are blessed with a happy and prosperous life ahead. We wish all our readers who are celebrating the day a very Happy Datta Jayanti 2019!