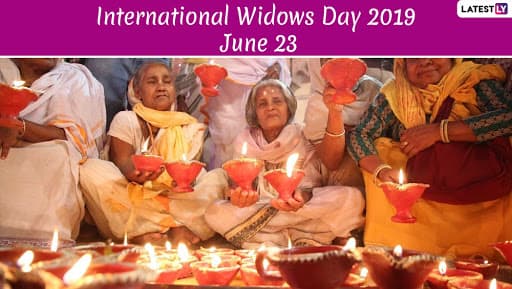 Marriages bring a lot of aspirations amongst women, while widowhood results in despair and apathy. An unending phase, where these lovely women forget the reason to smile - due to poverty, injustice and social stigmatisation -  just because they have lost their husbands. To give these women a reason to live their life again, International Widows Day is celebrated each year on June 23.
Each year, on June 23, along with the help of the United Nations, programmes are organised to spread awareness amongst the widows who have lost their most important person in life. Following which they have been deprived of the society to lead an unmeaningful life. This day gives women an opportunity to raise their voice against the social injustice and dogmas imposed by society on them. Juneteenth, 134th Anniversary Special: Date, Significance, Legal Status of 'Freedom Day' for Enslaved African Americans in USA
History:
Widows across the globe have been on the suffering end and had faced numerous social ill-customs. For instance, in India there used to be a social custom which is called Sati Pratha. In this, a widow (in Hindu religion) used to die along with her husband and was forced to burn alive - by the society - in the same bier where her husband's corpse was laid.
However, with social reformer Raja Ram Mohan Roy's sustained efforts, things changed and this ill-custom was abolished. However, similar practices were still in place in different parts of the world, where widows were on the suffering side, without their mistake.
As time changed, situations became even worse. Then an Indian philanthropist Rajinder Paul Loomba initiated a campaign concerning the issue of widowhood in the developing world and set up his charity, The Loomba Foundation, after his mother's name - Shrimati Pushpa Wati Loomba, who was widowed at the age of 37 in India. International Workers' Day 2019: Date & Significance of The Proletariat Festival Commemorating Struggle to Achieve 8-Hour Working Day
With his charitable institution, Loomba used to raise funds to educate the children of poor widows in India and empower widows in other developing countries in South Asia and across Africa. As campaign sustained for years, the first International Widows Day was celebrated on June 23, 2005 - the anniversary of his mother's widowhood.
United Nations' Involvement:
Following the continuous efforts for a noble cause, by the end of sixth International Widows Day in 2010, events started taking place in Rwanda, Sri Lanka, the United States, the UK, Nepal, Syria, Kenya, India, Bangladesh and South Africa. All this were personally monitored by Loomba and the foundation's president Cherie Blair - wife of former British Prime Minister Tony Blair.
As more awareness was being spread without the help of global agencies for a noble cause, the United Nations General Assembly on December 21, 2010, formally adopted 23 June as International Widows Day. The UN endorsed it by unanimously acclaiming a proposal introduced by President Ali Bongo Ondimba of Gabon to UN Secretary-General Ban Ki-moon on June 22, 2010. Along with this, June 23 was formally recognised as a day of observance. Che Guevara Quotes: Remembering the Marxist Revolutionary Guerrilla Leader on His 91st Birth Anniversary 
Why It Is Important?
The International Widows days is not like other International Days celebrated globally. It's an opportunity for action towards achieving full rights and recognition for widows. This not only to aware widows about their rights, but provides them with the information on their inheritance, land and productive resources, pensions, equal pay, education and training opportunities.
The day is an opportunity to empower widows so that they live their life with dignity and pride. This celebration also helps in eradicating the social stigmas that create exclusion, and discriminatory or harmful practices. Karl Marx 201st Birth Anniversary: Inspiring Quotes Celebrating the Greatest Socio-Economic Thinker's Vision for Proletariat Class
UN report states that more than 258 million widows are there across the globe and most of them are in living their lives in social apathy and are deprived of basic amenities. It's time we all unite for the upliftment of the widows and fill colours in their life. Let's celebrate 'International Widows Day' and give all the mother and sister a reason to smile.