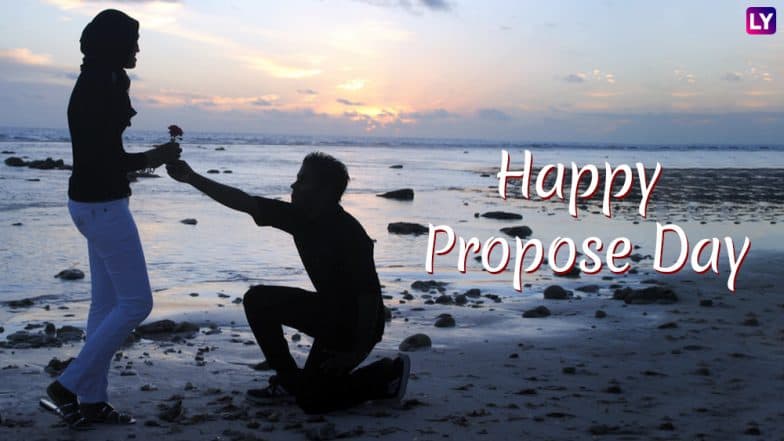 The Valentine Week 2019 has begun, and couples across are captivated in the celebration of love. Starting with Rose Day which falls on February 7, the second day of the Valentine Week is Propose Day. Celebrated on February 8, couples on this day express their affection to their significant others with meaningful and romantic lines. Which is why we are here with a fantastic collection of Propose Day messages, greetings and wishes. You will also find romantic Propose Day WhatsApp Stickers, GIF image videos, animated stickers, and photos to wish your partner a very Happy Propose Day 2019. You can use these as Instagram captions, Facebook and WhatsApp status. Propose Day 2019 Date in Valentine Week: Romantic Quotes and Images To Express Your Love Ahead of Valentine's Day. 
Although happily-in-love couples would not want any specific day to declare their love and commitment towards each other, a particular day such as Propose Day does not harm. It instead gives them a chance to make their loved ones feel extra special. Whether you are married or in a live-in relationship, or long-distance, you indeed need some beautiful lines that express your feelings towards your better half. From SRK-Gauri to Abhi-Ash, Bollywood Celebs' Real-Life Proposal Stories Will Make You Swoon!
In this article, we have compiled some Propose Day 2019 messages and wishes to help you share your feelings. Just be respectful towards each other and enjoy the celebration of love with these lovely lines to wish your bae on 2019 Propose Day. Also, note that these Propose Day images are completely handy, and you can use them to express your love personally and through WhatsApp and social media platforms such as Facebook, Twitter and Instagram. Avoid These Mistakes While Proposing to Your Love This Valentine Week.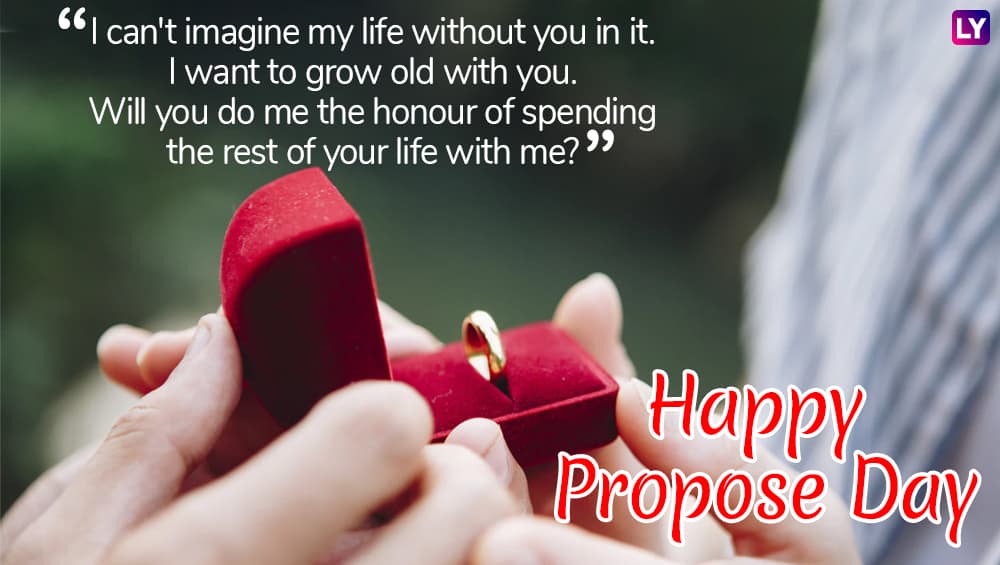 WhatsApp Message Reads: "I can't imagine my life without you in it. I want to grow old with you. Will you do me the honour of spending the rest of your life with me?" Happy Propose Day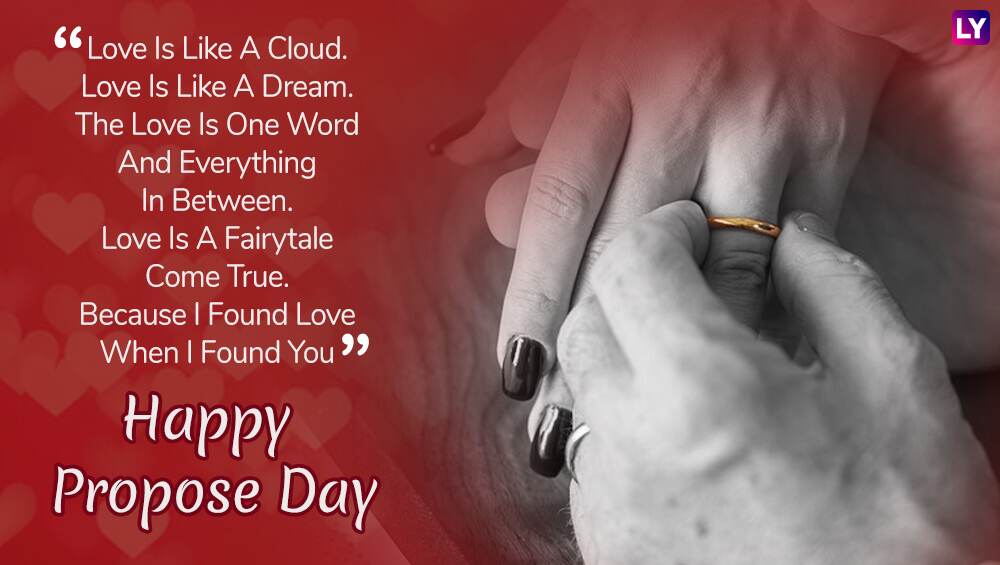 WhatsApp Message Reads: "Love Is Like A Cloud. Love Is Like A Dream. The Love Is One Word And Everything In Between. Love Is A Fairytale Come True. Because I Found Love When I Found You." Happy Propose Day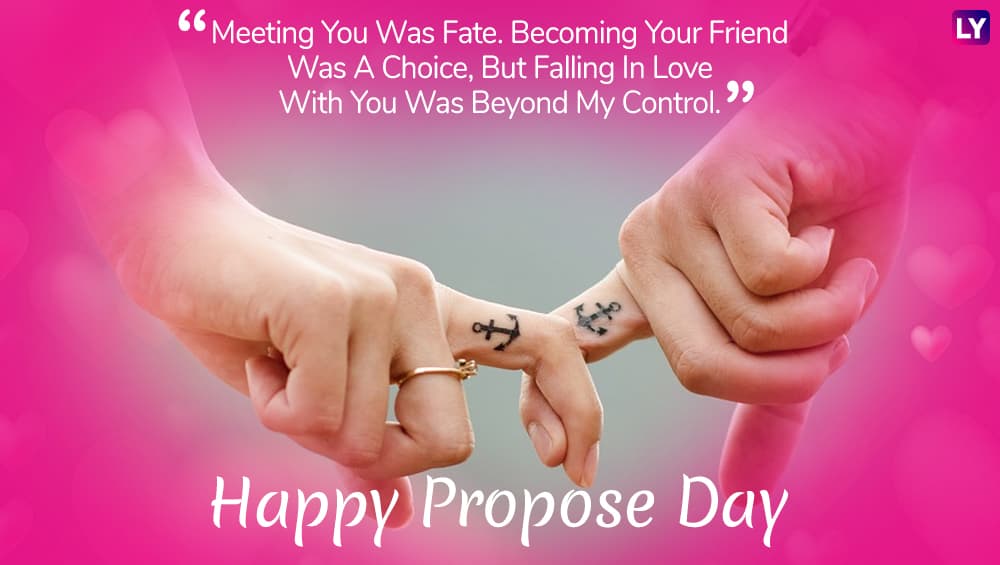 WhatsApp Message Reads: "Meeting You Was Fate. Becoming Your Friend Was A Choice. But Falling In love With You Was Beyond My Control." Happy Propose Day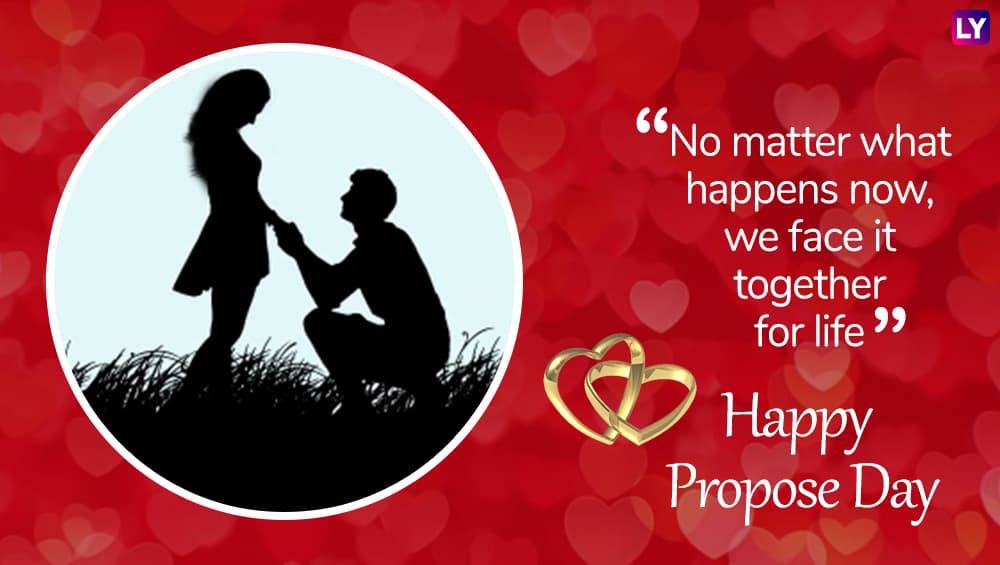 WhatsApp Message Reads: "No matter what happens now, we face it together for life." Happy Propose Day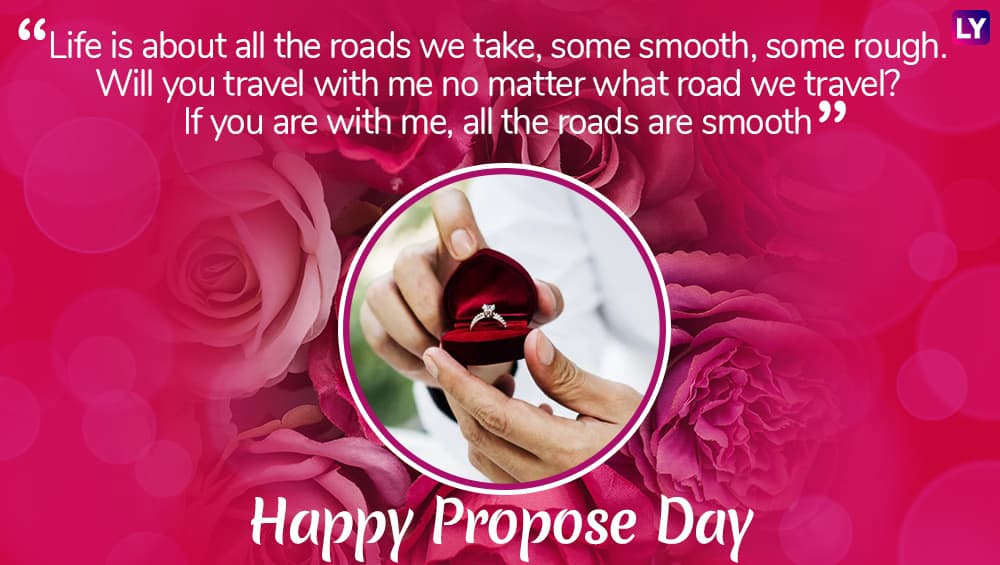 WhatsApp Message Reads: "Life is about all the roads we take, some smooth, some rough. Will you travel with me no matter what road we travel? If you are with me, all the roads are smooth." Happy Propose Day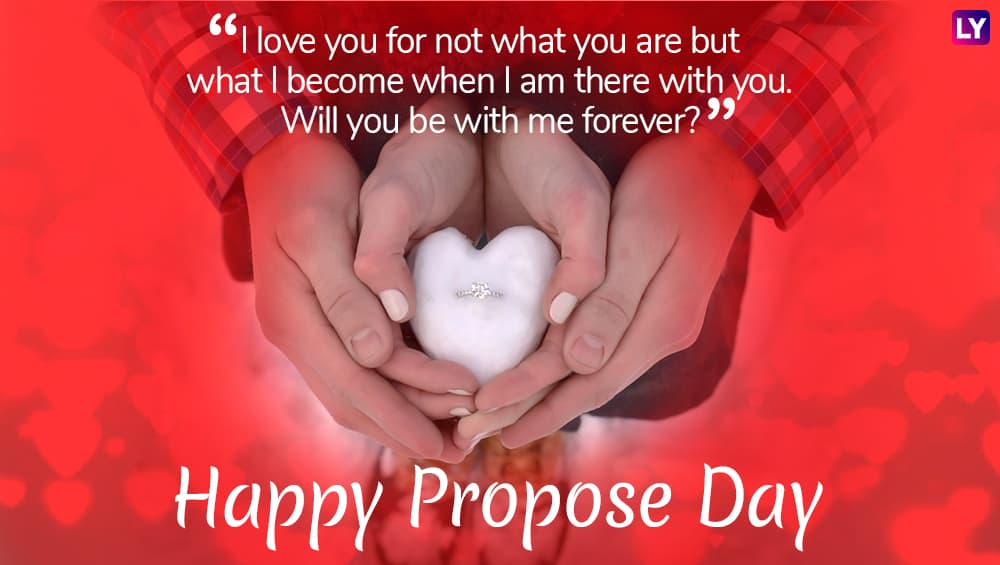 WhatsApp Message Reads: "I love you for not what you are but what I become when I am there with you. Will you be with me forever?" Happy Propose Day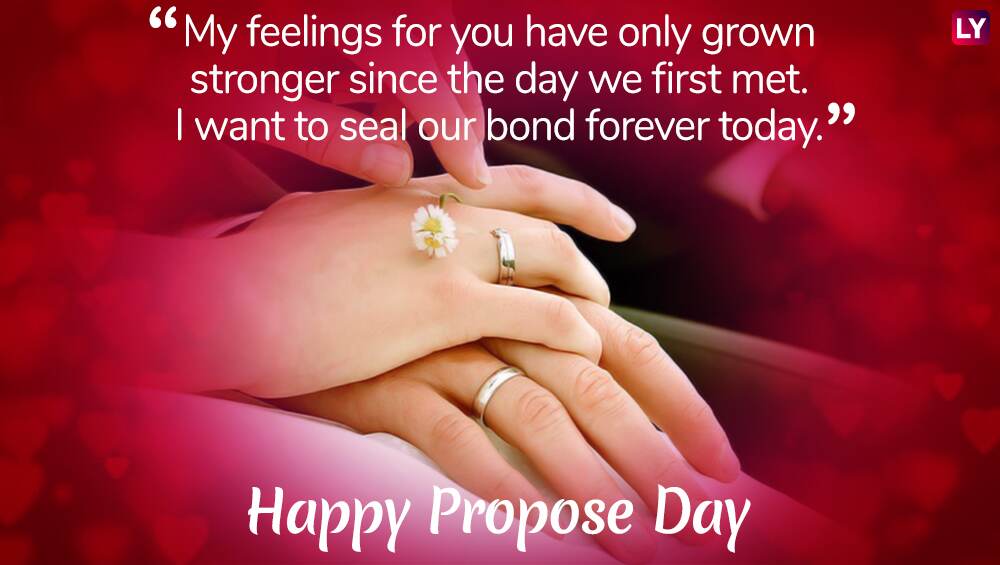 WhatsApp Message Reads: "My feelings for you have only grown stronger since the day we first met. I want to seal our bond forever today." Happy Propose Day
WhatsApp Message Reads: You never know when love comes and finds you. But I think I have found it with you. Being around you is the best feeling in the world and on this Propose Day, I want to ask you... Will you be mine forever? Happy Propose Day
WhatsApp Message Reads: Love is not Something you find Love is Something that finds you.. I want to be with U until the sun falls from the sky. Happy Propose Day
How to Download Propose Day 2019 WhatsApp Stickers?
WhatsApp stickers have just taken over the regular old exchange of text messages. Be it any occasion, the Facebook-owned messaging app never disappoints us. With the onset of 2019 Valentine Week, WhatsApp has rightly introduced some cute, beautiful and quirky stickers for the lovebirds alike. You can download them here. These Propose Day 2019 emojis are free and accessible through a different version of an android device. So, it's time to woo your partner in the coolest way possible.
During the Valentine Week, each day, connotes a special significance. You definitely have romantic plans for your partner on the seven days of love. Propose Day is one of those days to make your loved ones feel special or commit your love to someone you are absolutely smitten by. And the messages and wishes compiled above will add some more romance while you propose your bae. Lovebirds of all ages celebrate this day in their unique ways. As the festivity of love has only begun, there is a lot to unfold on the coming days. Happy Propose Day!