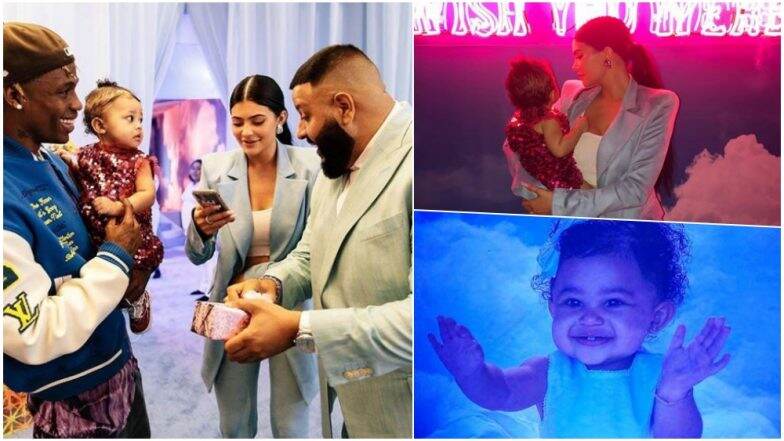 Kylie Jenner and Travis Scott's baby Stormi Webster is a lucky child and don't we all know that? Baby Stormi turned one on February 1, but it was an occasion which called for multiple celebrations. The weather did not cooperate to bring in grand celebrations on February 1, thus the parents brought in grand festivities over the weekend. And boy, the grandeur has left people on social media feeling too poor. Keeping Up With The Kardashians star Jenner had made an altogether extravagant theme park called Stormi World to ring in the first birthday celebrations. That's not all, the guest list included DJ Khaled and Baby Shark. No wonder, people on Twitter felt the need to call themselves too broke. Kylie Jenner and Travis Scott's Birthday Wishes For Baby Girl Stormi Webster Are Very Sentimental - Check Out Their Posts.
Last week, on February 1 to be precise the weather forecast showed a lot of rain so the party was cancelled. So on the actual birth date of Stormi, it was a quiet relaxed affair with close family and friends. But when you are a Kardashian, that's not enough. On Saturday, the family threw an epic bash for Stormi Webster and the parents apparently rented the entire back lot of Universal Studios. The entire set looked like a fairytale with hot-air balloons, rainbows, dancing pixies and magic everywhere. Kylie Jenner And Stormi Webster Twinning In Pink Butterfly Costumes For Halloween Is The Cutest Thing You'll See On the Internet Today! 
Check Pictures and Videos From Theme Park Stormi World
The Entrance to Stormi World
View this post on Instagram
Stormi and LifeSize Teddy Bears!
View this post on Instagram
Kylie Jenner Going All Out For Her Baby
View this post on Instagram
And The Gift From DJ Khaled
View this post on Instagram
The extravagant celebrations may be unfathomable for the one-year-old child, but Twitter is feeling the pinch! Several people commented on how the beautiful set up made them feel a lot poorer.
Blessed With the Best!
Stormi only just turned one years old and she already living all our best lives put together 😭 pic.twitter.com/2vCbakOrv6

— ¥ (@YasmineChanel) February 10, 2019
Jealous of Stormi's luck
As a broke person, I am personally offended by Kylie Jenner's insta story. Stormi's birthday party looked insane. How can a one year old be gifted with Chanel before me? pic.twitter.com/Us5SEEjY9Z

— 🥥 (@fifismusings) February 10, 2019
Broke much?
Stormi World? That shit looked lit and also called me broke at the same time 🤣😭

— Ebony (@ebonymiyu) February 10, 2019
Ouch
Stormi can't even talk and she already called me a broke bitch

— 🌞🌞 (@solecitoxo) February 10, 2019
As Extra As Kylie Jenner
You see the birthday party Kylie threw for Stormi? I aspire to be that extra as a parent!

— 𝐀𝐑𝐋𝐈𝐍𝐃𝐀 (@eatwitharli) February 10, 2019
The proud mother was sure flaunting all that was arranged on her Instagram stories and fans clearly couldn't take all of that wealth being used for one-year-old's birthday. The party was extra in all elements. Women were dressed as fairies at the entrance of a butterfly forest, the cakes had the face of Stormi, cartoon mascots moved to the tunes of Baby Shark and DJ Khaled gifted her a Chanel bag! So yes, while the one-year-old was enjoying in the wonderland her parents had created for her, the internet was left fuming at her luck.