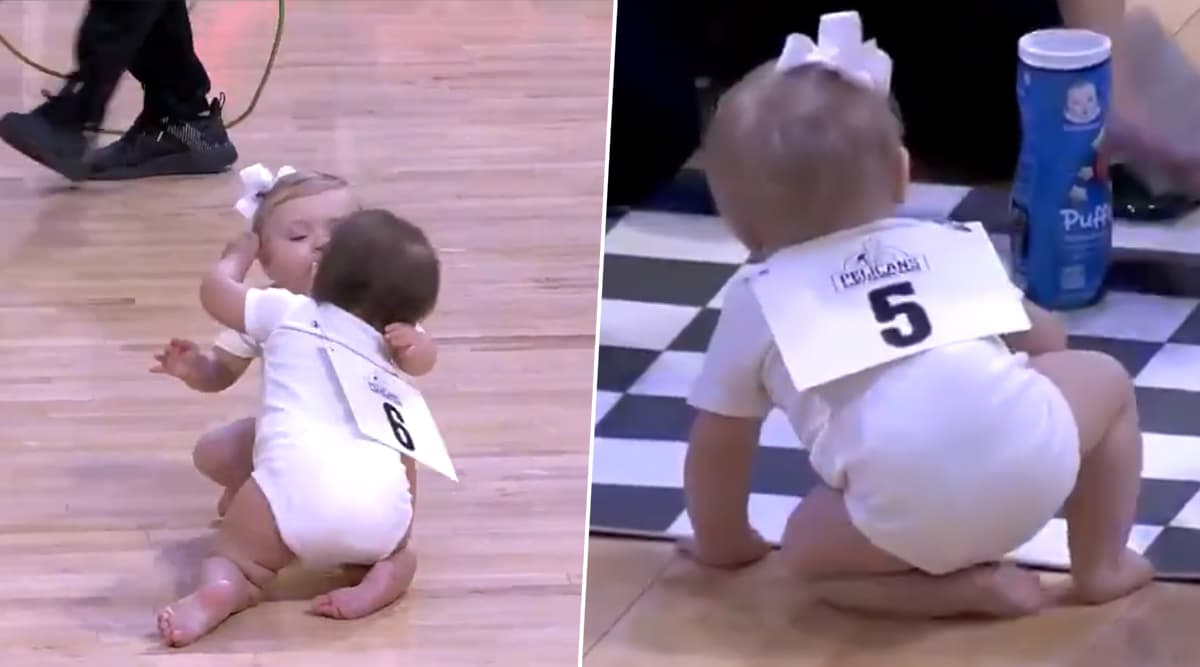 Crawling races of babies have become quite popular in the recent past. It is fun to watch toddlers race against each other with no idea what they are actually. They sit, clap, dance and in the middle maybe crawl a little. While some decide to cry until someone picks them, others are quite focused on their crawling track. But the one that unfolded at the Pelicans-Thunder game was a dramatic one! The winning candidate took all the time in the world to reach the finish point. Funny Baby Yoda Memes and Jokes: These Memes Having Cute Baby Yoda's Pictures Will Melt Your Heart While You LOL.
The turn of events was recorded at New Orleans during Pelicans-Thunder game halftime. Those who paid to see an NBA game, witnessed the best baby crawling race in their life. She came halfway then stopped to hug fellow contestant and also kissed each other making it the cutest race ever. She also danced a little garnering all the attention. Enjoying the fame, went in circles and in the ned finally reached the finish line. The video went viral after New Orleans Pelicans shared the video on Twitter with the caption, "A Baby Crawl Race for the ages! What a dramatic finish!" This Adorable Video of Baby Girl With Down Syndrome Smiling Will Tug at Your Heartstrings! (Watch Video)
Watch The Video Below:
A Baby Crawl Race for the ages!

What a dramatic finish! 😂 pic.twitter.com/Wy0QKaJBKk

— New Orleans Pelicans (@PelicansNBA) December 1, 2019
The babies crawling on the floor at Smoothie King Center was quite an entertainment for those who attended the event. And the babies tried really hard in helping their parents win a $250 gift card. We encourage all babies in the world to participate in similar races and make our day better. Go, babies!