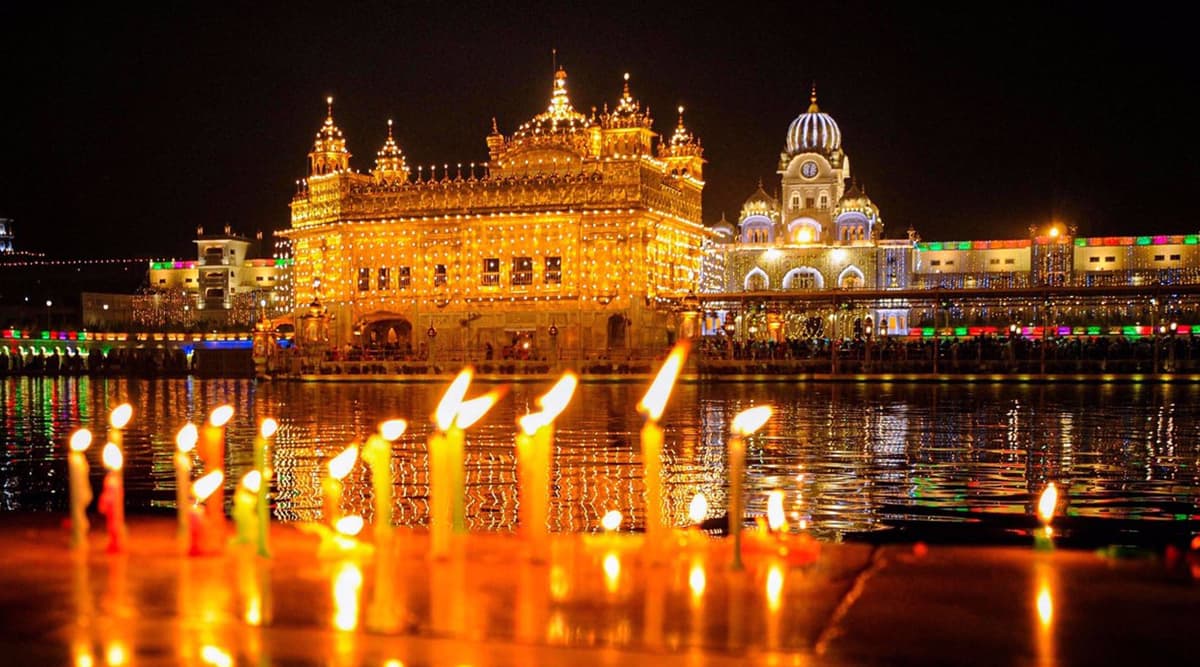 Sikhs across the world are celebrating the auspicious occasion of Guru Nanak Gurpurab, dedicated to the first Sikh Guru—Guru Nanak Dev Ji. The celebration is double because this year is the 550th Parkash Purab of Guru Nanak Dev and Twitter is filled with devotional greetings and messages. Since early morning today, Guru Nanak Jayanti 2019 messages, Guru Nanak Dev quotes, wishes and greetings have surfaced online accompanied by trending hashtags. Guru Nanak Parkash Utsav is one of the most auspicious festivities for people belonging to the Sikh community and the day is full of merriment. If you haven't noticed what Twitterati is so captivated about, we have provided a few tweets dedicated to Guru Nanak Jayanti 2019 messages that will give you a gest as to how the festival is being celebrated in India. Gurpurab 2019 Images & Parkash Purab 550 HD Wallpapers For Free Download Online: Wish Happy Guru Nanak Jayanti With GIF Greetings & Hike Messages on Guru Nanak Dev Ji Parkash Utsav. 
The festivals in the Sikh religion revolve around the anniversaries of the 10 Sikh Gurus. These Gurus were responsible for shaping the beliefs of the Sikhs. Their birth anniversaries, known as Gurpurab, are occasions for celebration and prayer among the Sikhs. Different parts of India are celebrating Guru Nanak Dev Jayanti with magnificent grandeur, and the festivity will keep the devotees captivated. The holy Sikh Golden Temple has been enshrined and decorated with candles and flowers to mark the auspicious occasion. Check out how Twitterati is celebrating the 550th birth anniversary of Guru Nanak Dev Ji. Happy Gurpurab 2019 Wishes in Punjabi: Greetings, Messages, WhatsApp Stickers, SMS and Quotes to Wish Your Friends & Family on Guru Nanak Dev Ji's 550th Prakash Utsav. 
Check Guru Nanak Dev Jayanti 2019 Tweets:
The beautiful Golden Temple illuminated on #GuruNanakJayanti #GuruNanak550 pic.twitter.com/2Xwmjyq51e

— Punit Agarwal (@Punitspeaks) November 12, 2019
Guru Nanak Dev Jayanti 550th Parkash Purab:
3 AM at Bangla Sahib tonight, Guru Nanak Dev Ji's 550th Prakash. I've never felt calmer, happier or more serene in my entire life than I did in these few minutes, chanting Ik Onkar with a 1000+ devotees. You can feel his presence light up the room. #GuruPurab #GuruNanakJayanti pic.twitter.com/XTpJIGEdFC

— Aryan Grover (@Aryan_Grover) November 11, 2019
Happy Guru Nanak Dev Jayanti!
May his teachings always guide and enlighten our lives. #MMRC wishes you all a very happy #GuruNanakJayanti #Gurupurab pic.twitter.com/nagVLaZGXs

— MumbaiMetro3 (@MumbaiMetro3) November 11, 2019
Parkash Purab Images:
Guru is the light that leads you right in life

He is the light that takes you to your goals ...

On the occasion of Gurupurab, I wish that no person in this world live in delusion...

May we all find our Guru who can guide us.... Warm wishes on #GuruNanakJayanti #prakashparv pic.twitter.com/120X7PmyHg

— anjali sharma (@anjalisharma26) November 12, 2019
Before we move further, we must tell you that the festivity of Guru Nanak Dev Jayanti 2019 has only begun. A lot more images and greetings of Gurpurab is slated to take over the social media sites as devotees gather to mark the auspicious occasion. Happy Guru Nanak Dev Jayanti!