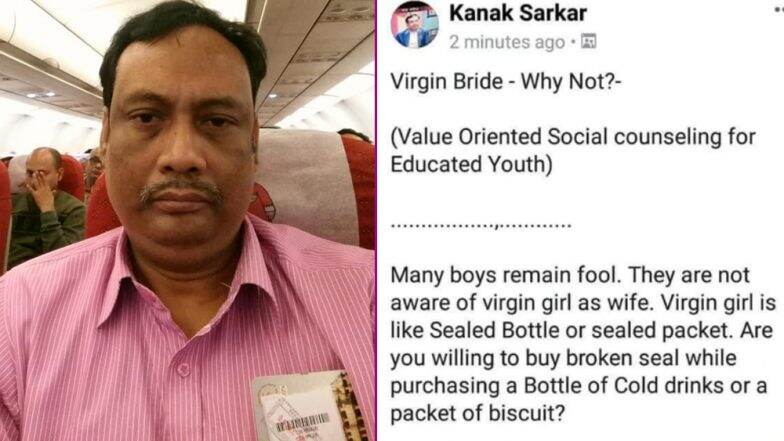 After making headlines over his misogynist Facebook post equating virgin girl to sealed bottle, Jadavpur University Professor Kanak Sarkar tried to defend his statement by saying that there is freedom of speech and expression. There may be some mistakes from my end but I haven't done anything wrong as per law, Sarkar said. Earlier, he had posted several Facebook posts about women's virginity that were extremely misogynistic and sexist.
Sarkar while speaking to News18 said, "I have not said anything wrong. As per the constitution, it's my right to present my expression. There is freedom of expression and speech. There may be minor mistakes from my side but the bottom line is I have not done anything wrong as per law." Misogynistic Professor From Kolkata's Jadavpur University Puts Up Virgin-Shaming, Sexist Posts on FB, Compares Women's Virginity With Cold Drink's Broken Sea.
Sarkar on social media also defended his point, "Supreme Court has repealed section 66 A of IT Act and given freedom of expression in Social Media. When Taslima Nasrin wrote against a particular religion we supported her Freedom of Expression. We are supporting Bengali Poet Srijato who writes about Hindu Gods. Feminists also abuse men and patriarchy in seminar and Media."
He further added, "I have not written anything against any person, individual or anybody without any evidence or proof or any reference. I am doing social research and writing for the good and wellbeing of Society. The recent post I have given in 'Kalom' and 'Mukto Kalom' public group only. Many are sharing screenshots. I request not to confuse. It's everybody's right to express his / her thoughts. I have given many posts for and in favour of women. Can verify them in my Timeline."
A recent post shared by journalist Adrija Chatterjee said that Sarkar asked a female student if she wants to be a model as her figure is model like and if she has a lot of male friends. Egypt: University Expels a Female Student for 'Hugging Man' in a Viral 'Proposal' Video.
"I was giving a presentation in class one day and this man [Kanak Sarkar] interrupted me in the middle, and I thought it was to ask me a question. However, to my absolute dismay, he asked me if I want to grow up and become a model, since my figure is very model like. He also asked me if I have a lot of male friends, because according to him, I'm what men would enjoy," she alleged. "My HOD, in front of a class of 52 students, in that moment, reduced me to nothing, she further added. Chatterjee also questioned the authorities "How are we allowing such professors to carry on?"
Sarkar made headlines, in a now deleted FB post, "Are you willing to buy a broken seal while purchasing a bottle of cold drink or a packet of biscuits? A girl is born sealed from birth until it is opened. A virgin girl means many things accompanied with values, culture, and sexual hygiene. To most boys virgin wife is like angel."
Jadavpur University Teachers' Association (JUTA) General Secretary Partha Prarim Ray said that "JUTA strongly condemns such sexist comments." Meanwhile, the university authorities haven't made any comments on Sarkar's statement yet.