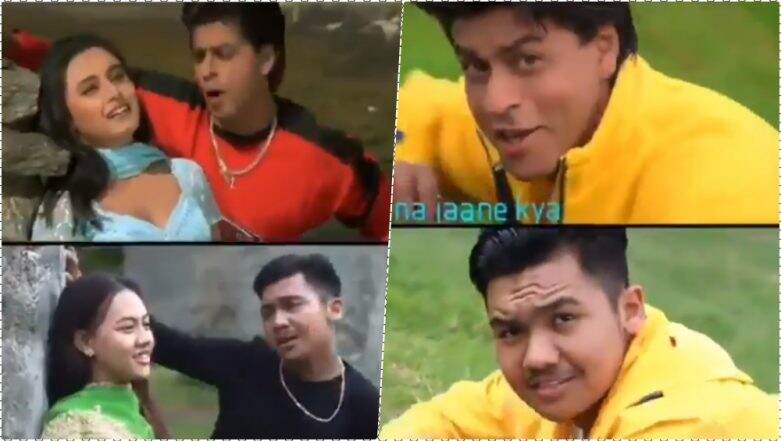 Shah Rukh Khan does not have to work in an American sitcom or do a Hollywood movie to become a global icon. The 53-year-old Bollywood superstar actor with a career spanning over almost three decades has taken the charm of Hindi cinema to those parts of the world where even English is not a primary language! SRK has huge non-Indian fans across the globe, including a handful of Indonesian fans who have recreated King Khan's 1998 film "Kuch Kuch Hota Hai" title track. This fan version video of the song "Tum Paas Aaye" originally featuring Shah Rukh, Kajol and Rani Mukerji is pure gold. Peru Loves Shah Rukh Khan! SRK Tweets Video of a Fan's Peruvian Version of Zaalima Song and It Reminds Us of Bhojpuri Swag.
Kuch Kuch Hota Hai, ace filmmaker Karan Johar's directorial movie (probably his best till date) had everything – college romance, a love triangle, ugly duckling to beautiful swan transformation (don't judge me), best friends to lovers, romance in the rain, rona-dhona and dher sara pyar. I mean there's hardly any trope that KJo left out of his first picture. KKHH also boasted off a great soundtrack and its title track "Tum Paas Aaye" remains a fan-favourite till date. Karan Johar Celebrates 20 Years of the Classic Kuch Kuch Hota Hai With an Emotional Message for the Cast – See Pic.
Sung by Udit Narayan and Alka Yagnik, Kuch Kuch Hota Hai title song shows Tina (Rani Mukerji), Rahul (Shah Rukh Khan) and Anjali (Kajol) realising of their love. This track showcases the love triangle between them. There are memorable scenes of them, especially of their outfits. You have SRK in blushing in bright yellow jacket to Kajol sporting those broad hairbands while Rani wore pretty churidars.
Watch Video of 'Kuch Kuch Hota Hai' Fan Version
No wonder this song caught the fancy of this group of young Indonesian fans who remade it shot-by-shot! The Indonesian version has been directed by Fathan Malik Dasopang who also reprises SRK's role of Rahul. Meanwhile, Tyastri stars as Tina and Kiffa Adams as Anjali. It is amazing to see the amount of hard work they have put in to replicate the original song. It is no surprise the video uploaded on YouTube has garnered 1,445,965 views (at the time of publishing) and also going crazy viral on other social media platforms such as Instagram, Twitter and Facebook.
Watch Video of 'Kuch Kuch Hota Hai' Original Title Track
Last year in October, Kuch Kuch Hota Hai completed 20 years of its successful release. Director Karan Johar had thrown a lavish party to mark the special day. The event was graced by Shah Rukh Khan, Kajol and Rani Mukerji along with everyone at Dharma Productions and a string of B-town celebs including Janhvi Kapoor, Ananya Panday, Kareena Kapoor, Ishaan Khatter, Varun Dhawan, Abhishek Bachchan, Neha Dhupia and Sidharth Malhotra.