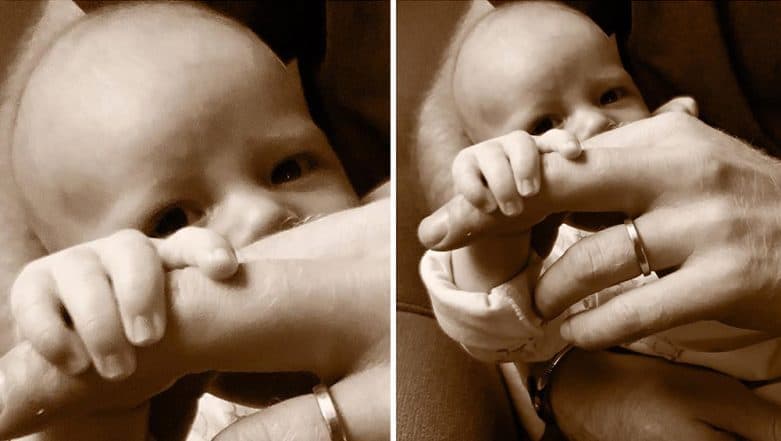 The whole world wonders who is going to be Meghan Markle and Prince Harry's baby boy, Archie Harrison Mountbatten-Windsor's godparents. The royal little one arrived into this world on May 6 and ever since people have been wondering who would be the godparents of little Archie. The Duke and Duchess of Sussex are now ready for baby Archie's christening and reports have it that the couple's close friends George and Amal Clooney are not going to be the godparents of the royal baby but, in fact, Barack Obama and Michelle Obama. The christening of the baby is said to be held on a tentative first or second week of July and the Duke and Duchess of Sussex have already started the preparations. Royal Baby's Name Archie Harrison Opens Floodgates of Tweets; Netflix and Archie Comics Have the Best Reactions.
Reports by the royal biographer Angela Levin claims that Meghan and Harry may choose Obamas as baby Archie's grandparents. Levin was quoted saying in a show, "I think the Obamas could very well stand there because Harry has always got on very, very well with them. And Meghan does too. And Meghan has used Mrs Obama to help her understand the Royals and how she should do things." Archie will be baptised at St George's Chapel, Windsor, which is the same place where prince Harry was christened in 1984 and got married to Meghan Markle. The ceremony will be skipped by Queen Elizabeth.
The couple was blessed with a baby boy, making him seventh-in-line to the British throne. The 34-year-old father, Duke of Sussex, was present at the birth of his boy, who weighs 3.2 kg. Meghan Markle and Prince Harry recently introduced their son Archie Harrison Mountbatten-Windsor to the world but unlike all his famous cousins, the baby doesn't sport a royal title. Meghan, a former actress, and Harry got married at a lavish wedding ceremony in Windsor Castle in May last year and announced the pregnancy publicly in October 2018, on the first day of their Commonwealth tour of Australia and New Zealand.