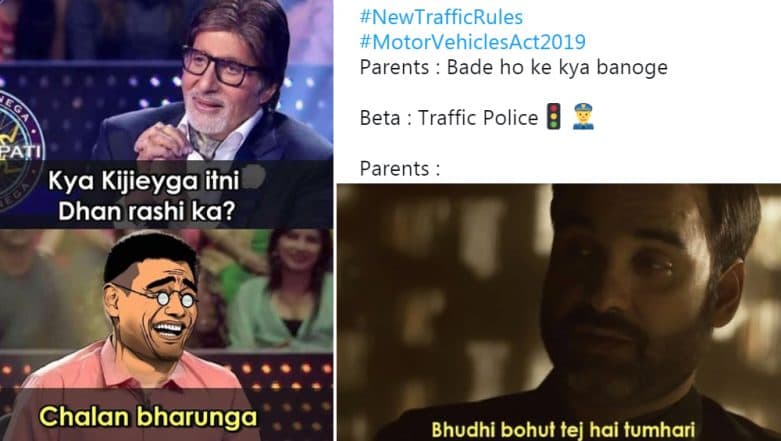 As much as we may have joked previously about the lack of traffic rules in the country and everything being very lenient, things may see a positive change with the effect of The Motor Vehicles (Amendment) Act, 2019. From September 1, the government brought in a new Motor Vehicle Act with an aim to improve road safety. Breach of traffic rules now has increased penalties, which will deter people from breaking them. The new rules, fines and law have become the latest target of funny jokes and memes online. As #NewTrafficRules, #TrafficFine have begun trending, netizens are finding humour in the situation and expressing how the increased fines feel like. Motor Vehicle Amendments Bill: Stricter Rules for Drivers, Check Revised Fine List.
The cost of fines has been increased almost five times the previous penalties. Drink and drive, not making way for an emergency vehicle, driving without a license, a vehicle without a permit are some offences with a fine of almost Rs 10,000. So needless to say, the new traffic rules are a lot more stringent and can invite imprisonment along with the penalty. Netizens are feeling the fear already it seems, as funny jokes and memes on paying fines are all over social media.
Check Funny Memes on #NewTrafficRules:
Pachtaoge
#NewTrafficRules 😭 pic.twitter.com/EmlPMf6M8O

— Am I Write? (@WordsSlay) September 4, 2019
Demand for These Will Rise
#NewTrafficRules New driving T Shirts available.😜 @BJP4Bihar @BinitaBini5 @KrpandeyKumar pic.twitter.com/0tjuqHo6Kr

— Ritesh Ranjan (@riteshranjanbjp) September 4, 2019
Quiet Possible
Waiting for Banks to launch "Challan Savings Scheme".#NewTrafficRules#funnymiglani

— Shivam Miglani (@funnymiglani) September 4, 2019
Heavy Calculations Here
Please calculate the total amount.!!! #NewTrafficRules pic.twitter.com/NPVRh32s31

— Prafull Billore (@PrafullBillore1) September 4, 2019
Oh, Those Rich People!
When someone going on a bike without a helmet 🤨

*you#NewTrafficRules #TrafficFine pic.twitter.com/GuiSCvY2WV

— Manish Chauhan (@manishchauhan_1) September 4, 2019
New Profession Scope
#NewTrafficRules #MotorVehiclesAct2019

Parents : Bade ho ke kya banoge

Beta : Traffic Police🚦👮

Parents : pic.twitter.com/Smj5MKAETk

— BekaarAadmi🚶 (@RealFun14) September 4, 2019
Traffic Constables be Like
Traffic constables all over India to vehicle owners ...#TrafficFine pic.twitter.com/V6LqWx27PB

— 💲🅰️〽️ (@Samcasm7) September 4, 2019
Haha
The best meme i received on new traffic rules. #NewTrafficRules pic.twitter.com/Ga0jlHTShy

— Mohit Uppal (@ryt2mohit) September 4, 2019
Too Expensive
*Rich Father takes out cash from ATM*

He to his son: Chal beta, tere liye Iphone leke aate hain.

*Breaks Signal on road*

*In the evening* Son: Thanks for the new Redmi Note 7, Dad.#NewTrafficRules

— Vishesh Arora (@vishesharora19) September 3, 2019
The heavy amount of fines is already hurting the netizens. Anyone who happens to pay the fine amount is now among the rich and fancy as per the netizens. The new bill aims to promote an efficient and corruption-free transport system in the country. If all of these rules are implemented then surely a lot of accidents could be avoided. These set of new rules will improve road safety, facilitate citizens in their dealings with transport departments, strengthen rural transport and public transport in India.