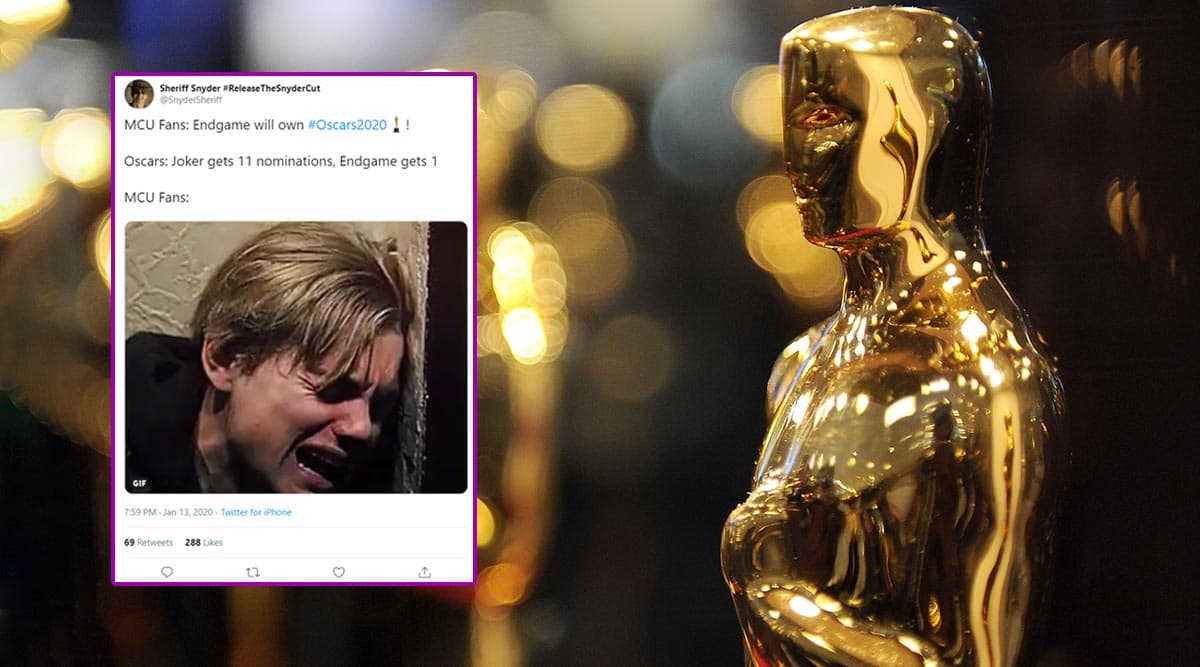 Last night, Issa Rae and John Cho announced the nominees for The Academy Awards 2020 and as usual fans were excited and thrilled to see who all made it to the coveted list. Known globally as Oscars, it's one of the most anticipated and highly recognised felicitations around the globe. Yes, we do know that the awards night is still a month away (Feb 15), but the enthusiasm with regards to the same is tremendous. All that being said, from the moment the nominees for the Oscars were out, Twitter got flooded with memes as well as reactions on the same. While some tweeples were overjoyed to see the final list, some, on the other hand, questioned the intentions of the nominees' list with funny memes. Oscar 2020: Marvel Fans Get Disappointed after Avengers: Endgame Bags Just One Nomination.
On Twitter, moviegoers binge-watching the live nominations could not keep calm and in no time started churning hilarious jokes. Right from the commentary to why a particular film could not make it to the list? Nothing was spared. Just in case you missed on with the nominations list; click here and read further to check out some LOL-worthy memes on Oscars 2020 nominees. Oscars 2020: South Korean Film Parasite Lands 6 Nominations Including Best Picture.
The Iconic Moment!
"Congratulations to those men." - Issa Rae introducing the Best Director category is a MOOD. #OscarNoms pic.twitter.com/ihxnw0E6VJ

— Kathleen Newman-Bremang (@KathleenNB) January 13, 2020
Unfair Ha?
So Sc***ett J************n got 2 nominations but they couldn't nominate neither Awkwafina, Zhao Shuzhen, Jennifer Lopez nor Lupiya Nyongo? #Oscars2020 pic.twitter.com/jotOTyPBTT

— zhao shuzhen's oscar (@fattikamille) January 13, 2020
Hahahaha!
Greta Gerwig and Noah Baumbach upon watching the #OscarNoms for director pic.twitter.com/TpaMV0AcQz

— Alfonso Manalastas (@not_alfonso) January 14, 2020
Facepalm!
#OscarNoms #Oscars2020 pic.twitter.com/rO1KqGBuHe

— "Dillinger", named after my penis. (@OligProl) January 14, 2020
Inaccurate Oscars Noms?
I am actually too annoyed at the #OscarNoms to comment. It's just inaccurate. pic.twitter.com/lxhMtIc2Jj

— Stephanie Varsanyi (@steph_varsanyi) January 14, 2020
Fact!
Please, tell me more about how women don't deserve awards for directing when those exact films get nominated in multiple categories including BEST PICTURE? #OscarNoms pic.twitter.com/homVpoNyLb

— Jada🖤 (@JabbyBab) January 14, 2020
Good One!
Disney: Haha, we're totally a shoe-in for two Oscar Nominations in the Best Animated Feature Category! I mean look at how much money Frozen 2 made!

Oscars: *Nominated Netflix's I Lost My Body and Klaus and snubs Frozen 2*

Disney: #Oscars2020 #OscarNoms pic.twitter.com/kPgUD3COhu

— TRAFON (@RiseFallNick) January 13, 2020
Hmm!
academy award nominee for supporting actress florence pugh, i love the sound of that #Oscars2020 pic.twitter.com/QKZeJ9vjje

— leigh (@ircnwasp) January 13, 2020
Sad, Right?
MCU Fans: Endgame will own #Oscars2020!

Oscars: Joker gets 11 nominations, Endgame gets 1

MCU Fans: pic.twitter.com/HQb3Stm0Xr

— Sheriff Snyder #ReleaseTheSnyderCut (@SnyderSheriff) January 13, 2020
Talking about the nominees, Joaquin Phoenix's Joker got 11 nominations whereas the most loved Korean film, Parasite received a nomination in the Best Picture category. Also, just after the nominations, #OscarsSoWhite also started trending on the micro-blogging site. What's your take on the nominee list? Stay tuned!