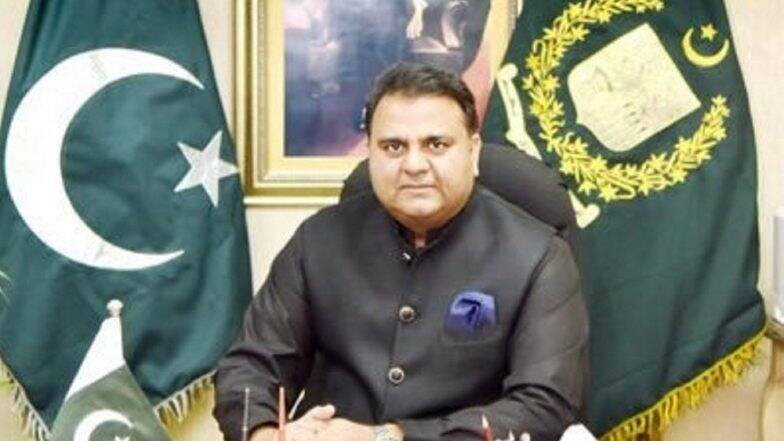 In a competition to tweet senseless, Pakistan's Minister for Science and Technology Fawad Chaudhry is winning the race. On Tuesday, he posted a foul tweet on Prime Minister Narendra Modi's 69th birthday. The motormouth Minister tweeted, "Today reminds us the importance of contraceptives #ModiBirthday". Fawad's tweet became viral and he was mercilessly trolled by the netizens. Pakistan Senator Rehman Malik Tags 'UNO Game' Instead of 'United Nations' in Hilarious Twitter Gaffe.
Chaudhary on Tuesday went even low by his standards and made an offensive comment. After his tweet, Chaudhry was slammed on the micro-blogging site. A torrent of trolls and meme posts made its way to the social media following Chaudhry's bad attitude. Pakistan Takes Jibe at Chandrayaan 2: Let's Take a Look at the Debt-Ridden Country's Run-Down Space Programme.
Tweet by Fawad Chaudhry:
Today reminds us the importance of contraceptives #ModiBirthday

— Ch Fawad Hussain (@fawadchaudhry) September 17, 2019
Here's How Netizens Reacted:
Now we know what the 'Ch' before your name stands for

— Atul Khatri (@one_by_two) September 17, 2019
True, if your mother had taken few of them you would have not be here to fear Modi 😂😂😂

— Shash (@pokershash) September 17, 2019
The contraceptives of Paxtan. pic.twitter.com/38LncHoZhS

— Rupesh Shrivastava™ (@iRupeshS) September 17, 2019
Happy birthday to our beloved Prime Minister Shri. Narendra Modi..Hope you continues to be our PM for next 20 years..With Best wishes !!!

I Hope you will celebrate your next birthday in Muzafarabad POK.

— Muralikrishna🇮🇳 (@MuralikrishnaE1) September 17, 2019
After seeing tweets of Pakistan Ministers on regular basis, importance of contraceptives needed to be reminded on daily basis in Pakistan.

— Piyush Singh (@PiyushSingh83) September 17, 2019
@fawadchaudhry 2 kilo jalebi pack kar de, kuch bhikhmange #Pakistanis gate ke bahar khare hokar bhonk rahe hain 😂😂 pic.twitter.com/bjazoPvDjA

— Hitesh Chopra (@_HiteshChopra) September 17, 2019
Fawad version of Hippo !!! pic.twitter.com/K1lULvDwjE

— Manoj Agrawal 🇮🇳 (@manoj_indore) September 17, 2019
Chaudhry is not new to criticisms. Earlier, he had claimed that the Hubble Space Telescope was sent to space by Pakistan's aeronautics and aerospace research agency Suparco, instead of its the United States counterpart NASA.
"You have really surpassed all your predecessors. Just a few days under your patronage, we realized that Suparco has sent hubal telescope into space. Incredible. Mr PM ImranKhan should send such discoverer into space as a reward..!," a Twitter user had posted.