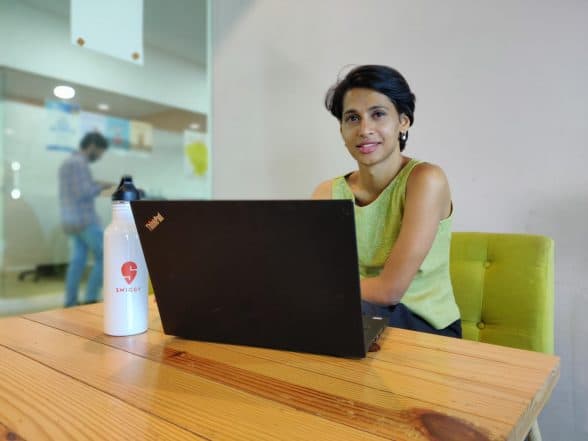 At a time when the transgender community continues to face discrimination, app-based food delivery startup, Swiggy has hired Samyuktha Vijayan, a trans woman as the Principal Program Manager. Samyuktha who is a techie has worked as a software engineer in Bengaluru, then moved the United States and has also worked in Europe for several years. She has worked with fashion start-up TouteStudio, bigwig like Amazon and recently joined Swiggy. #TransLooksLikeThis Goes Viral on Twitter With Transgender People Are Sharing Their Experiences for Not Being 'Trans Enough'.
While people of the transgender community are often disowned by family members, Samyuktha says she is blessed to have supportive parents. She started her hormone replacement therapy in 2016 and underwent sex reassignment surgery in 2017. At the time, she decided to return to India and do something for the people of her community back home. Toutestudio was started with the aim to bring skills and abilities of transgenders to the forefront. And as she works with Swiggy her aim is to encourage diversity, inclusion and acceptance. Being Transgender No Longer Considered a Mental Illness, WHO Renames 'Gender Identity Disorder' As 'Gender Incongruence'.
In an interview with LatestLY, she talks about her mission at Swiggy, LGBT community in the workforce and her journey to success.
What will be the core focus of the 'in-house LGBT support group'?
The main focus of the in-house LGBT support group is to make sure Swiggy has an open and inclusive culture where anybody from any background can bring their authentic self to the workplace. As a part of the Diversity & Inclusion group at Swiggy, we recently conducted a survey to arrive at the various things needed to be included as part of our policies and processes to encourage diversity. We are in the process of analysing the survey results. Based on the results, we will see what kind of actions need to be taken.
Do you think workplaces are inclusive enough in India?
In 2011, when I was in India working with my previous company, I had a few instances when colleagues would make insensitive comments and I did not know who to talk to about the issue. LGBT was a don't-ask-don't-tell scenario back then. With the supreme court striking down section 377, people are openly talking about issues related to sexuality. More and more people are now ready to convene a proper LGBT support group within a corporate structure. But transgender people have been around for a long time. So, companies need not have waited for the court's order on section 377 to focus on diversification. But still, it's better late than never.
How do you deal with preconceived notions of coworkers against the LGBTQ community?
In the past few months that I have been with Swiggy, I have not faced any situations that reflected prejudice or judgment from my colleagues, in fact, as soon as I joined, I was made a part of Women in the tech team. Outside Swiggy, however, we do not have enough people who are openly part of the LGBT community so far. The survey results are encouraging w.r.t employees understanding of why an LGBT network is needed. So hopefully things will be better for the community within Swiggy. Love is Love! Muslim Man and Transwoman Get Married in Madhya Pradesh on Valentine's Day 2019.
What should be the first step to create an inclusive attitude at any workplace?
I often work with other corporates for sensitisation training and LGBT awareness discussions. One of the first steps taken by corporates with a successful track record of LGBT is that, inclusion is a top-down approach. When leadership at the highest levels is bought into the idea it is much easier for the rest of the company to follow.
What are the past leanings that you are planning to implement in Swiggy?
As pointed out earlier, we want Swiggy leadership to be active allies for the LGBT cause. Some corporates seem to have formed LGBT groups or participate in pride marches as a tokenistic reaction, but we want it to be real empowerment of a minority group. As a transgender woman myself, I am very particular about the transgender community getting mainstream jobs and how Swiggy can help them achieve this.
Watch Samyuktha Vijayan Talking About Her Life, Work And Sexuality:
Q6. How has been your experience been at past workplaces?
In Luxembourg (Europe), we used to have summer picnics and colleagues would bring their partners. I was both surprised and happy to see same-sex couples and those with adopted children etc. It was an open and accommodating culture. My next stop was in Seattle (USA) which was wonderful as well. I transitioned from male to female in Seattle and it was a cakewalk. I went in as a man on Friday and came out as a woman on Monday and people treated me as if I were a woman all along.
The insurance support there took care of a lot of procedures I wanted to do. But India is far away from having such a support system for transgender folks who want to transition on the job. And I don't know how long it will take for same-sex couples to bring their partners to an office party. But the current focus on diversity and inclusion that most corporates have seems promising.
Samyuktha is also a trained Bharatanatyam dancer and thanks to her parents for letting her focus on both academics and extracurricular activities at the same time. They taught her not to be bothered by what others say and focus on herself. Today she is passing on the same values to those who need it. With corporates in India employing people belonging to sexual minorities in top positions, there seems to be a ray of hope for the future generation. While the journey would be a long and tough one, we hope the changes inspire many.