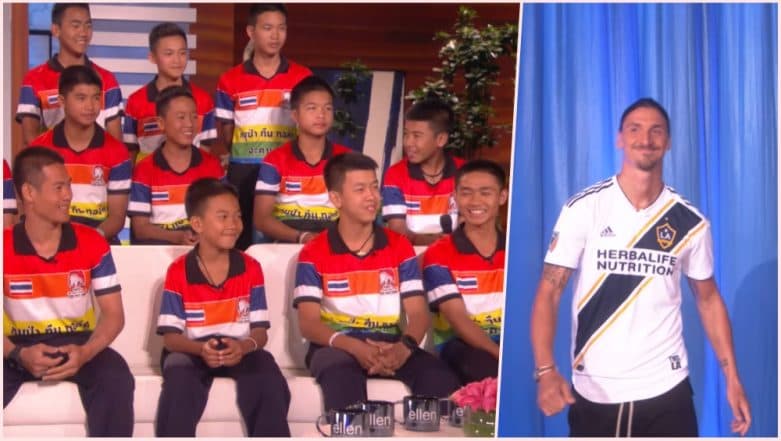 The young football team, 'Wild Boar' stuck in the Tham Luang Cave, Thailand, in July brought the world together. Top officials globally, left no stones unturned sending the best rescue operation divers to Thai navy SEAL unit to protect and bring out the boys along with their coach safe. After the days of struggle and escape from the waterlogged cave, the young soccer players made their first appearance in TV at America's The Ellen DeGeneres Show. Dressed in the jerseys of their Wild Boars, the 12 young boys captivated the viewers while discussing their tense rescue. But there were more! The young ones were surprised when Swiss legend Zlatan Ibrahimović surprised them during the television interview. Thailand Football Team Boys Rescued From the Cave Are Ordained As Buddhist Novices; Watch Video. 
In July, the Thai football players awakened the world prompting emotional outpourings online as well-wishers pray for their safe rescue. The boys in the interview, told Ellen that they never lost hope while stuck for about three weeks in the cave, adding that prayer and meditation helped them stay calm. To ease the situation and that the boys' spirit deserves much better, Ellen surprised the Wild Boars team by inviting their favourite football player, LA Galaxy's Zlatan. Amidst excited smiles from the Thai team, the footballer high-fived all the players before complimenting them on their bravery. Watch Video of Thai Cave Boys Saying 'Thank You' From the Hospital to All the Supporters. 
Watch the short video of Zlatan surprising the Thai Boys at The Ellen DeGeneres Show.
Zlatan is known for his superb skills and for never shying away from fearsome tackles by rugged defenders. But looking at the spirit of the young Thai footballers during the entire rescue operation, the footballer said, "I thought I was brave, but these kids, this team, is more braver than me. This is probably the best team in the world."