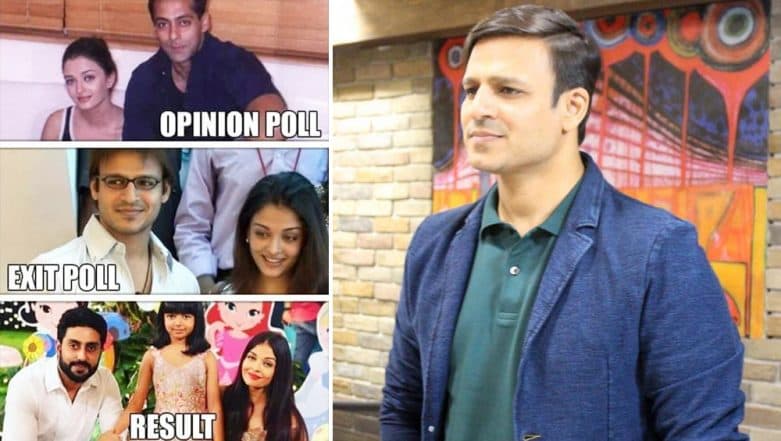 Actor Vivek Oberoi on Monday shared a meme on exit polls 2019 and he's facing the wrath of netizens on Twitter. The actor came back in the limelight a few months ago as he's playing the role of Prime Minister Narendra Modi in his biopic. However, his film had gotten stalled as the Model Code of Conduct was in place during the Lok Sabha Elections 2019. He has also been controversy's favourite child, especially over the past few months, being questioned for his strong political opinions. However, this time, it's no controversy. Vivek Oberoi Shares a 'Creative' Meme on Aishwarya Rai Bachchan, Salman Khan and Abhishek Bachchan, But is it Really Funny?
The meme that Oberoi has shared on his Twitter handle is wrong at several levels. Oberoi tweeted an image that tagged a picture of Salman Khan and Aishwarya Rai as 'opinion poll', him and Aishwarya as 'exit poll' and Abhishek, Aishwarya and Aaradhya as 'result'. First, it is a ridiculous attack on Aishwarya and her personal life. It is also a nasty dig at both Salman and Abhishek. Above all of that, what is even worse is that the meme has the little Aaradhya Bachchan in it.
Here's Vivek Oberoi's tweet
Haha! 👍 creative! No politics here....just life 🙏😃

Credits : @pavansingh1985 pic.twitter.com/1rPbbXZU8T

— Vivek Anand Oberoi (@vivekoberoi) May 20, 2019
Dear Oberoi, how would you have reacted if someone tweeted that ridiculous a meme with your family members, worse, kids in it? It is utterly shocking that Oberoi didn't think twice before he shared such a meme that is demeaning for not just three adults, but also a child.
Oberoi is being called on Twitter by celebrities too. Badminton player Jwala Gutta wrote, "Extremely absurd of you to tweet this! Disappointing!" Journalists are also calling him out for the highly disrespectful tweet.
We do understand that Oberoi is high on the success of having gotten the opportunity to play the role of the Prime Minister. But that does not give him the power to just about say or tweet anything about anybody, even if there's a child involved there. It's high time the industry also unites in speaking out against such actors who cannot differentiate between what's funny and what's done in bad taste. Dear Mr Oberoi, we do hope you get some sense and you apologise for that tweet of yours. There's a line no one must cross.