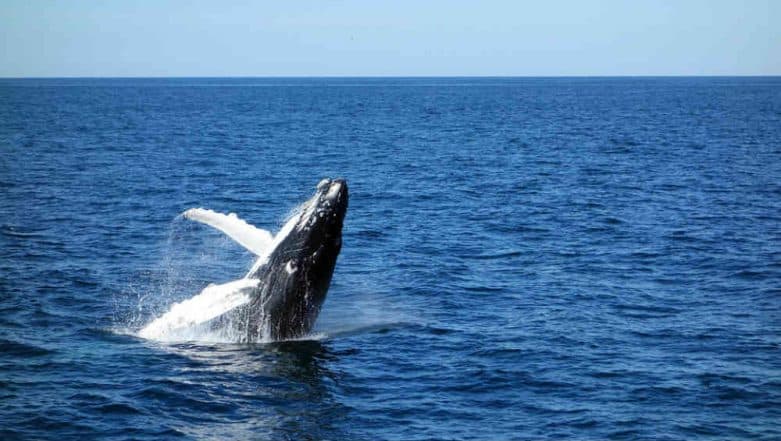 Calling 911 has become like an immediate reaction of people in crisis in America. So much so that even if the police cannot reach you in the middle of the sea, they'd still make the call. A woman in Washington is at the receiving end of trolls after she called 911 from the middle of the ocean during an adventure trip. A video has surfaced on social media which shows the family enjoying a whale-watching trip, but things take a turn for terror when three humpback whales start nearing the boat. The incident took place at Washington's Puget Sound, a popular whale-watching spot. Beluga Whale Kisses a Child, Gets Confused After She Starts Crying, Watch This Cute Video. 
The woman on the boat was so scared of the humpback whales that she ended up calling the police to report about them. While another person is trying to calm her down, she sounds like she is almost hyperventilating. The man is heard assuring the woman, "He's checking us out. They're not going to hurt you. He's going to check us out and then go away." But as the whales started to go under their boat, the woman dialled the police. She expressed fear that the boat might topple over and they will die. The navigator then sails off the boat at a speed. They reach a safe spot after some whales do follow them for a while. Woman Calls Firefighters to Rescue 'Huge Monitor Lizard,' Turns Out To Be a Small Gecko, View Pic! 
Watch Video of the Woman Calling 911 to Report on Humpback Whales
The woman was really scared and even offered the GPS coordinated to the police over the phone. But people on social media are trolling the woman at her antics. Check how some of them have reacted on Twitter.
I am dying 😂😂😂😂

This family called the cops on some whales 😂

I can't breathe 😂

RETWEET! pic.twitter.com/bIpvOAsS4f

— StanceGrounded (@_SJPeace_) October 8, 2018
You are in the whale's home!
"Hello? Yes, this whale looks very suspicious. I think he may be trying to get inside a part of the sea that's not his. Just come quickly."

— spooky tweets 🎃 (@juicyfruit_o) October 8, 2018
I cannot believe the beautiful, rare and privileged moment they wasted on being stupid. A once in a lifetime opportunity gone. What are the damn police going to do? You are in THEIR HOME!

Family calls 911 on trio of humpback whales https://t.co/JbXHUZCpiK

— ✋StOp*ALL*aBuSe✋ (@vanDawn1971) October 8, 2018
The woman has explained later that she wanted to inform the police in case something worse happened to them or the family. But the family sure had a memorable experience of witnessing the massive whales so closely. One that they definitely wouldn't forget.