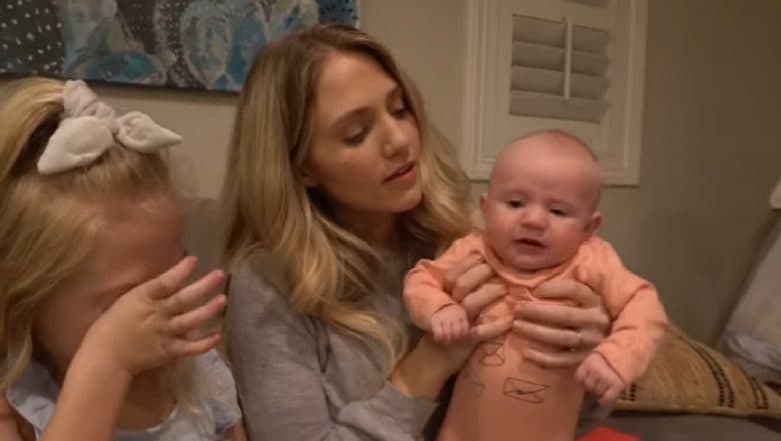 We were just engrossed in pranking people on April Fools' Day. As it is always preached to keep the pranks light-hearted, but many pranksters would always go over the line. At least that's what people online thought, when popular YouTubers Cole and Savannah LaBrant tricked their 6-year-old daughter by telling her they were giving her beloved puppy away. The couple's YouTube video is going viral now, and their April Fools' Day 2019 prank is pissing people off. Netizens were furious to see the couple nearly traumatising the young girl by their evil joke. From Ola Restroom to OnePlus' Electric Car, Here's How Top 5 Brands Tried to Fool Their Users. 
Known to the vlogging community as Cole and Sav, the couple got married in 2017. Reportedly, each had their own vlogging careers before they merged and created a blog family empire under their channel, The LaBrant Fam, which has about 8.7 million subscribers on YouTube. The family is immensely popular on social media-- Sav has 5 million Instagram followers, her husband Cole has 4 million, Everleigh, Sav's daughter from a previous relationship has 4.3 million and the couple's 3-month-old daughter, Posie has 1.1 million fans. Even their puppy, Carl has about 759,000 Instagram followers. Done With Boring 1st April Tricks? Here's a List of Unique and Off-Beat Ideas for Your Friends, Family or Colleagues!
The family has gained enough popularity and love by making light-hearted fun videos for their YouTube channel. But their April Fools' Day prank did not impress anyone online at all. Watch the video below to find out why!
Watch the Video Here
On their 1st April's video titled, "We Have to Give Our Puppy Away... Saying Goodbye Forever," the family begins with their normal routines until Everleigh is seen face down on the couch. She was crying over the news that they were "giving Carl away to somebody else."We feel like we can't take good enough care of him at our house," Sav says to the camera, while red-faced Everleigh sniffles beside her. "I feel like we're always gone, always filming or out and about … We're always just busy doing stuff," she adds. A couple of minutes later, Sav leans down and whispers to the 6-year-old girl, "April Fools'!" Everleigh starts to cry again. And the second half of the video shows the kid playing a revenge prank.
The video has crossed 2 million views after it was uploaded on April 1 and the count is still on. Criticisms poured in online, and comments have been disabled on the YouTube video.
Check Out Some Reactions.
Cole and Sav played a prank on Everleigh and made her think they were getting rid of Carl and they kept it going for so long and she was crying the whole time 😠

— leighton (@brinkleykersey) April 2, 2019
The Line Was A Dot Indeed For the Couple!
I like Cole and Savannah LaBrant, I think they're a beautiful family and one of the only YouTube Family Channels I subscribe to.

However, the prank on Everleigh was over the line.

And they should've stopped as soon as she was that visibly upset over giving her dog away. pic.twitter.com/pTQ8zYr5I7

— 🌻Ashley🌻 (@TeachThatAsh) April 3, 2019
Some Even Question Their Potential to Potty Train the Pup.
I trained my shih tzu at 8 weeks old to potty outside and some days he's as dumb as a rock. There is no excuse to not take 20 minutes out of their day to train him with basic commands and making sure he potty's outside. 1/2-

— Liv🌻 (@jarodjosephx) April 2, 2019
It is understandable to play tricks on younger ones, to keep the spirit of April Fools' Day. But going too far, is not. This is not the first instance, when Cole and Savannah have gone over the line to trick their viewers. In August, 2018, the LaBrant Fam were accused of lying in a vlog about being forced to evacuate their home because of California's wildfires.