Several smartphone users in India were left shocked when they realised UIDAI's toll-free number pre-saved in their contact list. With the UIDAI helpline number being saved in the phonebooks by default certainly raised security concerns among the smartphone users. The same has also raised questions against the privacy of the user. The concerned Android Phone raised the issue on Twitter and question the body how UIDAI got the number saved in their contact list without their approval.
Hi @UIDAI,

Many people, with different provider, with and without an #Aadhaar card, with and without the mAadhaar app installed, noticed that your phone number is predefined in their contact list by default and so without their knowledge. Can you explain why?

Regards,

— Elliot Alderson (@fs0c131y) August 2, 2018
Moreover, the issue came to light after French security expert, Elliot Alderson, asked UIDAI how the helpline number was predefined in the contact list by default in phones of people, with different providers, with and without an Aadhaar card and the mAadhaar app installed.
The issue has been already pointed by @anivar last year! https://t.co/5LKfG9Mbpi

— Elliot Alderson (@fs0c131y) August 2, 2018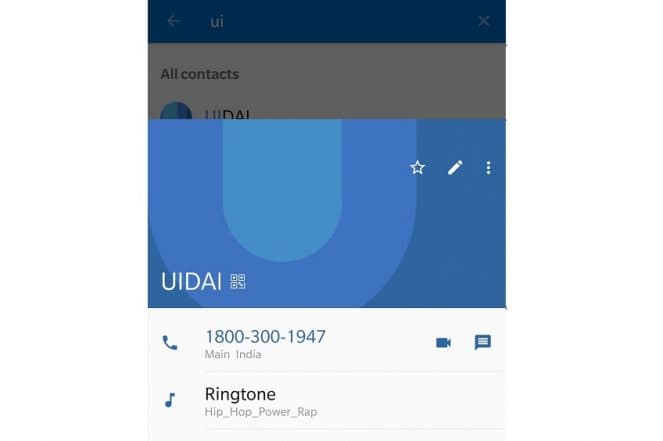 Elliot Alderson further highlighted that this issue previously was raised by a user named - Anivar Aravind in November last year. Recently, Telecom Regulatory Authority of India (TRAI) Chairman RS Sharma threw an open Aadhaar challenge to critics and hackers by sharing his 12-digit Aadhaar number. Following which Ethical hackers exposed minimum 14 personal & vital information of the Chairman that includes contact numbers, residence address, date of birth (DoB), PAN number and voter ID and much more.
#PressStatement In the wake of some media reports on default inclusion of UIDAI's outdated & invalid Toll free no. 1800-300-1947 in contact list of Android phones... 1/n

— Aadhaar (@UIDAI) August 3, 2018
The  Unique Identification Authority of India (UIDAI) made an official statement regarding the same mentioning that "It's a result of vested interest". The body also clarified by stating that 1800-300-1947 was taken off as the Aadhaar helpline number about two years ago. UIDAI has also mentioned that it has not asked any manufacturer or service provider for proffering such facility.
Moreover, the Cellular Operations Association stated that "It is a handset and application issue, networks have nothing to do with it."