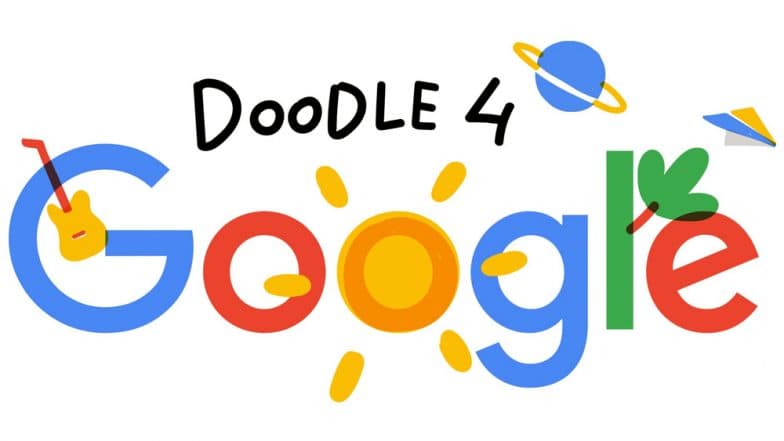 On October 23, Google opened public online voting for 20 children who are shortlisted for this year's 'Doodle 4 Google' competition. The voters must note that the last date to cast your vote is tomorrow, November 6, 2018. Your decision will decide that one creativity which will be featured in the search engine giant's logo. This year's theme was 'what inspires you'. The participants created beautiful art incorporating the letters, 'G', 'O', 'O', 'G', 'L' 'E' using crayons, clay, watercolours and graphic design. Your vote will help the search engine giant to choose 5 group winners, one of who will go on to become the National Winner. Happy Birthday Google: New Doodle Features Popular Questions Asked During The Last 20 Years. 
The competition was divided among different age group: Class 1 to 2, Class 3 to 4, Class 5 to 6, Class 7 to 8 and Class 9 to 10. Your vote should limit to one per age group. Further, the vote can be cast until 10:00 am tomorrow. From beautiful sight at the beach to nature's tiny creatures; India's farmer community to the Indian folk music, space exploration and many more, children drew their inspiration using crayons, clay and graphic designs. Buenos Aires 2018 Summer Youth Olympic Games Google Doodle Shows National Bird of Argentina Participating in Multi-Sport Event. 
Steps to cast your vote for 'Doodle 4 Google':
1. Visit the website of the Doodle 4 Google contest page; doodles.google.co.in.
2. On the page, you will find all the different age group link.
3. Click and check the creativity along with the participants' inspiration.
4. Now, click on the art piece that you want to be featured in Doodle.
5. You will find 'cast your vote' link. Click it.
6. 'Thank you for voting' will appear on the screen.
Earlier, Google in their statement said about 75,000 students from class 1 to 10 had sent their entries, and more than 55 per cent is from non-metro cities. Google shortlisted 20 from all the five categories and opened the voting window for its users. The national winner will get Rs. 5 lakh college scholarship, Rs. 2 lakh technology packages for their school and a trip to the Google office in India among other prizes. So, if you haven't cast your vote, do it now without any further delay.