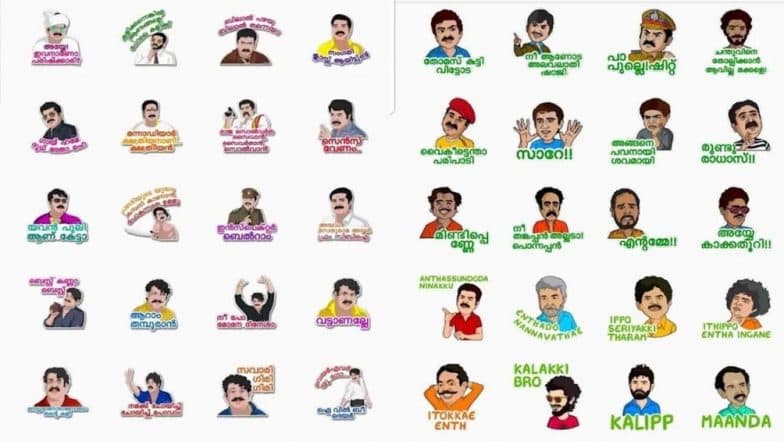 After rolling out new stickers for Android and iOS platforms, WhatsApp now allows third-party stickers as well. Within a week of the all-new sticker launch, a flurry of local content has taken over the platform. Moreover, WhatsApp is the most significant base with 125 million users in India, and the WhatsApp stickers became an instant hit. Now, the demand for regional language stickers is growing day by day. One such popular stickers are Malayalam WhatsApp Stickers that are called – 'Kerala Piravi stickers', which are developed to celebrate the anniversary of the state. WhatsApp Stickers to Wish Happy Diwali 2018: Messaging App Should Introduce Festive Sticker Images Packs for Sending Funny Diwali Messages.
However, the Facebook-owned platform has not included built-in support for stickers yet. Thus, only beta users can add and use these stickers in the WhatsApp, which are called Malayalam WhatsApp Stickers. WhatsApp Officially Announces Stickers for Android, iOS Users, Which Will Be Available in Coming Weeks.
The co-creator of the app - Jose Varghese, told Indianexpress.com that it was only submitted to Google Play Store on October 31, but has been downloaded about 43,000 times. He further mentioned that, "Once the WhatsApp release the public version it will be accessible for the public, but we cannot say when as that's full with WhatsApp." WhatsApp Stickers for iOS & Android! Here's How to Enable the Stickers for Chat & Impress Your Loved Ones and Friends.
Here are step-by-step instructions to download new Malayalam WhatsApp Stickers on your smartphone:
1. Firstly, you need to head to Google Play Store or Apple' App store.
2. After that, you need to type 'Malayalam WhatsApp Stickers'.
3. Now, you need to download the desired sticker pack.
4. After downloading the desired sticker pack, you need to add them to your stickers list. And, That's it. You are good to use these new Malayalam WhatsApp Stickers.
The company has introduced new WhatsApp stickers to bring more exciting and fun in the communications and engagement. The new WhatsApp stickers are already available for iOS and Android platforms.