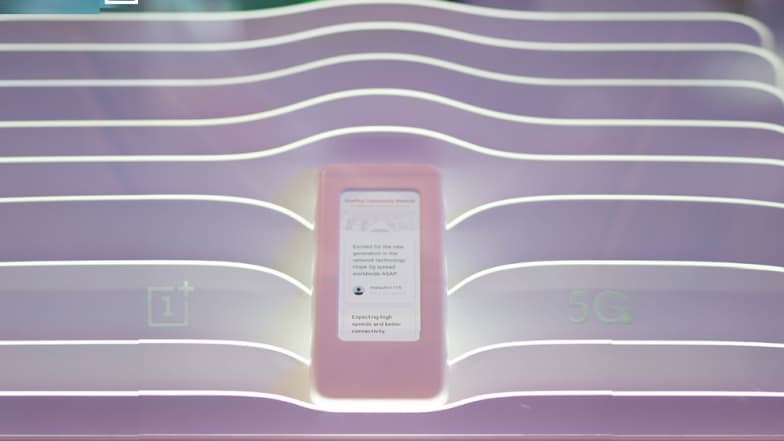 OnePlus, the Chinese smartphone manufacturer has officially revealed its 5G Prototype smartphone at the 2019 MWC in Barcelona. The device was showcased at Qualcomm's 5G demo station for exhibiting the 5G capabilities of the prototype. However, the company managed to keep the design element of the prototype under wrap as the same was not revealed to the visitors. In order to maintain the confidentiality, the company sealed the device in a protective case at the demo station. As per the company, the users can experience 5G could gaming on the device with the help of the forthcoming technology. MWC 2019: Sony Xperia 1, Xperia 10, Xperia 10 Plus Smartphones Launched; Prices, Features & Specifications.
Additionally, the Chinese smartphone manufacturer also revealed another device at the booth giving shout-outs from the community members along with messages received from the visitors at the booth. These shout-out messages were collected by the company after the community page was launched on February 22.
Coming to the specifications, the new 5G device from OnePlus will be powered by Qualcomm's latest chipset - Snapdragon 855 SoC. It is believed that the company might also add Qualcomm's X50 modem on the device. As per OnePlus' announcement, the company claimed that the phone maker is seen as a leader in the 5G space. MWC 2019: LG V50 ThinQ 5G Phone With Dual Screen Unveiled in Barcelona Alongwith LG G8 ThinQ Smartphone.
Our 5G device is being showcased right now at #MWC2019. Check out our live coverage and get ready to Reimagine Speed.

— OnePlus (@oneplus) February 25, 2019
Pete Lau, CEO and co-founder, OnePlus mentioned that, "5G is a game changer. It can change everything from gaming to communication, to health and beyond. More than that, it can perform several, or all, of these at the same time. One great example of how 5G will change the world is gaming. 5G's dramatic improvement in speed, latency, and network capacity can truly fulfil the promise of cloud gaming." He further mentioned that, "Combined with powerful OnePlus devices, people can play advanced games anywhere they are, provided they are on a 5G connection." MWC 2019: Huawei Mate X is World's Fastest 5G Foldable Phone; Launched in Barcelona at Euro 2299.
Going by the images of the new OnePlus 5G Protytype, the case gets rounded corners but it doesn't imply for the fact that the new production version many not carry rounded corners, as per the reports. Moreover, the company has previously confirmed that the 5G device will be introduced as a part of a separate lineup.