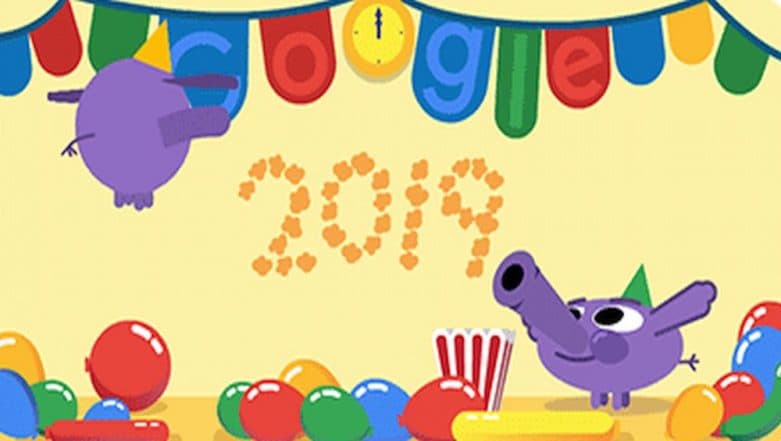 A happy new year from all of us to all of you. 2018 has been a great year indeed, and we wish 2019 treats us even better, just like the first Google doodle of 2019, that is simply perfection. If you are looking for an animated GIF to send across to your friends and family this year, see no further, Google has your back. You can wish your loved ones with the first Google doodle of 2019 that serves as a perfect GIF image on WhatsApp, Facebook Messenger and Instagram. The Google doodle this year can be sent as a Happy New Year Gif. The Google doodle is so cute that it will make you fall in love it. It is a pair or two little elephants. One of the two tiny round elephants celebrating New year is jumping around and round away to glory, and the other little fluffy elephant is blowing popcorns from his trunk into the shape of 2019, indicating that the new year of 2019 has begun. Happy New Year 2019: Funny New Year Memes With Hilarious Quotes & GIF Images to Wish Your Friends Who Are Not Partying This New Year Eve. 
How to save Animated Google Doodles In Your Computer And Android?
You can easily save the Google doodle and send across to your friends via WhatsApp, Facebook Status, Tweet, etc. What is Google Doodle? The Doodle presented by Google is a unique, temporary change Google makes in the logo on Google's homepage. It is done to celebrate holidays, events, achievements and people.
Here's how you can save the New Year or any other Google doodle (Except for games) on your PC.
Choose a browser like Google Chrome, Firefox, Opera and open it.

Open the Google Homepage that will show you the doodle that you want to save.

As the Doodle starts, right click on Doodle. As you get the options select the choose saved image as option.

After which you have to choose the storage path. For example- "Save As GIF" if you want it in GIF format.
How To Save Google Doodle In Android Phones?
Open the Google Chrome browser and visit the Google homepage.

Click on the menu option (three Dots) and click on the option that says "Request Desktop Site."

Once the page reloads, the doodle will start.

Long Press the Doodle and select the download Image option. It will save as GIF.
Here's the video of the first Google Doodle of 2019-
Go ahead and share the cutest Google Doodle with your friends, family and other loved. Nothing beats this Happy New Year GIF animation wish.