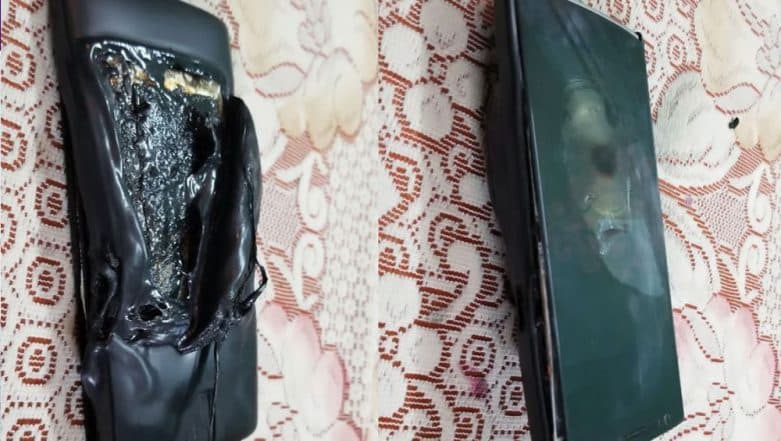 An old OnePlus One smartphone reportedly caught fire in the middle of the night around 3 AM. According to the user, the smartphone exploded to fumes when it was kept switched off. The user also claims that the device wasn't plugged-in for charging. This bizarre incident is reportedly the first incident involving the Chinese phone maker concerned with smartphone explosion. OnePlus TV Reportedly Under Works; Likely To Be Launched in India Soon.
According to the reports, the incident took place on July 3, 2019 in an fully air-conditioned room. The user woke up due to burning smell and was surprised to find fumes coming out from his smartphone. To get rid of the fire, the user made attempt to put the fire by pouring the water.
Someone I know just got saved from fatality. @OnePlus_IN @oneplus how do you explain your phone exploding out of the blue???! Kids use your phone as it's attractively priced. Where is the responsibility to fix this? pic.twitter.com/CRgmF6RTBB

— Chaiti Narula (@Chaiti) July 3, 2019
Following the incident, the user contacted OnePlus consumer support team and explained his scenario to seek a solution for the same. He also tried to contact Amazon India. However, the images came to notice when an anchor Chaiti Narula posted pictures of the dead phone on Twitter. OnePlus responded to the tweet that the OnePlus Critical Escalations team has reached out to the user and looking into the case. OnePlus 7 Pro Owners Receive a Weird Push Notification.
We reached out to OnePlus regarding the statement about the incident. OnePlus stated that, "We take such incidents seriously. Our team has already reached out to the user and is investigating this further."
There have many incidents involving explosion of smartphone, people getting electrocuted while charging or talking and several other incidents. Recently, Samsung's smartphone reportedly caught fire in South Korea. However, this particular incident involving OnePlus One is pretty surprising for the fact that the phone was switched off and was not even kept on charging.