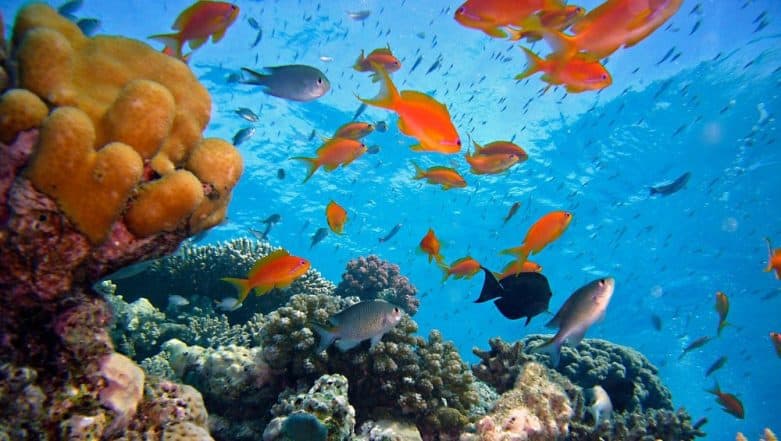 Australia's Great Barrier Reef is declining faster than expected, as per the findings. According to a study by the Australian Institute for Marine Science (AIMS) released on Thursday, the reef is witnessing a mix of different behaviour. While the hard coral cover on the Great Barrier Reef is nearing a record low in the northern stretch, it is on the decline in the south. Global warming caused by climate change is one of the major causes of depletion of coral reefs. Palau To Ban Sunscreen To Save Coral Reefs: Here's How Sunscreen Affects Marine Life.
According to government scientists, the hardcover in the northern region above Cooktown is at 14 percent which is just a slight increased from last year. Coral bleaching is linked to sea warming, tropical cyclones and crown-of-thorns starfish outbreaks. Uber Launches a Submarine For Underwater Tours, You Can Now Explore Australia's Great Barrier Reef With ScUber! (Watch Video)
According to AIMS report, highest average coral cover in the reef's northern region was 14 per cent this year compared to a high of 30 per cent in 1988. AIMS chief executive Paul Hardisty said, "The Great Barrier Reef is still beautiful and it is resilient, but it is facing unprecedented challenges." Australian Marine Conservation Society spokeswoman Shani Tager said, "The data screams out from this report that climate change is clobbering our world heritage reef."  Global Warming May Take Upto 80 Million Full-Time Jobs by 2030, Warns UN.
The southern and central sections of the 2,300-km-long system are reducing in size, the northern region has partially stabilised. Average coral cover in the northern region increased from 11 percent in 2017 to 14 percent in 2019, which is lower than 30 percent in 1988 when the study began. The central region's highest recorded average coral cover was 22 percent in 2016 and reduced to 12 percent this year. The southern region had 43 percent in 1988, compared with 24 percent this year. Last Chance Tourism: From Great Barrier Reef to Machu Picchu, 7 Places People Are Visiting Before They're Lost Forever Due to Climate Change!
Monitoring program leader and ecologist Dr Mike Emslie said, "Our long-term monitoring has shown that 10 years after Tropical Cyclone Hamish caused widespread damage in the southern region, particularly in the Capricorn-Bunkers in 2009, these reefs are still recovering. We know reefs can recover given time and the right conditions, but there has been little relief from disturbances in recent years to allow significant recovery to occur." Seeds in Doomsday Vault, Svalbard Could Be Damaged By Climate Change and Global Warming.
Emslie said the reef's southern section has been affected by a severe outbreak of crown-of-thorns starfish since 2017. Crown-of-thorns feed on corals and spawns so quickly that it is difficult to withhold it. The starfish has particularly affected Swain Reefs national park, more than 100km off the coast between Rockhampton and Mackay. In 2017, Tropical Cyclone Debbie damaged the central region, from Airlie Beach to north of Cairns.
Environment group the Australian Marine Conservation Society said that the corals are declining rapidly on an unparalleled scale, due to the climate change. The Great Barrier Reef is one of the primary sources of tourism that supports their tourism. It is also an important national icon for Australians. Thousands of species living in the reef are at risk from underwater heatwaves affecting over 64,000 tourism jobs. Intergovernmental Panel on Climate Change (IPCC) scientists said that if the climate crisis is not addressed, an estimated 99 percent of corals across the globe are likely to be lost and global heating will reach 2C.