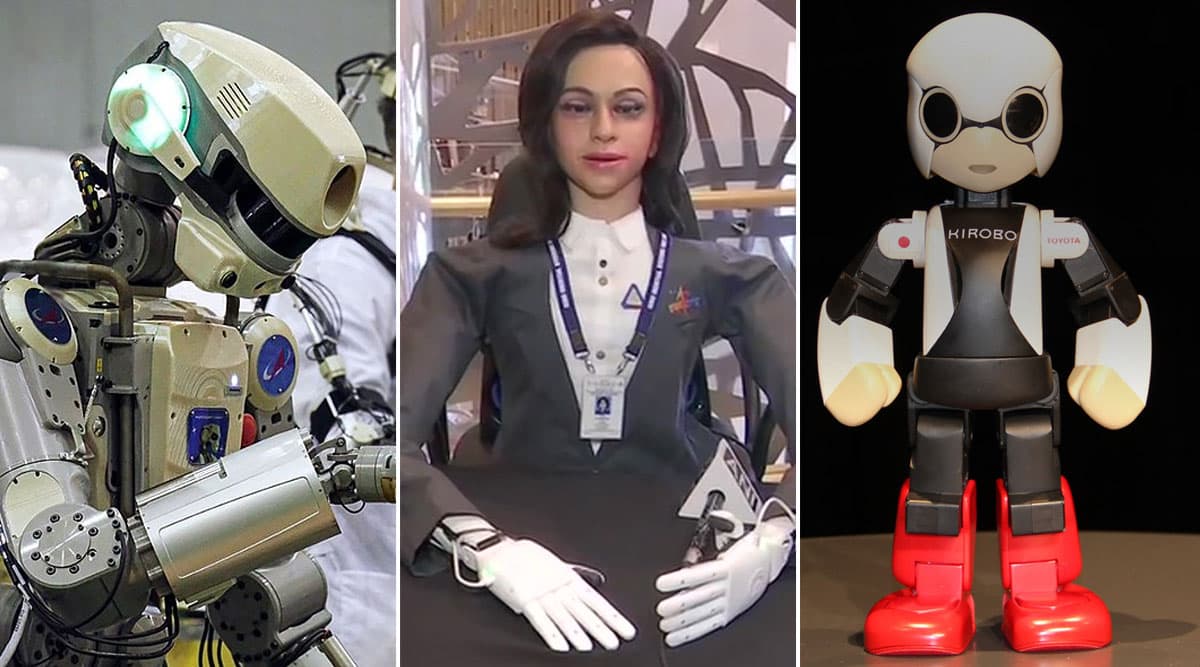 The Indian Space Research Organisation has unveiled the first humanoid that will travel into space. Named Vyommitra, it is a female robot that will travel on the Gaganyaan Mission in 2022. Vyommitra will be accompanied by four Indian Air Force pilots as a part of this mission. Since ISRO will not be sending any woman in space, the humanoid is a woman. It is indeed a thing of pride that we have a woman humanoid who will accompany on Gaganyaan. Has there been any other humanoid that has ventured into space before? Yes, as Vyommitra is ready to perform tasks with the astronauts, we look at other humanoids that have been to space on different missions.
The half-humanoid is capable to perform multiple tasks. She can speak in two languages English and Hindi. The space agency is planning to send the prototype of humanoid to space as part of test flights. She can mimic the activities by the crew of astronauts. The space agency plans to send Vyommitra to space later this year.
Here's ISRO's First Humanoid Vyommitra:
'Vyommitra', the humanoid for #Gaganyaan unveiled; This prototype of humanoid will go as trial before Gaganyaan goes with Astronauts @isro pic.twitter.com/cJMHKoQL6Y

— DD India (@DDIndialive) January 22, 2020
Fedor
Fedor, also spelt as Feodor is a Russian humanoid robot that was sent on an experimental mission to the International Space Station in 2019. It was originally meant for rescue operations. The name is actually an acronym for "final experimental demonstration object research". The entire mission was supposed to be a platform for development of a series of robots. On 22 August 2019, a FEDOR robot was launched on Soyuz MS-14 to the International Space Station. The model going to space was named Skybot F-850. Spacecraft Carrying Russian Humanoid Robot 'Fedor' Docks at International Space Station.
Justin
Justin, the humanoid robot was created in Germany by the Institute of Robotics and Mechatronics. There were different versions of this robot, one of them specifically intended for space. It had super easy to use arms and hands, which could be used to repair satellites in space. This humanoid can be controlled remotely from Earth with a technology called telepresence.
Kirobo
Kirobo is Japan's creation of first robot astronaut. The development of this space bot was a collaborative effort between  Dentsu, the University of Tokyo's Research Center for Advanced Science and Technology, Robo Garage, Toyota, and JAXA (Japan Aerospace Exploration Agency). The Japanese-speaking robot arrived on the ISS on August 10, 2013 on JAXA's H-II Transfer Vehicle Kounotori. Some of the features of the Kirobo include voice and speech recognition, telecommunications, video recording. It was designed in a way to navigate zero-gravity environments and assist in various experiments. Kirobo became the first companion robot in space.
The other space robots made are Robonaut 1 and 2. Both of these have been created by NASA with an aim to have a humanoid machine work alongside astronauts. So these were made more dexterity. These are some of the space robots that have been created in the past.