There are a lot of dating applications, but singletons are popularly fond of Tinder. With time, some people have become absolute pros on the app. But in the recent times, a few of them have found it boring while introverts find it difficult to strike a conversation after swiping right. Now, to up the flirting game, Tinder has come up with Bitmojis! Yes, now to impress your matches and show your fun side by exchange hilarious sticker jokes via Snapchat. As promised by the dating application in July, Bitmoji has been rolled out to devices around the world now. Woman Tricks Around 100 Men On Dating App By Gathering Them For a Mass Dating Competition. 
According to Tinder, Bitmoji is powered by Snap kit, and it can be set up in a snap. It is guaranteed to make your messages more colourful! The Tinder users who are also on Snapchat can connect the two apps in order to bring their Bitmoji stickers to Tinder's in-app chat.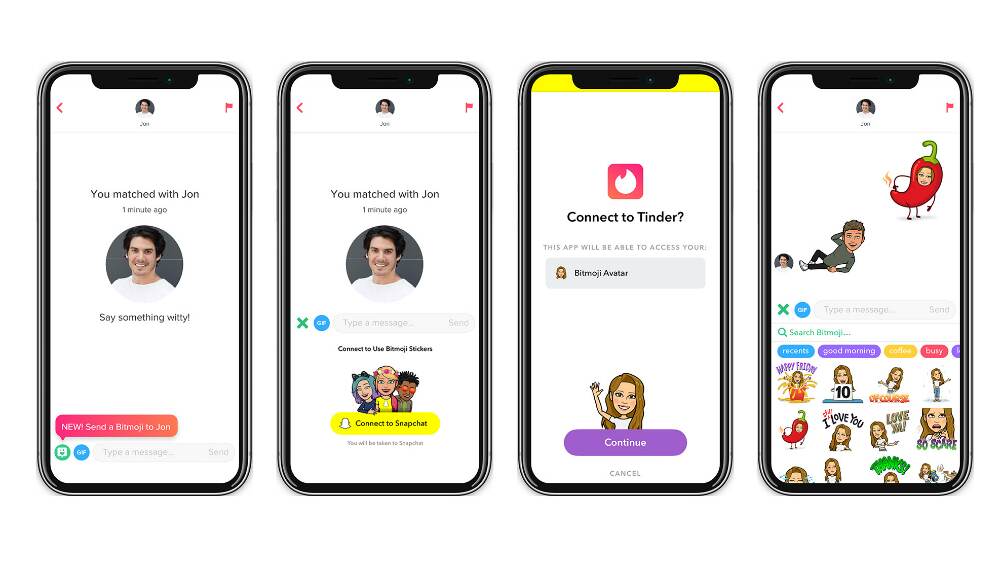 Easy steps to get your Bitmoji on Tinder:
1. Tap the green Bitmoji icon, which you can find next to GIF.
2. Tap, "Connect to Snapchat."
3. Now confirm that you would like to chat on Tinder using Bitmoji.
4. Start chatting using Bitmoji.
Tinder is one of the first third-party applications to integrate Snapchat features into its own app through Snap Kit. In July, 0nly users from Canada and Mexico could benefit Bitmoji when Tinder put it on testing. The dating application does not allow daters to send photos to each other probably to avoid inappropriate and unwanted content surfacing. It is because of this; the company has been working on how to let users incorporate more of themselves into the app. UP Police's Tinder Reference on Consent Gets a Thumbs Up on Social Media. 
You will have to undergo a bit of a confirmation process connecting Bitmoji through Snapchat and authenticating it for the use on Tinder. But once you get the hold, it is smooth sailing. The company has also assured that your matches cannot see your Snapchat handle; just your Bitmoji avatar. This might not sound superb to many, but at least they are given an option to spice up a conversation.