WhatsApp, a popular instant messaging platform has continuously been working on enhancing the overall user convenience. The company has rolled out many new updates or features to the WhatsApp in the recent past. Making WhatsApp more convenient, the instant messaging platform is reportedly working on two new features - 'Mark as Read' & 'Mute' within the notification. The messaging app is expected to get a similar function, which is also seen on other apps as well.
The company has currently rolled out this new feature on Beta version, and WABetaInfo was the first to notice this new 'Mark As Read' feature. However, this new feature is currently under development phase and there seems to be no clarity when it is released. WhatsApp Rolls Out 'Forwarded' Message Labelling Feature to Curb Fake News.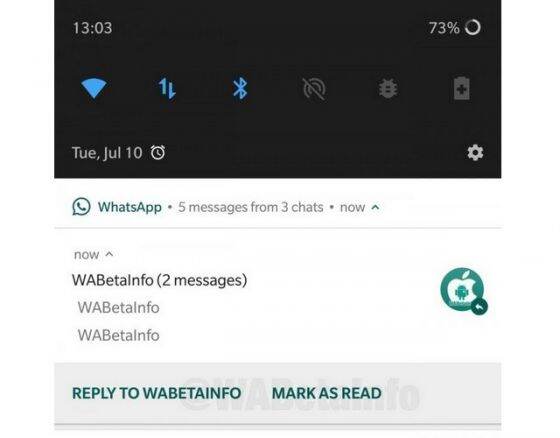 With this new feature, the users will get a new option called 'Mark As Read' below the content of the message, when a new WhatsApp notification is received. The users will be able to mark a WhatsApp message as read from the notification center itself without accessing the application.
Currently, the only shortcut on WhatsApp is 'Reply' option as the shortcut. The new feature will surely come in handy in dismissing the messages from time to time by acknowledging the same.
The instant messaging app is also expected to get another feature 'Mute' on the notification center itself. With this feature, the users can directly mute a particular conversation or group without the need of opening the application.
(The above story first appeared on LatestLY on Jul 17, 2018 03:44 PM IST. For more news and updates on politics, world, sports, entertainment and lifestyle, log on to our website latestly.com).