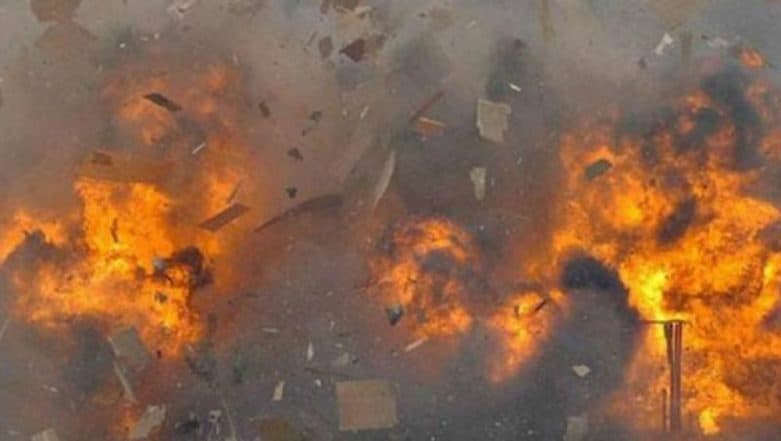 Kabul, November 28: A car bomb exploded near a security establishment in Afghanistan's capital Kabul on Wednesday. Bismillah Taban, head of Police District 9, confirmed the explosion. Eyewitnesses also heard the exchange of gunfire is heard from the attack scene. The explosion targeted a military installation called G4S security camp, located in Pul-e-Charkhi road, reported TOLO News. Some residential buildings were also damaged in the attack. Taliban are in Russia for Talks after 17 Years of War in Afghanistan.
However, no terror group has taken responsibility for the attack. The injured were evacuated to Wazir Akbar Khan Hospital. The Afghan government has not confirmed the figures. More details are still awaited. The explosion came only hours after Afghan President Ashraf Ghani told a U.N.-sponsored conference in Geneva about the of plans of his government to seek a peace agreement with the Taliban. Afghanistan Peace Initiative: India to Send Ex-Diplomats in Russia For Talks That Include Taliban.
Yesterday, three United States service members were killed and three others wounded in an explosion near Ghazni in Afghanistan. Taliban claimed the responsibility of the attack. Earlier this month, Ghani claimed that more than 28,000 Afghan police and soldiers had been killed since 2015. Earlier, this month, the Taliban held three days of talks with US envoy Zalmay Khalilzad in the Gulf state of Qatar, where the Afghan insurgent group has a political office. The talks were aimed at renewing the Afghan peace process and eventually winding down America's longest war. Seventeen years after the US-led invasion that ended Taliban rule, the militants control nearly half of Afghanistan and carry out near-daily attacks on local security forces and government officials.