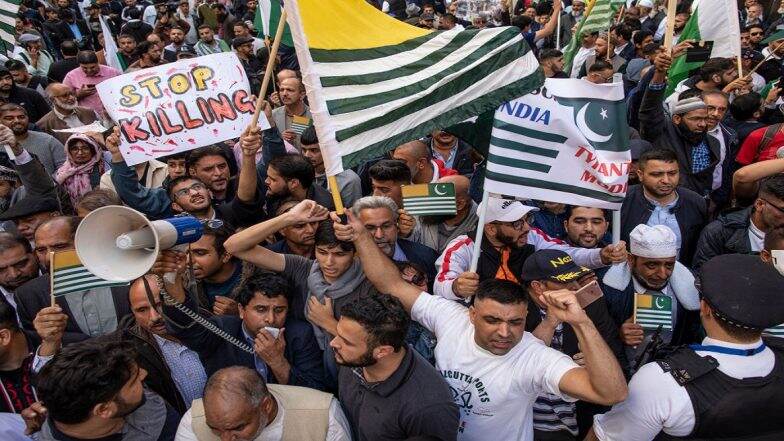 Washington, September 22: Outside the NRG Stadium in Houston, where Prime Minister Narendra Modi and US President Donald Trump are scheduled to address the largest-ever congregation of India-Americans, a sizable number of human rights activists would also galvanise. At the counter-rallies planned outside the venue of 'Howdy, Modi!', nearly 15,000 activists would gather to raise voice against the alleged human rights violations in Jammu & Kashmir. 'Howdy, Modi!': US President Donald Trump Likely to Deliver 30-Minute-Long, Major Speech on India.
The counter-rallies are being organised by nearly half-a-dozen civil society groups, comprising members of all faiths and nationalities. The protests are directed not only against Modi, but also President Trump who is accused of suppressing the racial and ethnic minorities in the United States.
Mohammed Nasrullah of the International Humanitarian Foundation said one of the foremost aims of their agitation is to raise awareness among the local American community about the "atrocities being committed" by the Narendra Modi-led government in Kashmir and Assam -- where a recent citizenship drive led to the exclusion of nearly two million people.
"Americans must know where is Kashmir and where is Assam and what horrors are taking place over there," said Nasrullah, adding that Washington should not focus on trade at a time when minorities in India are being subjected to such "hardships".
Sunita Viswanath, who is the cofounder of Hindus for Human Rights, said thousands of the group's members would gather outside the NRG Stadium to highlight before the world that not all adherents of Hinduism are supporting the "Hindutva government" in India.
On the unprecedented support which Modi is receiving in America, Viswanath said not all Hindus in the US, along with other parts of the world, are not awake to the "horrors" currently taking place in India under the BJP-led dispensation.
She also pointed out towards the recent statements of UN human rights chief Michelle Bachelet, who expressed grave concern over the situation unfolding in Kashmir.
"I am deeply concerned about the recent actions by the government on the human rights of Kashmiris," Bachelet had said, after the Indian and Pakistani delegations clashed at the UNHRC over the Kashmir issue.
The Sikhs For Justice, which has been at the forefront of organising several anti-Modi protests in the US over the last five years, will also be joining the counter-rallies. The group's legal advisor Gurpatwant Pannun said Washington would be fostering ill-sentiments among people of various faiths if it continues to value its trade relations with India while turning a blind eye towards "the blood of minorities".