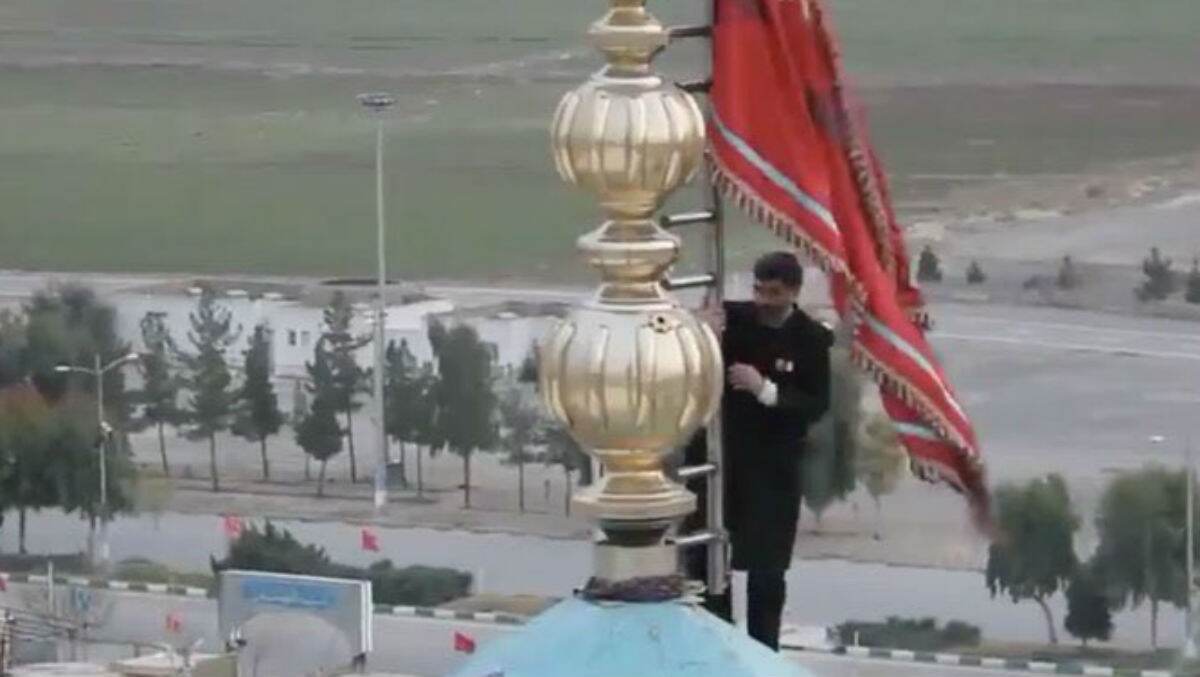 Tehran, January 5: The sight of a red flag symbolising 'revenge' or 'war' unfurled on Saturday above the dome of Jamarkaran Mosque in Iran's holy city of Qom sparked talks of fresh tension in the US-Iran struggle after US drone attacks killed Iranian General Qasem Soleimani and others on Friday. Experts said that this is first time in modern history that Iran has unfurled red flag atop the mosque. The flag was inscribed with the words, "Those who want to avenge the blood of Hussein," reported local media. Iran Says US Has Asked for 'Proportionate Response' to Qasem Soleimani's Killing.
The symbolic but significant act of unfurling the flag was preceded by thousands taking to streets of Baghdad and shouting "Death to America" in the funeral processions of Soleimani and al Muhandis. Donald Trump Sends Veiled Truce Offer to Iran After Qassem Soleimani's Killing: '...Never Won a War, But Never Lost a Negotiation'.
See Picture of the Flag Unfurling Below 
Thousands chanting "America is the Great Satan" marched in Baghdad,

Khamenei visits family members of the killed general & Rouhani told #Soleimani's daughter that "everyone will take revenge,"

A red flag flying on Jamkaran mosque of Qom, symbolizing the duty of revenge. pic.twitter.com/CgLT1C7nx6

— Ashok Swain (@ashoswai) January 4, 2020
Video Below
First Time In The History, Red Flag Unfurled Over The Holy Dome Of Jamkarān Mosque, Qom Iran.

Red Flag: A Symbol Of Severe Battle To Come.#Qaseemsulaimani#قاسم_سليماني pic.twitter.com/B1mcePk4Ri

— SIFFAT ZAHRA (@SiffatZahra) January 4, 2020
This major development comes after Iranian President Hassan Rouhani on Saturday warned the US of consequences over the death of the commander of the Iranian Revolutionary Guard Corps' (IRGC) Quds Force, Qasem Soleimani. Iran President Hassan Rouhani Warns US of Consequences Over Qasem Soleimani's Killing in Airstrike.
"The Americans were not aware of the big mistake they made; they will face the consequences of their crime, not only today but also in the coming years," Rouhani said as he visited relatives of Soleimani, who was killed in a US drone strike ordered by President Donald Trump outside Baghdad's airport on Friday, reports Efe news.