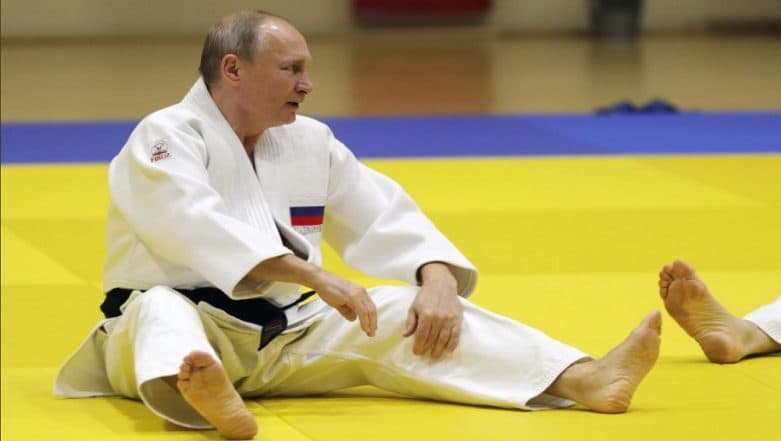 Toronto, February 18: Meeting with world leaders, leading complex negotiations followed by an hour of grueling workout – it's all in a day's work for Russian President Vladimir Putin. The Russian president who is known for his love of physical activities was seen at a judo training centre in Sochi, Russia on Friday training with Olympic medalists.
Putin who is a judo enthusiast and holds a black-belt in the martial art has called it his "favourite sport." He reportedly practices it whenever he can and has been photographed over the years dropping national champions on the mat with ease. This time too it seemed that he would reign supreme as he pushed Russian male judo champions to the mat time and time again. Olympic bronze champion Ivan Nifontov was felled four times on the floor by Vladimir Putin and the 66-year old did not seem to give an inch to his younger opponents. However, in the video it did sometimes look that he might have been handled with care by his younger judo champions.
Putin then went on to spar with Russia's 2016 Olympic bronze medalist Natalia Kuzyutina. Kuzyutina, who hails from Bryansk in Russia, competed in the women's 52kg category and took home the bronze medal in judo. On the mat she did not give an inch to her president and her persistence paid off. The female judoist managed to flip a much heavier Putin over her head and dropped him to the floor. It was reported that Putin promptly got up and kissed Kuzyutina on the forehead. Sadly there is no video or photo of this memorable moment as Russian state media has censored it.
🥋🇷🇺 In other news, Vladimir Putin was injured while sparring with Russian Judo athlete Natalia Kuzyutina...

Putin himself is a black belt in Judo! pic.twitter.com/8gRH5HayhC

— The Sportsman (@TheSportsman) February 16, 2019
Post the sparring session, Kuzyutina said, "Thank you President Putin that after such complex negotiation at the summit he found time for a full-scale quality training," she said. "I was glad yet again to be a sparring partner of the first judoist of our country," she added. Read: Russia to Exit Intermediate-Range Nuclear Forces Treaty in Six Months
Putin too commented post the sparring session: 'It's a well-known medical fact - the level of adrenaline increases in a person who practices physical exercises, so your mood improves, and you take a different look on the world around you. I can probably say that it helps you to get real.'