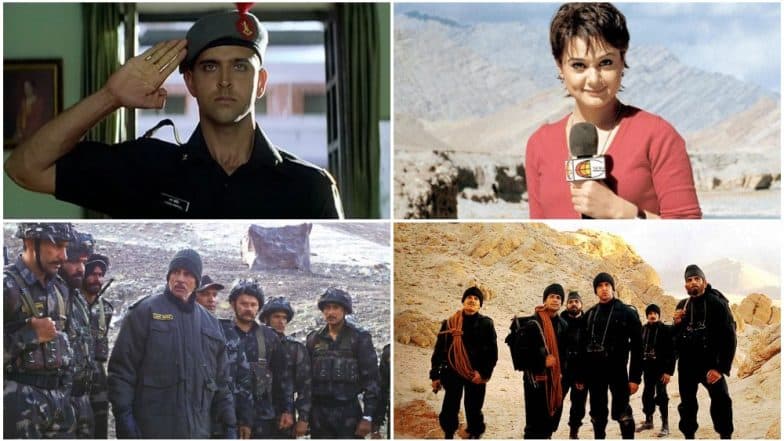 On June 18, 2019, Lakshya completes 15 years of release. The second film of Farhan Akhtar, there are still debates going of if Lakshya is his best film or his maiden effort, Dil Chahta Hai. The only thing having gone against his sophomore venture being the box office. Like Jaane Bhi Do Yaaron, Andaz Apna Apna, and Swades before it, Lakshya is another example of how box office can never be a criterion of a good film. Army Day 2019: From Hrithik Roshan's Lakshya to Vicky Kaushal's URI, Watch These Patriotic Bollywood Movies Dedicated to Indian Soldiers.
Following the game-changing success of his debut film, Dil Chahta Hai, a youthful take on friendship and love, Farhan Akhtar changed genres to make a movie against the Kargil War backdrop. He brought in Hrithik Roshan as the male lead, and brought back Preity Zinta from DCH as the female lead. Not to mention, Lakshya had Amitabh Bachchan in an important role. Interestingly, Hrithik Roshan was Farhan's first choice as a lead in Dil Chahta Hai, but things didn't work out.
A beautiful story of self discovery that touched my life in many ways. Lakshya resonated with my phase of self discovery as an actor. It gave me a friendship of a decade and half with @FarOutAkhtar & @ritesh_sid. (1/2) https://t.co/gSbgOjl5zq

— Hrithik Roshan (@iHrithik) June 18, 2019
It blessed me with the overwhelming love from my audience. Here's to #15yearsOfLakshya, a film that will always be very special :) (2/2)

— Hrithik Roshan (@iHrithik) June 18, 2019
Anyway, thanks to the promise of Farhan's directorial skills, the exciting cast and Shankar-Ehsaan-Loy's sublime score, Lakshya had bright prospects at the box office when it came out in June 2004. Or so we thought.
Instead, the movie's performance in its theatre run underwhelming. Perhaps, people weren't too interested in watching a war movie, that doesn't have Sunny Deol bombarding Pakistani tanks.
Here's where things were perceived wrong. For Lakshya was no war movie, even though it was based on a real-life war. Like Dil Chahta Hai before it, Lakshya displayed another facet of youth in the country, the aimless ones who develop a sense of purpose when Life needs them to have one. In the case of Karan Shergill (Hrithik Roshan), it wasn't getting back his ex Romila Dutta (Preity Zinta), who represents those sections of youngsters with a clear sense of their ambitions. Or getting his father's (Boman Irani) respect. Hrithik Roshan and Alia Bhatt's Childhood Picture Will Make You Take a Trip Down the Memory Lane.
It was proving himself that he can get across insurmountable odds to get the victory. In Karan's case, it was all about getting to a peak, that has been captured by the enemy, and planting the Indian flag there.
So in short, Lakshya was a coming of age film that has been camouflaged as a war movie. It is not about the Kargil War, but how the battle manages to give a youngster an aim in life and achieve it. Which is why the jingoism is restrained and we don't really have monologues about patriotism in Lakshya - essential traits for a Bollywood war movie. And that makes Lakshya all the more effective!
That doesn't mean Lakshya stays away from the frills of a war movie. We really understand what Karan's mind is going through, when he kills his first enemy in a battle sequence. The war sequences are well-choreographed and the cinematography by Christopher Popp is excellent. Lakshya gets to our emotional side, when the stakes go against the Indian side, resulting in several casualties. None of the slain characters may have got a developed backstory as the protagonist, and yet their demise manages to hurt us when needed. None of their characters is based on real-life heroes, but surely, they represent the spirit of the valour of our Indian soldiers.
So when Amitabh Bachchan's Colonel Sunil Damle fistbumps into the air on seeing the Indian flag atop the seemingly unattainable Point 5179, we really want to join him in that celebration.
But if there is one scene that Lakshya remains in the hearts of avid Bollywood buffs, it's for that terrific summit climbing scene near the climax. It is the minutes-long sequence of pure adrenaline rush, made even more effective by Hrithik's commitment, terrific BG score and the wonderful cinematography.
S-E-L's score is also one of their best, balancing between heartfelt patriotism, sentimentality and inspiration. They even gave Bollywood one of the best, if underrated, songs about soldiers that go through a gamut of emotions - from singing about their enthusiasm in facing the enemy to giving an ode to their fallen comrades to reminiscing their loved one back home.
My personal favourite, though, is "Kitni Baatein" - a song where two former lovers reconnect through old memories, as the world around them is getting torn apart in the enemy bombing. Javed Akhtar's lyrics are pure bliss.
Like the protagonist, Farhan Akhtar's success for the film may not be in its box office. It is more in how Lakshya is one of the movies that gets better with every watch and is a film, unlike some of the other war movies we have in Bollywood, that stands the test of Time.
So yeah, while Border remains the most watched war movie in Bollywood and Uri: The Surgical Strike the most profitable one, it is Lakshya that remains the best war movie there is. That too, without being one!