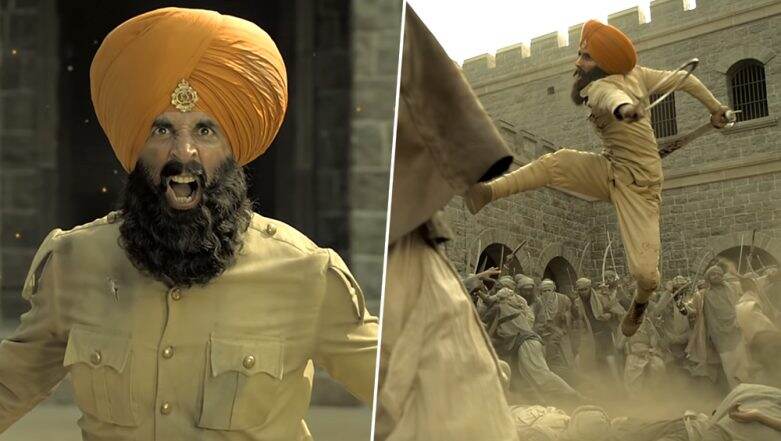 Akshay Kumar is aiming at a blockbuster hit yet again this year with Kesari. The trailer of the film released a few minutes back and it has literally given us goosebumps! From the very beginning to the very end, the trailer of Kesari gives us a detailed insight about how heroic the battle is going to be. For those who don't know, Kesari is based on the Battle of Sargarhi which was fought in 1897, where an army of 21 Sikhs fought against 10,000 Afghans. Akshay fits into the character of Havildar Ishar Singh and we wonder if anyone else could such an impact that of the Khiladi star. It is a true story of valor, sacrifice & bravery told like never before! While we simply cannot get enough of the heroic trailer, Twitterati too can't stop singing praise of the Akshay Kumar- starrer. the trailer has got a roaring applause by netizens and you can check out their reaction to Kesari right here. Kesari Trailer: Akshay Kumar and Parineeti Chopra Starrer Tells The Heroic Story of Nation's Unsung Warriors - Watch Video.
Tweet #1
WOW! what a trailer and

what a transformation...👌👌👌

INCREDIBLE 💪 #AkshayKumar

Hat's off @akshaykumar Sir.

Loved the trailer, eagerly

wait for the movie. #Kesari pic.twitter.com/H2Ij6526wy

— Shiv Dutta 💫 (@imshiva17) February 21, 2019
Tweet #2
What a trailer man

Epic is a small term🔥🔥🔥🔥🔥@akshaykumar biggest blockbuster and this year's biggest blockbuster is coming our way

Is baar ki holiday Toh kesari hogi

I think this trailer is also like a teaser

The film has much more in it

Audience will loveit

— Aman Yadav (@AmanYadv8) February 21, 2019
Tweet #3
EPIC is the word for #KesariTrailer

— Ankit (@ankitweetz) February 21, 2019
Tweet #4
21 sikhs against 10000 Invaders.

Superb trialer 👌#KesariTrailerhttps://t.co/px2j95pl2i

— Garudafied (@STYLE_Rockz) February 21, 2019
Tweet #5
Just mind is blown after watching SCALE & ACTION of #KesariTrailer !!..This depicts the bravery , Courage & patriotism👏👏 of SIKHS...An important story need to be told!!..@akshaykumar sir this is ur one of the best portrayal👏👏..will be loved by "Class" & "Mass" Both..Bo will🔥

— Harsh darshan mehta (@hd4157) February 21, 2019
Tweet #6
Oh God that BGM🔥🔥🔥🔥🔥🔥

Faad degi theater Pura ka Pura

How is the joshhhhh????#KesariTrailer

— 𝚁𝚊𝚗𝚓𝚒𝚝𝚑🚩𝓚𝓮𝓼𝓪𝓻𝓲 🚩 (@akkibangalorean) February 21, 2019
Tweet #7
#KesariTrailer leaves you STUNNED & SPELLBOUND. This film celebrates the valor & courage of Indians. Film is mounted on a UNBELIEVABLE scale . #Kesari would be @akshaykumar Biggest BLOCKBUSTER without an iota of doubt. Congrats @karanjohar @DharmaMovies pic.twitter.com/HJw7jZV2J3

— Rohit Singh (Jafcians) (@RJafcians) February 21, 2019
Tweet #8
#Kesari rang bahadduri ka rang hai

Magnificent #KesariTrailer 🚩

Big salute to all great Sikhs 🙏

Waiting 😎✊🙏https://t.co/ccAtPtLAqg

— Vinay Savashe (@vinayaksavashe) February 21, 2019
So, what's your reaction to Kesari? Comment below and let us know!
Produced under the banner of Dharma Productions, Kesari also stars Parineeti Chopra who plays Ishar Singh's wife. The film is scheduled to release on March 21, 2019. Let's wait and watch what the trailer has in store for us.