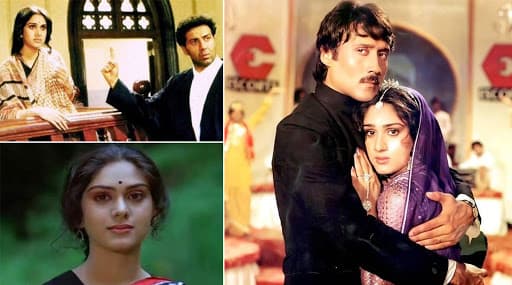 Meenakshi Sheshadri, the girl who debuted with Hero, the girl who has a beautiful smile, the one who was Damini, the one who became Miss India at the age of 17 ...today is her birthday. Meenakshi Sheshadri has given some of the most spectacular performances in her movies. Any actress worth her salt today would like to have a fimography like Sheshadri.  Anil Kapoor Initially Refused '1942: A Love Story', Gave a Nod to Vidhu Vinod Chopra Film for This Reason
If there was Damini, there was also Ghar Ho To Aisa or Swati for that matter. Meenakshi has experimented with her roles in the 90s, at a time when actresses were hardly more than hero's love interest. Showcasing her talent was more important to her and thus, today we bring to you five performances of the actress you need to check out.
Hero (1983)
Contrary to popular belief, Hero is not her debut film. She had debuted with Manoj Kumar's Painter Babu the same year. But she did become a famous name post Hero. It is one of the most endearing love stories of the big screen on how love can reform a wayward guy. Meenakshi as Radha was every man's dream woman. She was petite yet feisty, sweet yet stark.
Meri Jung (1985)
Meri Jung was mostly a revenge story of a man who loses his father to the ill designs of a criminal lawyer. But Meenakshi was the catalyst...the woman who makes Anil Kapoor realise his purpose. She was strong and outspoken in the film which was such a refreshing change in those days.
Swati (1986)
We have to credit Doordarshan for making us aware of this movie which has Meenakshi Sheshadri give one of her best performances. She played an assertive, strong-headed young woman who can even save herself from physical harm. The way she portrays the character of a daughter who wants the world for her mother is simply unbelievable. This will make you love your mother a lot more than you already do.
Ghar Ho To Aisa (1990)
Ghar Ho To Aisa was one of those feel good family movies of the 90s which had everything - drama, romance, comedy and redemption at the end. A classic case of all's well that ends well. Meenakshi Sheshadri played a firm feminist at a time when people didn't even know what that word meant. It was one of the most powerful women characters in Hindi cinema.
Damini (1993)
If you ask us, Damini was her career best role. It's simply amazing to note that this movie was made in the 90s! A film about a woman going against her in-laws and her husband to bring justice to a rape victim who was a maid servant will forever be the best story we have watched in that decade. Meenakshi's character was torn between saving her marriage and helping the wronged girl...the emotions are brought out so well, you need to be really stone-hearted to not shed a tear or two.