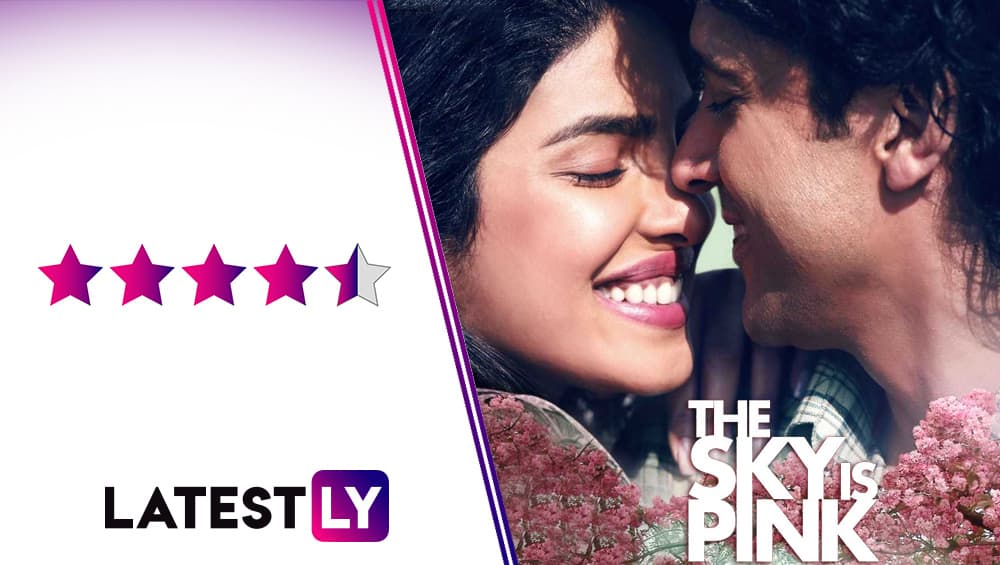 The Sky Is Pink Review: All of us have a relationship with life and death. What's important is how we deal with it. That's exactly what Shonali Bose shows you in The Sky Is Pink, which stars Priyanka Chopra Jonas, Farhan Akhtar, Zaira Wasim and Rohit Suresh Saraf. The film, which was premiered at the ongoing Toronto International Film Festival 2019, details the true story of Aditi Chaudhary (played by Priyanka) and Niren Chaudhary (Farhan) from the perspective of their recently deceased teenage daughter, Aisha Chaudhary (Zaira). Aisha was suffering from pulmonary fibrosis - a type of condition that causes hardening of the lungs. As opposed to the popular belief, The Sky Is Pink is not really about Aisha, but it's about the sacrifices made by Niren and Aditi and the moments that they spent together and away from each other while doing everything to make sure that Aisha survives. The Sky Is Pink Trailer: Priyanka Chopra, Farhan Akhtar and Zaira Wasim's Poignant Family Drama Looks Unmissable (Watch Video).
The film's narrator is a deceased Aisha, who requests viewers to not imagine her as a "ghostly spirit", just an example of the character's quirks. You can think of The Sky Is Pink as a sequel to real-life Aisha's book My Little Epiphanies, that was published a day before she passed away. Considering Aisha's story, there is a lot of scope to manipulate the audience by being overdramatic,  but Shonali doesn't treat Aisha with any sympathy, just like she did with Kalki Koechlin's character in one of her previous films and a festival favourite, Margarita With A Straw. Bose stays away from melodrama throughout The Sky Is Pink and makes it less about the loss, but more about celebrating life to the fullest.
Aisha shares a rather friendly relationship with her parents, unlike a conventional Indian household. Her mother is "Moose" and papa is "Panda" for her. For Moose and Panda, the struggle to keep their love afloat began even before their marriage, when they had to brave through the caste divide, something that can get you killed in India. They live with Niren's parents in Delhi's, exuding the old city charm. They have one son, Ishaan (Rohit), and have lost a daughter soon after birth due to Severe combined immunodeficiency (SCID), that makes it impossible for the child's immune system to defend against bacteria and other viruses. As fate may have it, or you can call it Niren's apprehension to use a condom, Aditi is expecting again. Niren is scared to bring another child into this world after what happened to their first daughter. However, an adamant Aditi has it her way and brings little Aisha into the world.
Their worst fears come to life when baby Aisha is diagnosed with the same medical condition that took her sister's life. The family lands in London for treatment, only to find out that the cure to Aisha's medical condition is highly expensive.
With the help of huge donations from the desis settled in other countries, Aditi and Niren pay that big hospital bill and make sure that Aisha survives. Cut to more than a decade later, when the now-rich family is living in a big house in Delhi, the teenager Aisha is found by her brother lying unconscious on the floor. After a few tests, Aditi and Niren learn that they due to the side effect to the chemotherapy sessions that Aisha had 14 years ago, she is now suffering from pulmonary fibrosis. In between all of this, there are narration jumps in the screenplay where we dive deep into Aditi and Niren's love story, what exactly happened with their first child and a little bit into Aisha's first love and the following heartbreak. The film soon progresses to the tear-jerking climax, which makes it impossible for even a strong-headed person to not cry.
The best part about The Sky Is Pink is that Shonali and her co-writer Nilesh Maniyar have maintained a strong balance of humour and sentiments in the screenplay. There are scenes that make you laugh, and then there are moments that hit you real hard. Juhi Chaturvedi's dialogues help Shonali show grief as experienced in real life.
The real emotional walloping, however, comes right at the end when Niren shows a video that Aisha records a few days before she dies. It continues when we get to see the family album of real Chaudhary's, which includes some short videos of the toddler Aisha, the TEDx Talk that she gave in Pune, and the other chronicles of her life. As I was looking for tissues in my bag to wipe my tears, I sneakily saw a non-Indian lady sitting right next to me, crying too. She didn't know the language and watched the entire movie with the help of subtitles, and still managed to feel the emotions of the characters. That itself should make everyone associated with the film very proud.
A huge shoutout also goes to Ronnie Screwvala of RSVP Pictures and Sidharth Roy Kapur of Roy Kapur Films for backing an impactful film like The Sky Is Pink. Some stories just need to be told, and I am glad that these two gentlemen helped Shonali narrate this one.
The Performances
Every actor in The Sky Is Pink has managed to do a brilliant job. Although there are times when Priyanka Chopra comes across as a star trying to act, there are many scenes where she proves you wrong with her vulnerability. The scene where her character is shown having an acute psychotic breakdown stays with you for a long time. It's truly a delight to watch Priyanka in a Hindi film after a very long time.
Farhan has played Niren with a lot of honesty. His vulnerability ties you up in all sorts of feels and at the same time, he manages to make you giggle with his humour. His epilogue towards the end of the film will definitely be a highlight in his powerful resume so far.
Zaira Wasim is undoubtedly a talented actor. Too bad, we probably won't get to see her at the movies as last month she announced that The Sky Is Pink will be her third and last film after Dangal and Secret Superstar. She plays Aisha as Shonali wanted her to be -  a normal teenager, who is just sick and quite mature for her age. Zaira makes Aisha her own and makes you connect with her right from her introduction.
Lastly, it's difficult to make a mark and stand out when you have three very famous and powerful actors in a film with you. However, Rohit Saraf leaves a lasting impression as Ishaan. The scene where he talks to Aisha over the phone and tells her that she will eventually be joined by him and their parents after she dies leaves a great impact.
Yay
- The entire cast
- Shonali and Nilesh's powerful screenplay
- The good balance of humorous and painful situations
Nay
- Not that I can think of any.
Final Thoughts
Does The Sky Is Pink make you laugh? Yes, it does! Does it make you cry? Yes, it does! Does it hit hard? Yes, it does! Should one watch it? 100 percent one should!