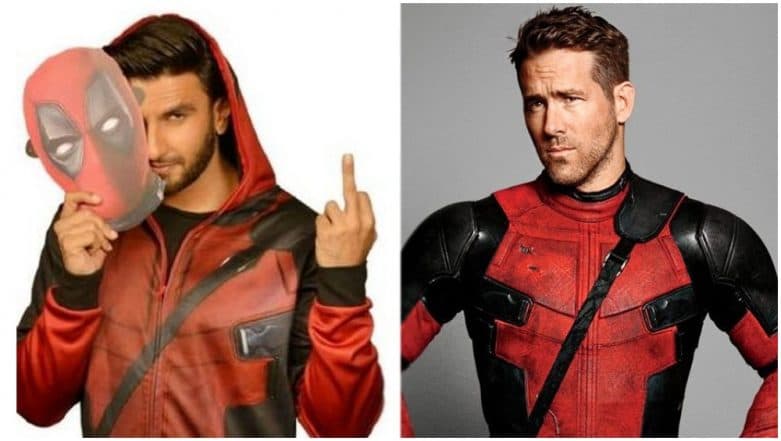 Mumbai, May 16 (PTI) At a time when audience is lapping up Hollywood superhero films, Ranveer Singh, who has lent his voice for the Hindi version of "Deadpool 2", has been scouting for ideas in this genre and is hopeful that India will soon have its own "bona fide superhero". The "Padmaavat" star says that though the subjects he has been exploring in the superhero genre have not materialised yet, the day is not far when the country will get its "true blue Indian superhero."
In an interview with PTI, Ranveer says, "I have been exploring various superhero subjects for a while now. Of course, none of them have materialised just yet. But I don't think we are very far from seeing a true blue Indian superhero. There are some really interesting characters. "Hopefully, not very long from now, we will see a bonafide superhero, a big ticket, big screen bonanza that is truly Indian".
Ranveer says besides the superhero projects, he is also interested in doing films in English and is waiting for the right opportunity. When asked if he sees himself in Hollywood in future, Ranveer said, "I do want to be part of something that is produced in English language and I am just waiting for the right opportunity. There have been opportunities, which for one reason or another, have not worked out as yet.
"But soon, if everything falls into place, the timing is right and the gig is right, most certainly, it is definitely something I am interested in." The 32-year-old actor has lent his voice for Ryan Reynolds' "Deadpool 2" in Hindi.
The character is popularly known as the "Merc with a Mouth" because of his irreverent style. Ranveer agrees that his personality--quirky and energetic--matches with the Marvel superhero. "I remember when the first 'Deadpool' came out, there was a poll 'Who should be 'Deadpool' if it is made in India?' and I won by a landslide. A lot of people identify my personality with the personality of Deadpool. I think that brand of humour matches mine, somewhere or the other," he says.
"'Deadpool' immediately became my favourite when I saw the first part. I had not seen or experienced a superhero like this before... He is unlike any superhero. He is a real bada** and definitely my favourite." In the Hindi version of the David Leitch-directed sequel, Ranveer will be heard channelising his "inner Deadpool" by being the voice of Reynolds, whose work he deeply admires ever since he saw the Hollywood star's sitcom, "Two Guys, a Girl and a Pizza Place".
Ranveer says there was no specific brief for dubbing in Hindi. While the first day was more like a "teething process", things started moving faster later as Ranveer started getting into a flow, understanding his own process to dub. "To do those 'cultural translations', the punchline that he says in English and finding the Hindi equivalent. It was a lot of fun to do!" Ranveer says. "Deadpool 2" is scheduled to release on May 18.