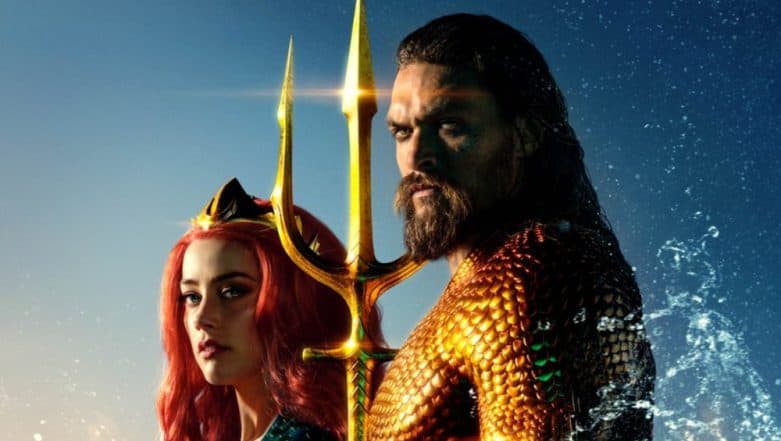 Jason Momoa seems too excited for his upcoming superhero film, Aquaman. No wonder he keeps posting new and improved posters of the film that is set to have a December release. While you folks were busy swooning and drooling and probably even crying at the sight of Deepika Padukone and Ranveer Singh's wedding extravaganza, Jason Momoa was busy promoting Aquaman on his social media handles with a brand new poster. Need we say how awesome it was? Considering how the previous solo character posters of the film did take social media by storm, this new poster is no different.
Emerging from the sea in their respective costumes, both Jason Momoa as Aquaman and Amber Heard as Mera looked hot af. While sharing the poster, Momoa captioned the picture as, "Me and bae AKA Movie boo😜😜😍😍if u think I'm a badass wait till u see Mera in action. @amberheard @aquamanmovie #beatemupbae #notthebordeaux #bonnieandclyde #couplesgoals #aquaman #mera DEC 21. Cheeeehuuuuu Aloha j." We already know that a live-action Aquaman played by Momoa is quite the bad boy with dangerous hot looks and kickass style. But turns out his counterpart Mera is just as badass as he is!
He's not from around here. Swipe to check out the new #Aquaman posters now - in theaters December 21. pic.twitter.com/LcWAzRjt3p

— Aquaman Movie (@aquamanmovie) November 15, 2018
Aquaman and Mera's love story could be an interesting tell but they're fighting bigger battles, one that calls for the Prince to return home and claim his throne. With respect to the romance angle of Momoa and Heard, producer Peter Safran stated, "I wouldn't necessarily call it in this movie a love story," Safran said. "It's very much in the vein of Indiana Jones. James wanted to tell this swashbuckling, fun, quest movie. It's a great time for everybody to see. So, the relationship is a little bit Michael Douglas-Kathleen Turner in Romancing the Stone, which is ultimately a romantic action movie. But, I wouldn't say it's actually a romance."
The film is set to release in India on December 21. They have swiftly managed to evade a big time clash with Shah Rukh Khan's Zero. We sure as heck can't wait for the film!