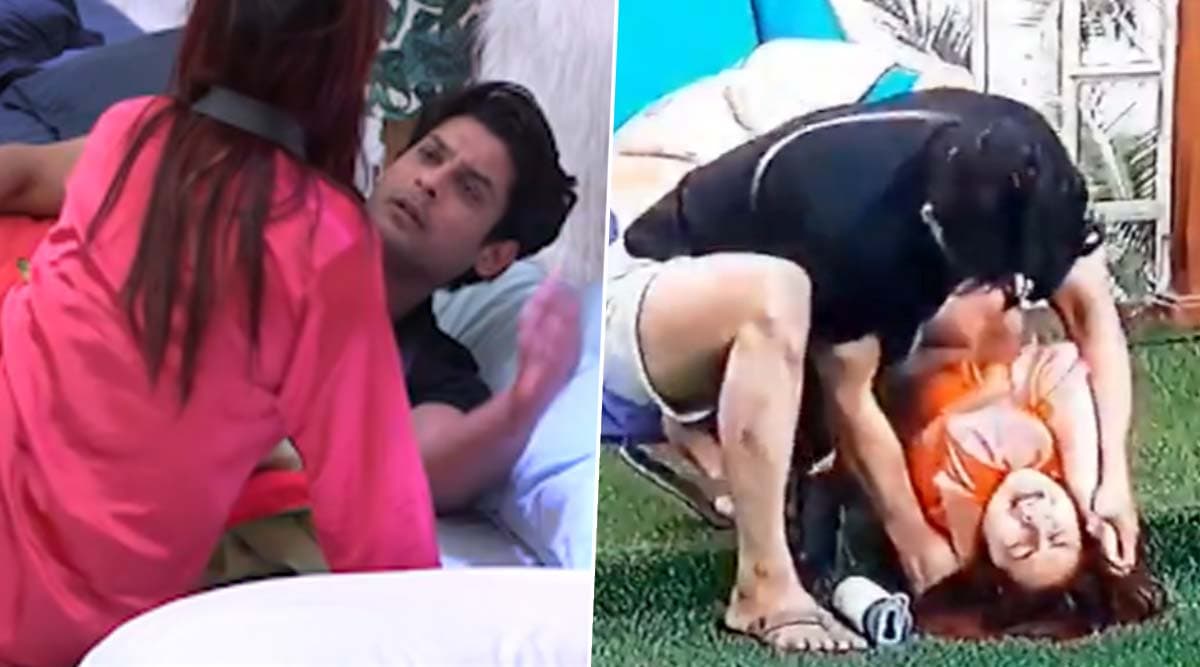 A new controversy is always lurking around for Bigg Boss 13. Given the nature of the show, it is not a surprise. In the latest, Twitter users are calling out the show, the showrunners and the contestants for normalising physical abuse and harassment on and through the show. The angry Twitterati do seem to have a point. Just in a recent episode, Madhurima Tuli hit her ex Vishal Aditya Singh with a slipper. Sidharth Shukla received a slap from Shehnaaz Gill in the same episode. In another video going viral, Sidharth can be seen holding down Shehnaaz. The handlock looks painful.
The question that the audience is asking are...why are such moments being telecast on TV? Why despite displaying violent behaviour contestants are not being thrown out of the reality show? It is incidents like these that lead to the normalisation of violent behaviour, some are arguing. Telecom Regulatory Authority of India prohibits TV shows in India from showing violence being perpetrated on women. But no action seems to is taken against Bigg Boss 13. Bigg Boss 13 Day 90 Highlights: Shehnaaz Gill Slaps Sidharth Shukla, Madhurima Tuli Hits Vishal Singh With a Chappal and More!
Watch How Sidharth Mistreated Shehnaaz
I'm tagging some feminist thought-leaders who are influential media personalities.

My fear is that the usual 'elitist activism' mindset will scoff at a massy show like #BiggBoss13. Please consider the huge influence and SPEAK UP.@IndiaMeToo @masalabai @anupamachopra @Su4ita https://t.co/WAbv3rbZPn

— Shawn Jacob Austin (@ShawnJacobAust1) January 6, 2020
Watch This Glimpse From The Episode Where Shehnaaz Attacks Sidharth
Kya yeh hoga #SidNaaz ka 'The End'? 💔

Dekhiye aaj raat 10:30 baje.

Anytime on @justvoot @vivo_india @AmlaDaburIndia @bharatpeindia @beingsalmankhan #BiggBoss13 #BiggBoss #BB13 #SalmanKhan pic.twitter.com/lhjwsOqVP7

— Bigg Boss (@BiggBoss) January 6, 2020
This is an #Assaut on a Woman 👩🏻 on national television 📺 -hope cops sees this & charges are levied against this abuser - What all you are showing on your show @BiggBoss @ColorsTV @BeingSalmanKhan ? How is violence against a Woman 👩🏻 participant allowed on your show- Disgusting

— RuchiAngrish (@RuchiAngrish) January 7, 2020
Stop promoting physical violence on national TV @ColorsTV @BiggBoss @BeingSalmanKhan https://t.co/5LZnTWruMr

— vandhana agarwaal (@sreevani56) January 7, 2020
Check Out This Tweet From Prominent Social Media Influencers:
@Fashionopolis since I see you watch and tweet about bigg boss every day, can you confirm this happened on the show, live, and was not part of acting/script? This is hugely disturbing. I'm amazed no one's talking about this. This is assault.

— Rituparna Chatterjee (@MasalaBai) January 7, 2020
Yuckkkkkkkkkkkk. @ColorsTV how is it okay at all? You realise this is assault right?

— Sucharita Tyagi (@Su4ita) January 7, 2020
Here Is Another Problematic Clipping Where Madhurima Is Hitting Vishal:
Have we really become the nation made of the audience that enjoys real harassment and violence being shown on screen in the name of entertainment? This season of Bigg Boss has certainly been pushing the boundary, in very wrong ways.
On one hand, there has been outrage against even fictional violence on a woman in a movie like Kabir Singh. On the other hand, Indian 'reality' show Bigg Boss 13 is openly displaying violence. Also, this debate should not about gender. Violence is being perpetuated on both ends by both genders on the show. You tell us, if is this normalising violence or not.