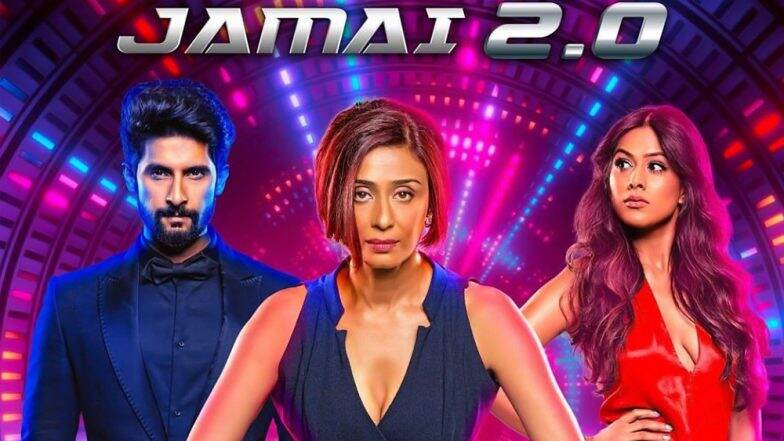 Ravi Dubey, Nia Sharma and Achint Kaur are back in form with their much-loved characters from TV soap Jamai Raja. Zee 5 decided to spin a ten-episode web-series out of it, through Zee 5 original series- Jamai 2.0 season one.  Maybe, they thought that these characters could be explored in a more different way. So, I decided to watch the first few episodes of this trending series, for the sake of Ravi-Nia's onscreen chemistry. Jamai Raja 2.0: Here's How Sargun Mehta Reacted On Finding Out About Ravi Dubey's Kissing Scenes With Nia Sharma!.
The first two episodes of any series are crucial for keeping the audience hooked to it. Forget binge-watching but these two episodes made me contemplate whether there is any scope of fast-forwarding them. The performances were good but the problem lies in the making of the series itself! So, to give you the basic idea of the plot, it is about a handsome hunk on revenge of this wealthy owner of night clubs via her rich, hot daughter.
Siddharth is a stand-up comedian at DD aka Durga Devi Patel's night club. He hatches a plan to enter her life to destroy her completely by fake-romancing his daughter, Roshni.
Ravi's performance, especially in the comedy scenes are impressive. Achint too fits perfectly into the role of a money-minded, stylish night club owner. Nia, on the other hand, looks extremely hot sticking to the title of second sexiest Asian woman of 2017. The real problem starts when the characters are introduced in a much-much obvious and dramatic manner than required. The characters are self-proclaimed 'kings' and 'queens.' In fact, Sid's character is even compared to that of 'Joker' by himself (we hope they did not mean the Batman one). Nia Sharma Shoots for Jamai Raja 2.0 in Pondicherry, Raises the Heat With Her Smoking Hot Beach Pictures.
The story takes expected turns despite the 'suspense' tag to the series. Also, the editing work is done shoddily as we jump from one comic scene to another random scene to a romantic scene without any prior hint or trace. The background music is too loud as if they wanted to make sure that the audience knows what kind of scene they are trying to show. The dialogues are filmy but do keep you engaged, again, thanks to the performances.
While Ravi and Achint have done well with their characters, Nia had nothing much to offer than throwing a few tantrums, delivering cheesy lines and looking glamorous in her perfectly toned figure. Also, I must say that the crackling chemistry between Nia and Ravi is what kept me from pushing the scenes 20 seconds forward. These scenes made me wonder whether an out-and-out romantic series would make a much more impact on their loyal fanbase. The supporting characters have a substantial amount of screen time but a little use is made of the same.
Despite all these setbacks, what makes this series watchable is the location that the story is set up in. The makers have used some of the beautiful locations of Puducherry that can make you want to watch the series until the end somehow. Also, web-series is the place where most bold experiments are done these days, hence this series also has a few of them. Apart from Nia-Ravi's passionate liplock, there are a few more similar scenes reserved for the supporting cast.
In conclusion, I would still say that the true blue fans of Jamai Raja TV serial might want to sit through the climax of the series for Nia-Ravi's track. Everyone else, opt for it only if you are done watching everything else on the online streaming platforms.
Rating: 2 Stars