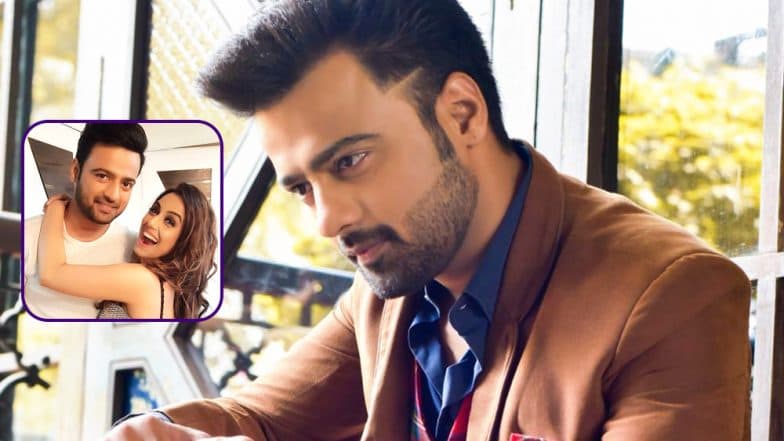 Banu Main Teri Dulhan actor Manish Naggdev and Srishty Rode, had been dating for four years and got engaged in February 2018 but called it quits (after being engaged for about a year) post the latter's Bigg Boss 12 stint. Initially, the actors remained tight-lipped about their breakup and cited that minor disagreements and difference of opinions were the reasons behind their split. However, Manish, post six months of their split, has opened up about the details of what actually led to the end of their beautiful four-year-long relationship. Manish Naggdev Opens About His Break-Up With Srishty Rode After Roka, Says Our Relationship Hasn't Ended Because of a Third Party
While fans were speculating that Manish broke up with Srishty owing to the increasing proximities of the actress with her Big Boss 12 co-contestant Rohit Suchanti, Manish, on Friday, took to social media to blurt out his emotions in a four-page note. Alongside the post, Manish wrote, "It's ok to vent it out. I hope all your questions have been answered with this. #stop" Manish Naggdev Reacts to Ex- Beau Srishty Rode's Growing Proximity with Rohit Suchanti, Says 'Not in Contact with Her Anymore' – See Pic
Check Out Manish's Open Letter Here:
Manish's friends from the Telly-town too chose to comment on the post he had written. While Divyanka Tripathi wrote, "Always by your side Manish. I know you for 13 years now. I know what you are made of! Just let the bygones be bygones and keep moving ahead with your head held high like before. Best times are yet to come. Trust me!," Sneha Damayanti Wagh commented, "Manning Up Much 😘 P.S :- Not All Men Are Shallow ❤️ @manishnaggdev definitely not you"
Take a Look!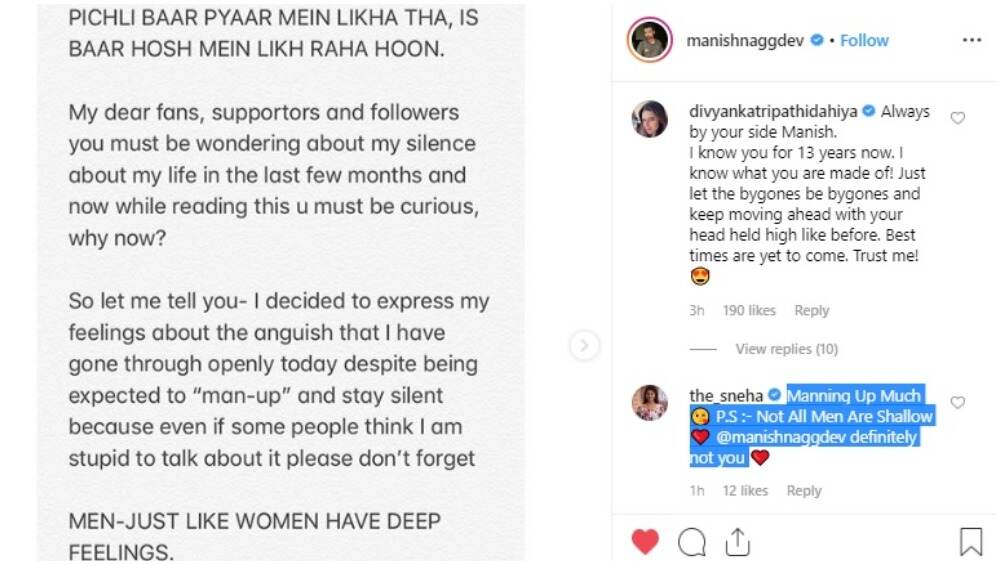 On the other hand, Kamya Punjabi wrote, "Yes it is so important to talk, to share... Everyone has limits! Sometimes u bend, sometimes u feel crushed, but one day u reach that point where enuf is enuf! If u luv someone wit all ur heart, their actions are affecting u in negative ways... there has to be line when u say "enough" i m glad u are venting it all out! God bless you my friend!"
Take a Look!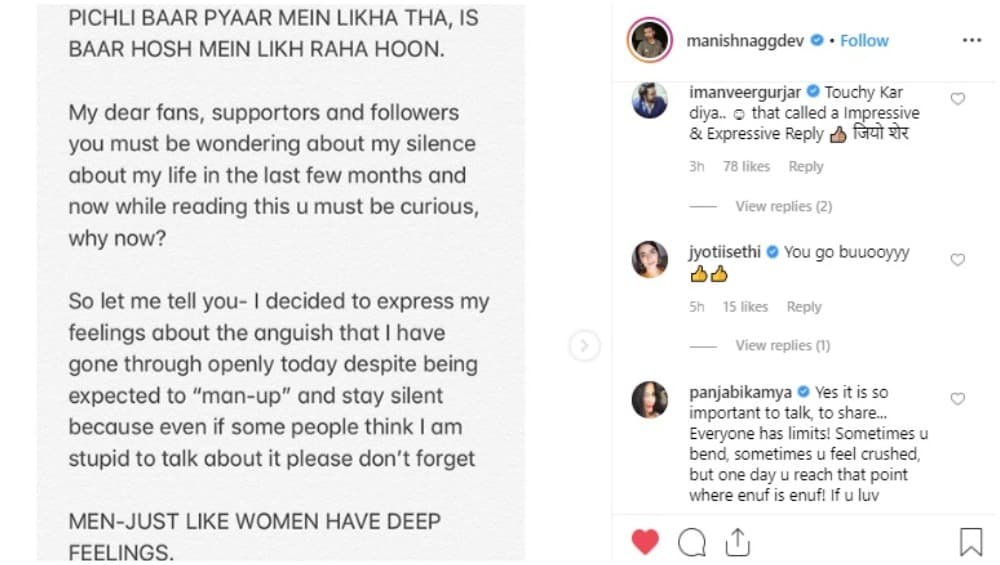 Meanwhile, recently, a couple of pictures of Rohit and Srishty's secret vacation to Thailand had been leaked on social media, indicating the two are more than just friends. When Tellychakkar reported the news, Manish read the article and posted a thank you message for the online entertainment portal. And when the portal reached out to him, he revealed that Srishty and he were no longer in contact. Watch this space for updates.