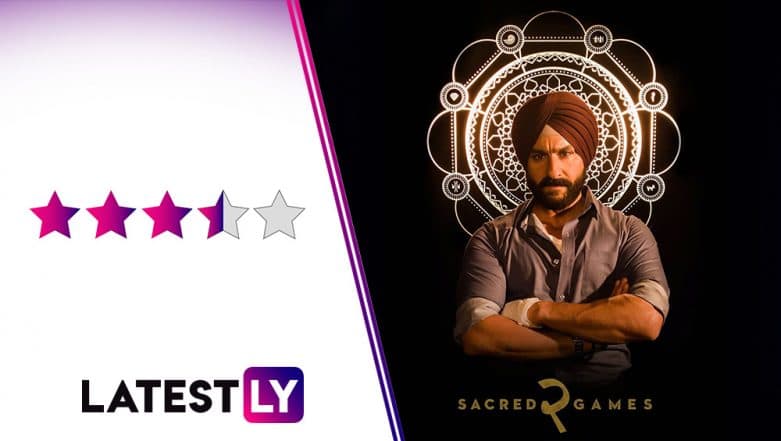 Sacred Games 2 Review: At the end of season 1, Sartaj Singh (Saif Ali Khan), our favourite cop who is not so great in stealth missions, left us hanging with a huge discovery. He finds the location of some of the bombs, as well as a dead Trivedi (Chittaranjan Tripathy). The second season continues from there, with Sartaj now being appointed to head the team that investigates the impending nuclear threat on the country. The investigation also leads him to get to the ashram of the Guruji (Pankaj Tripathi), who has been Ganesh Gaitonde's (Nawazuddin Siddiqui) teesra baap, who, Sartaj is surprised to learn, has even made a devotee of his father. Badass Women of Sacred Games 2: Surveen Chawla, Kalki Koechlin, Amruta Subhash and Shalini Vatsa Have Some Bold Stories to Tell! (Watch Video).
And like with the first season, we see Ganesh's past running concurrently to that of Sartaj's, with the same Guruji getting him out of the jail and sending him to Mombassa, Kenya. In a new city, Ganesh has to set up his empire once again, though he also has to do the bidding of a mysterious RAW agent Kusum Devi (Amruta Subhash). He also misses Mumbai, and strikes up an unlikely relationship over the phone with Jojo (Surveen Chawla), a suicidal pimp in Mumbai, who was shown getting killed in the first season.
Disclaimers: This particular review is based on the first three episodes that were shown to the press. Therefore, any opinion I have formed about the season, is purely based on what has been shown to us. Which is to say, quite good.
Yes, once again, it is Ganesh Gaitonde's arc that feels more interesting that Sartaj's race-against-time task to stop the nuclear threat. And yet, the makers have added enough moments of intrigue in both the plotlines to keep us guessing, even if the cliffhangers at the end of each episode doesn't really leave us wanting more. Sartaj's guilt over Katekar's (Jitendra Joshi) death is explored well, and his scenes with Batya Abelman (Kalki Koechlin), who oversees Guruji's ashram are very interesting. Though, Anjali Mathur (Radhika Apte) who was killed last season, is left more of a note in the investigation, at least based on the episodes what I saw.
At the same time, Ganesh's rise and fall in his Kenyan stint is particularly arresting. Like Gaitonde, we also miss Mumbai in these portions. But Kenya poses a new unchartered goal for him, making full use of the character's dexterity and razor-sharp-wit to expand a new kingdom. His interactions with Jojo over the idea of death are morbidly fascinating. Anurag Kashyap, who has shot these portions, also bring in enough black humour, especially a particular set of sequences that troll a certain real-life film-maker, played by Vijay Maurya, and his obsession with gangster movies.
A little grouse that I have is how characters like Zoya (Elnaaz Norouzi) and Jojo look exactly the same in 2015 as they were in 1994, while Sartaj becomes from a scrawny teen to a middle-aged, beaten cop within that period.
While Nawazuddin Siddiqui and Saif Ali Khan continue to be at the top of their games, the real highlight of the season is the expanded role for Pankaj Tripathi. As the godman with a hypnotic voice, Tripathi manages to create an inviting but impenetrable aura about him, even in the limited screen-time. I also like how Surveen Chawla's character has been etched out and am curious to see how the show takes her abuse-filled bonding with Ganesh ahead. As for Ranvir Shorey, who plays one of the new characters, the three episodes only offers little glimpses of his shady character, so waiting to catch more about him. Sacred Games 2: Pankaj Tripathi Has an 11-Minutes Long Monologue and We Can't Wait to Watch It.
Technically, also Sacred Games 2 continues to impress. The background score is once again terrific and the cinematography is truly excellent for a project that is not made for the big screen. Particularly loved the shot when Sartaj chases a suspect up a building and the camera follows them from outside the same, till it settles itself on the roof.
The dialogues by Varun Grover, one of the biggest highlights of the series, continue to be razor-sharp, witty and impressive.
Final Thoughts
Sacred Games 2 goes off on a slow, steady but great start, putting its players in unchartered terrains and challenges. The show continues to benefit from its technical brilliance, top-notch performances, bold approach and interestingly written characters. Also do keep an eye on our website for the complete review of the season, which will be done once it starts streaming from August 15 on Netflix.