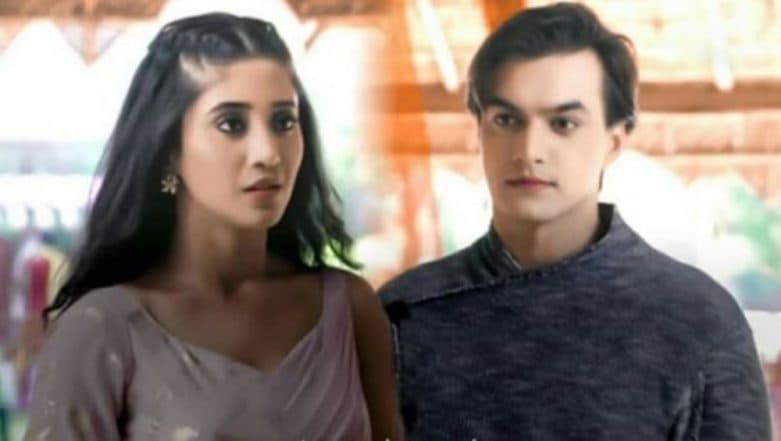 Today's episode of Yeh Rishta Kya Kehlata Hai starts with Kuhu and Mishti (Rhea Sharma) feeling excited about seeing Naksh and Kirti. They see Krish and are very happy. Rajshree and Varsha are shocked to see both of them there and ask for the reason. Kuhu tells their vacations are going on and Holi is also coming and that they were missing them so they came. They see Naira (Shivangi Joshi) and feel happy and introduce themselves to her. Naira excuses herself as she has to go for her dance class. Naksh tells Naira (Shivangi Joshi) to spend time with Kuhu and Mishti and later go for her classes. Yeh Rishta Kya Kehlata Hai March 13, 2019 Written Update Full Episode: Will Rishabh Reveal the Truth to Naira Before Kartik Does?
Naira is tensed as Sid/Kartik (Mohsin Khan) is not lifting her phone as she is waiting for his reply. Kuhu is telling Mishti that Naira does not remember anything and how is it possible. They argue with each other and think who is this Siddharth and plan to find out who is he. They come to Naira's room and think whom should they ask, Mishti says let us see her phone by that they can come to know something. Kuhu come in Naira's room to distract her so that Mishti can take her phone and find out. Mishti sees that Naira has made so many calls to Siddharth and calls him to find out. Mishti recognizes the voice as Kartik's and is surprised. Mishti keeps the phone back and tells Kuhu that Siddharth and Kartik are same as she recognized his voice. They both are puzzled as what is going on and think they have to do something. They tell Naira to take them to market so that they can eat kachori chat. While going Naira calls the dance class and enquires about Sid/Kartik and gets to know that Sid/Kartik has gone to jogger's park for practice. Yeh Rishtey Hai Pyaar Ke: Rapper Badshah's Song Starring Shaheer Sheikh and Rhea Sharma For Yeh Rishta Kya Kehlata Hai Spin-Off Is OUT NOW! Watch Video
Rishab follows Naira as he wants to talk to her about Sid/Kartik. There Kartik also wants to meet Naira and tell the truth. Misti tells the driver to stop at the jogger's park as they used to come here when they were small. Misti tells Naira she can go if she has some work and that they will be roaming here only. Misti and Kuhu see Rishab also there and think maybe Naksh has sent him to spy on Naira.
Rishab searches for Naira, there Naira goes inside the park and searches for Kartik (Yaha waha hai tu mujmeh rawa hai tu track is played in the background). Mishti and Kuhu put water on Rishab and do tricks so that he won't be able to follow Naira. There Kartik is also searching for Naira so that he can tell her about him. Naira and Kartik see each other and feel happy. As Kartik is going, to tell the truth, Rishab comes in between and tells Naira that he wants to tell the truth about Siddharth to her right now. As Rishab is going to tell Mishti comes and says thank you to Rishab as he showed so much concern for Naira and tells the truth he wanted to say about, Siddharth has already told it to Naira. Rishab sees a family photo in Naira's hand and tells them that she is in shock after hearing the truth. Rishab tells Naira to come with her but Kartik holds his hands and pushes him aside.
In the precap, Naksh is telling that he will never let Naira go with Kartik. Kartik says that only if Naira asks him to leave, will he go.